Vietnam Travel Guide
Basic Facts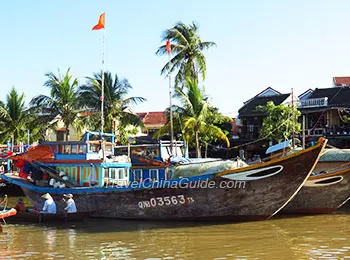 Vietnam Travel

English Name: Socialist Republic of Vietnam, simplified as Vietnam

Vietnamese Name: Cộng hòa Xã hội Chủ nghĩa Việt Nam

Location: East of Indochina Peninsula, border on China, Laos and Cambodia

Area: about 331,210 km² (127,881 sq.mi.)

Population: 95,130,000

Language: Vietnamese

Currency: Dong (VND)

Time Zone: UTC+7

Capital:
Hanoi

Administrative Division: 58 provinces and 5 municipalities

Major Nationality: Kinh

See more about
11 Interesting Facts about Hanoi
Hoi An
will give you a good view. Besides, you can not only go to Mekong River Floating Markets to look around local antiques and crafts, but also admire the Water Puppet Show, a unique form of art of Vietnam. Vietnamese dishes like rice noodles and spring rolls are also worth to try.
★ Top Destinations and Attractions:
Ho Chi Minh City
: Saigon Central Post Office, Notre Dame Cathedral, Reunification Palace, War Remnant Museum, Cao Tai Temple, Cu Chi Tunnels,
Mekong River Cruise
| | |
| --- | --- |
| Saigon Central Post Office | Hoan Kiem Lake in Hanoi |
Hanoi:
Ho Chi Minh Mausoleum Complex
, Ba Dinh Square, One Pillar Pagoda, Temple of Literature,
Hoan Kiem Lake
, 36 Pho Phuong
See Some Trip Planning in Hanoi:
Weekend Getaways from Hanoi
Spend 2 Days in Hanoi
3 Days in Hanoi
Hue
: Hue Royal Palace, Thien Mu Pagoda, Tomb of Tu Duc, Tomb of Minh Mang
| | |
| --- | --- |
| Hue Royal Palace | Ha Long Bay |
Other famous destinations:
Ha Long Bay
,
Mui Ne
, Hoi An Ancient Town,
Nha Trang
,
Da Nang
,
Da Lat
and
Sapa
.
Special entertainments: Water Puppet Show, mud bath, coconut candies and rice paper making.

See more about
10 Things to Do in Halong Bay
Best Time to Go
The best time to go to Vietnam is from November to the next April in dry season. The climate in Vietnam is tropical basically and can be divided into dry and rainy seasons. The average year-round temperature is about 75℉(24℃). In addition, the dry season can also be divided into cool season from November to the next February and hot season from March to April. Tourists should protect themselves from sunburn during hot season. Try to avoid the rainy season from May to October when it rains a lot and sometimes the typhoons happen.

See more about
Vietnam Weather

See more about
Hanoi Transportation
Vietnam Trains
How to Get to Halong Bay
Ho Chi Minh Transportation

See more about
Vietnam Tourist Visa
Shopping in Hanoi
History
Vietnam has a long history of 4,000 years, leaving its people many historical relics like Thien Mu Pagoda, Cu Chi Tunnels and Tomb of Tu Duc. Vietnam was once a part of ancient China, so it is influenced profoundly by Chinese culture. There are many Chinese-style buildings like the Temple of Literature, Hue Royal Palace. Besides, the country was colonized by French, leaving a lot of French-style buildings such as Saigon Central Post Office and Notre Dame Cathedral.
Geographical Features
Vietnam is narrow from east to west but long from south to north. The terrain is high in the west, while it is low in the east. Three quarters of the territory are mountains and plateaus. Besides, the country is close to South China Sea, having a coastline of over 2,025 miles. The diversity of landforms leads to the breathtaking view of mountains, rivers, and the beautiful beaches.
- Last updated on Mar. 23, 2023 by Kate Liu -