Residential Houses in Lijiang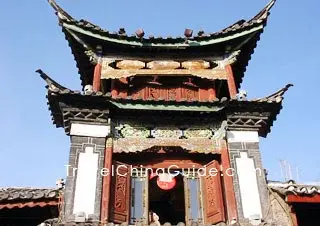 Typical Naxi Two-Stroey Building
Lijiang, in the northwest of Yunnan Province, was made a World Heritage Site by UNESCO in 1997 for its historic town site, architecture and the ancient water-supply system. With a history of more than 800 years, the private houses of Lijiang represent its splendor in detail.
The
Old Town of Lijiang
leans against two big mountains to its north and west escaping chilly wind from northwest, and faces spacious ground to the east and south receiving enough sunshine, which creates a mild climate all year round. A river runs down from the mountain and flows into the town in numerous offshoots. Cobblestone streets crisscross the canals, and along the streets as well as the canals there are houses which show distinct characteristics, bearing the features of the Han, Bai, and Naxi minorities.
The two-storey houses are always made of timber and earth. They are generally constructed around a courtyard following the layout of 'three rooms with one screen wall' much like the quadrangle in Beijing. This is the typical and most common floor plan. The main room facing the screen wall and the left and right wing rooms form a courtyard with a great skylight in the middle. By changing the screen wall into an extra room, another layout, 'four rooms with five skylights' can be achieved.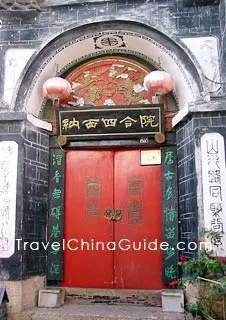 Well-Decorated Courtyard
in Lijiang
The four corners of the rooms are connected, with skylights helping to bring in more light. Beside these two styles there are many other layouts, but this layout is the root of all the others.
The houses are rich in ornamentation, which is mainly focused on the exterior corridor, the screen wall, the windows, and the dooryard. The corridor and the screen wall are usually decorated with marbles, while the wooden doors and windows are carved with various patterns such as flowers, birds, fish etc. and even the end of the girder is carved with animals' heads. The dooryard is paved with pebbles in different patterns representing plants, flowers, or the Eight Diagrams to name just a few. People here are so fond of gardening that every family keeps a garden in their courtyard where you can find orchids, cuckoos, peony, bamboo, etc. granting great charms to these old fashioned houses.
Water flowing in front of every house amid the flourishing trees gives you tranquil scenery far from the hustle and bustle world.
Here you can feel the perfect integration between human beings and nature.
| | |
| --- | --- |
| Local Residential Villages, Lijiang | Inner Contruction of a Naxi Residential House |
- Last updated on Jul. 19, 2022 -
Questions & Answers on Residential Houses in Lijiang
Asked by Cc | Sep. 02, 2015 18:15

Reply
want to come to ski resort in Lijiang. are there hotels? what is best time of year for skiing?
Answers (1)
Answered by Lily from INDONESIA | Sep. 05, 2015 21:10

0

0

Reply
If you want to go skiing, the best skiing site should be at the eastern Jade Dragon Snow Mountain foot. There are many small inns around, and the local dwellers also provide accommodation.
The best time for skiing there is from December to the next April.
Asked by Anna from CANADA | Feb. 24, 2013 08:47

Reply
I'd love to stay in a private courtyard house in Lijiang, but how do you know you can stay there?
Hi, I don't speak much Chinese and don't know how to find a place to stay in the old town in Lijiang, I hear wonderful things about staying in someone's private home but is there a sign outside? Maybe I should have a friend write me a note that says in Chinese that we would like to stay for 2 nights, etc. Also, how much is it usually to stay? Thanks so much for any advice you can give!
Answers (1)
Answered by Sharon from CHINA | Feb. 25, 2013 02:26

0

0

Reply
Do not worry about it. Many foreign friends stay there, so many inns and private courtyard house has English names.
The story is very clean and the price is 220 to 280RMB per night.
Asked by Ms.Audrey from HONG KONG | May. 28, 2009 20:09

Reply
Hi Vivian, we are going in August, and I woudl love to find out whether the people are friendly, and is it rude if we ask to go inside someone's house to have a look?
Answers (1)
Answered by Ms.Vivian | Jun. 03, 2009 02:09

0

0

Reply
Hi, I think most of the locals were so friendly when we were there for traveling. We have stayed at a local courtyard in the ancient Lijiang City for several days. Although it is small, the courtyard is so beautiful with flowers, quiet and full of Naxi flavor. The female host was very kind to every guest there. Wow, we have met some travelers from different countries~ Actually, there are so many this kind of hostels in the ancient town, comfortable and cheap. So, you could freely visit these hostels in the local residential houses one by one~