Tibet People & Life
The inhabitants in Tibet include
Tibetans
, Menpa, Luopa, Han Chinese, Hui, Sherpa, and a few Deng people. Among them, the Tibetans are the main inhabitants, who take up more than 92 percent of the regional population. The Tibetan people are optimistic, bold and uninhibited.
Traditionally, farmers settled in small villages with barley as their main crop. The roaming nomads earned their living by herding yaks and sheep. Most Tibetans in cities made a living as craftsmen. Nowadays, more and more people are migrating into businesses. However, their special life styles do not disappear as time passing by.
The main food in the region is beef, mutton and dairy products. Vegetable is seldom seen here, especially in the pasture areas. The local people also eat raw meat. If you have the opportunity to visit the local herdsmen or farmer's house, you will see the dried beef and mutton hanging in the tent or house, and the host may entertain you with the unique delicacy. The various drinks are also the necessary parts of local food. The most popular ones are buttered tea, sweet tea and barley wine. Other well-known local food includes zanba (roasted qingke barley flour) and butter, etc.
The traditional local clothes are thick, warm and loose with wide waist and long sleeves and skirts. Usually, some space is left on the chest to hold food and children, just like a bag. When it is hot, a sleeve or two will be taken off and tied about the waist to adjust the body temperature. When night falls, two sleeves will be taken off and the clothes can be used as a big sleeping bag.
The Tibetan language belongs to the Sino-Tibetan phylum. Traditionally, the land was divided into U-Tsang, Amdo and Kham three dialect boundaries.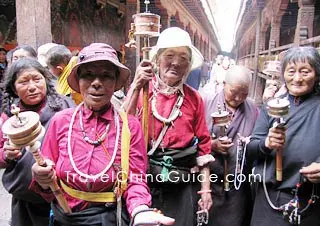 Tibetan people believe in Buddhism
Most people here are devout Buddhists while a few believe in the old Bon. Islam and Catholicism also have a few followers in Lhasa and Yanjing respectively. In this case, the land boasts temples and religious sites. The Jokhang Temple and the Sera Monastery are the famous ones. Strolling on the street there, you could find many Mani Stones, colorful prayer flags and people wheeling prayer wheels, all of which are important elements of local buddhism.

The locals enjoy some distinctive traditional entertainment activities like wrestling, tug-of-war, horse-racing and archery, etc. They are also excellent singers and dancers, earning the reputation, 'Sea of Dances and Songs' for the land. On this land, there are also many ethnic festivals held every year. If you happen to be there on those days, you could join them to fully experience their unique and interesting customs.
- Last updated on Jul. 12, 2022 -
Questions & Answers on Tibet People & Life
Asked by Vicky from CANADA | May. 06, 2015 18:18

Reply
Where do the Tibetans live in?
What kind of building do they live in? Who do they live together with? In what kind of condition do they usually build their houses
Answers (1)
Answered by Grace from PHILIPPINES | May. 06, 2015 20:28

17

3

Reply
They live in loft-style blockhouse, which is built with stone and wood. They usually live together with family pack. Three or four generations, brothers and cousins may live under the same roof.
Asked by Vicky from CANADA | May. 06, 2015 18:15

Reply
What does the ancient Tibetans use to know time, how about right now?
Answers (2)
Answered by David from LIBYA | May. 06, 2015 20:36

5

4

Reply
In ancient time, they may know the time according to scene change by observing the sun or moon. Now they have clock, watch, phones, which makes them know the time easily.
Answered by vishnu sinha from INDIA | Jan. 10, 2016 08:22

6

1

Reply
by sun.