Ningbo Travel Guide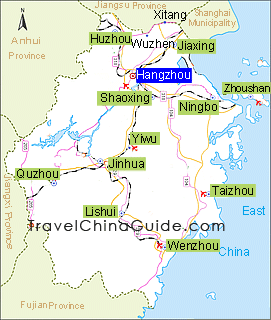 Ningbo Facts
Chinese Name: 宁波 (níng bō)
Population: 8,542,000
Area: 9,816 square kilometers (3,790 square miles)
Location: in the east of Zhejiang, east China
Administrative Division: 6 districts (Haishu, Jiangbei, Beilun, Zhenhai, Yinzhou, Fenghua); 2 counties (Xiangshan, Ninghai); 2 county-level cities (Yuyao, Cixi)
Area Code: 0574
Zip Code: 315000
GDP (2019): CNY119.85 billion (USD 17.37 billion)
Lying in the east of Zhejiang, Ningbo sits at the mid-point of the Chinese coastline, towards the south of the Yangtze Delta. It is adjacent to Shaoxing to the west and Taizhou to the south. The annual cargo throughput of Ningbo Zhoushan Port ranks first in the world, and the container volume ranks the top three. For tourists, what is worth visiting is the cultural heritage deposited in the city. First, pay a visit to Tianyi Pavilion, the oldest library in Asia. The Old Bund of Ningbo, a former foreign concession, has made an indelible mark on Ningbo. Many old European-style buildings have been transformed into bars and restaurants. Charming lakes in the North of the city are also ideal places for outdoor relaxation and cycling. Visitors can also take a visit to Mt.Putuo, one of the four famous Buddhist mountains in China. It takes 1 hour and 40 minutes to there by car.

15 Important Cities in China for Business Travel
Ningbo is a city with strong Buddhist connections boasting a number of visually-impressive, historical temples.



Ashoka Temple: The 1700 year-old Asoka Temple houses the rare Buddhist relics of Sakyamuni, who is the founder of Buddhism.


Tiantong Temple: With a history of over 1600 years, it is renowned for its fantastic scenery and subtle architectural style.


Baoguo Temple: It boasts one of the best-preserved wooden structures of its type in the country.

Other Buddhist temples in the city include the Qita Temple, the
Tianfeng Pagoda
and the Xiantong Pagoda.
| | |
| --- | --- |
| Ashoka Temple | Tianyi Pavilion |

Season-specific resorts such as the Tianhe Scenic Area in Tiantai Mountain and Xuedou Mountain Scenic Area in Xikou-Tengtou Tourist Area cater for the summer season, while resorts such as the Nanxi Hot Springs are suited more to winter visits. However, to the north of the city run a series of beautiful lakes, including the Dongqian Lake, the West Lake and the Tai Lake, which are perfect for year-round visits. There are other attractions such as Tianyi Pavilion and Yandang Mountain worth your visit.



Top 10 Things to Do in Ningbo
Recommended Tour
Hangzhou Extension Tour: 7 Days Visit of Hangzhou - Ningbo - Putuo - Shanghai
More China Tour Packages
Located at the southwest of Ningbo City, Lishe International Airport (NGB) began serving the public in 1990 and has developed into an important air hub in east China. It is about 11 kilometers (6.8 kilometers) away from the urban area. Presently, many flights operate here, connecting the city with destinations both at home and abroad including Hong Kong, Seoul, Shanghai, Beijing, Kunming and Shenzhen. There is one railway station in the city for passenger transport: Ningbo Railway Station. Besides, there are convenient coaches, ferries, city-buses, metros and taxis to get around the city.



See also Ningbo Train Schedule
Due to its location in the coastal region, an area with a subtropical monsoon climate, the region is subject to temperate and humid weather. The mean annual temperature is 16.2

C (61.16

F). The region has four distinct seasons which guarantee visitors a different holidaying experience depending on the time of year they visit.
Ningbo Travel Tips

History: As one of China's oldest cities, the city has witnessed the rise and fall of numerous dynasties. It also represents the birthplace of Hemudu Culture, which itself has a history of over 7000 years. These early civilizations lived and thrived in the area, and have contributed greatly to make the city what it is today; an economically-developed, modern city with a profound cultural foundation. It has been an important port city for foreign trade since the Song Dynasty (960-1279). After the Opium War (1840-1842), it became one of the top-five ports in China, successfully utilizing its favorable location for water transport. Today, despite its well-developed economy and infrastructure, it remains surrounded by charming natural scenery.



Handicrafts: Although the city is striving towards modernization, the passion of the local people for producing traditional handicrafts remains undiminished. Hand-plaited bamboo vases, screens and animal figurines are particularly popular. The ancient Gu Mu Xiangqian, bamboo root carving and bamboo sculpture all reveal the local characters of craft.

- Last modified on Jun. 09, 2021 -
Questions & Answers on Ningbo Travel
Asked by Gary from USA | May. 27, 2021 07:21

Reply
What is the postal code for 288 Xinma Road, Jiangbei District, Ningbo, Ningbo, Zhejiang, China?
Answers (1)
Answered by Cameron | May. 30, 2021 20:10

0

0

Reply
315020
Asked by Ei Ei Kyaw from MYANMAR | May. 18, 2021 06:16

Reply
Do we need to quarantine to enter Ningbo from Myanmar?
Answers (2)
Answered by Nora | May. 23, 2021 19:02

0

0

Reply
Yes, you need.
Answered by Ei Ei Kyaw | Jun. 09, 2021 18:57

0

0

Reply
Thanks a lot for your help.
Asked by GRETADA | Sep. 16, 2019 23:11

Reply
Where can I find household goods at a reasonable price near the Nottingham University?
Answers (1)
Answered by Carmel from CANADA | Sep. 19, 2019 20:37

0

0

Reply
You can go to Sanjiang Mall: No.638, South Qianhu Road, Yinzhou district.
Asked by RAGAVAN from INDIA | Jul. 28, 2019 23:53

Reply
How to travel from Ningbo international airport to Munthaiya Economic and Development zone?
Answers (4)
Answered by Aria from UNITED KINGDOM | Jul. 30, 2019 00:12

0

0

Reply
Sorry, I didn't find this zone on the internet. Would you mind provide the detailed address?
Answered by RAGAVAN from INDIA | Jul. 30, 2019 03:01

0

0

Reply
Sorry there was a typo error. It should be Ninghai Economic and Development Zone.
Answered by Aria from UNITED KINGDOM | Jul. 30, 2019 20:03

0

0

Reply
You can take shuttle bus from the airport to South Coach Station, and there are many buses for you to take to Ninghai, then you can take taxi to your destination.
Answered by Ragavan from INDIA | Jul. 31, 2019 02:24

0

0

Reply
Thank you!
Asked by Jimmy Gouw from INDONESIA | Jun. 26, 2019 10:01

Reply
How do I go to Putuoshan from Ningbo airport, is there any car service to go there?
Answers (1)
Answered by Riley from USA | Jun. 26, 2019 19:58

0

0

Reply
Hi, there is direct shuttle bus you can take to Zhujiajian Pier firstly. The bus departs from 9:45 to 18:30 with interval of 30 minutes to 1 hour and costs CNY60-70. Then you can take ferry to your destination.