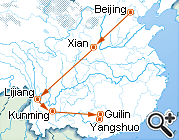 Best of China & Yunnan Minorities
ST14: 12 Days China Tours from Dusseldorf Germany to Beijing

Xian

Lijiang

Kunming

Guilin
Day 1
Dusseldorf - Beijing
With the direct flight of Dusseldorf to Beijing has been launched in 2011, planning a China tour from Germany is getting more convenient and easier. The direct flight CA964 operated by Air China leaves from Dusseldorf at 13:05 and arrives at Beijing at 05:05 next morning. The flying time is 10 hours. It is showed that the direct service run four times a week, on Wednesday, Friday, Saturday and Sunday according to the current flight schedule. Thus, there is another option for travelers departing on the other days of the week, and that is to connect the flight through a third city, like Hong Kong, Frankfurt, Munich, Berlin, Warsaw or Helsinki. For people transit at Hong Kong, you can take Cathay Pacific CX376 1325/0635+1 from Dusseldorf to Hong Kong, have a stopover of about 2.5 hours and then board flight CX390 0900/1220 to Beijing. The entire flight lasts 16 hours and 55 minutes. Travelers are also able to fly on Lufthansa to Frankfurt and then have a connecting flight on Air China to Beijing.
After arriving at Beijing airport, you will be warmly welcomed by our professional tour guide, who will be holding a sign with the logo of TravelChinaGuide and your name on it. You will be taken to your hotel by our experienced driver and his well maintained car. Have free time for the rest of the day. You can either do some sightseeing by yourselves or have a good rest at the hotel to recover from the jet leg.
Meals: No meals, advice freely available
Accommodation:
Days Inn Forbidden City Hotel



Tiananmen Square
Photo by our client Ms. Cornelia Nicoleta Popa
In the morning, our guide will pick you up at the hotel lobby at around 09:00 to start your Beijing student tours from Dusseldorf. Visit the grand
Tiananmen Square
, the biggest city center square in the world. Then it is a ten minutes walk to the splendid
Forbidden City
, which was the royal palace for Ming and Qing Dynasty, and the Imperial Palace Museum. The magnificent ancient buildings in the palace demonstrate the great craftsmanship of the Chinese people. Lunch is not included, but our guide can recommend some restaurants to you upon request. In the afternoon visit the outstanding
Summer Palace
, this once served as the entertainment place for the emperors and their family members during the late Qing Dynasty.
Meals: Western buffet breakfast
Summer Palace
Photo by our client Mr. Anthony Joseph Olender
The pick-up time is around 09:00 and you will be driven out of town to the
Badaling Great Wall
, which is 70 kilometers north - west of the city. The Badaling Great Wall is famous for its magnificent views, excellent facilities and profound culture. A cable car is available if you need and you can pay the cost on the spot. We would like to suggest you have a big breakfast at the hotel today and bring some snack for lunch, or have some fast food at a nearby snack bar. The guide will be glad to give you advice for where to have lunch if you request. En route to the downtown area, you will see the
Bird's Nest
(Olympic National Stadium) at a distance. If there is enough time, you can also take some pictures outside. The last stop today is the
Temple of Heaven
, which has an extraordinary architectural structure worth visiting.
Meals: Western buffet breakfast
bicycle riding on Xian City Wall
Today is free for you to spend it how you please. Before starting your DIY program, you need to check out of the hotel in the morning, but the hotel can still store your luggage for free. Places of interests we recommend are Qianmen Street, Dashilan Street, Liulichang Street and Nanluo Guxiang Hutong. Qianmen Street is two stops away from Days Inn Forbidden City Hotel. You can take bus No. 82 from the Nanheyan bus stop, which is only 80 meters northwest of your hotel, to Qianmen Street. It takes around ten minutes and the ticket costs CNY1 per person. You can also walk from your hotel for around 30 minutes to reach
Qianmen Street
, taking the tourism trolleys is a unique experience.
Dashilan Street
is a bypass of Qianmen Street, and Liulichang Street is 200 meters west away from Dashilan Street. There are many kinds of famous snacks served as your lunch choice. After wandering around these characteristic streets, you may take bus No. 82 from Qianmen Station and get off at Donghuangchenggen Beikou Station after seven stops.
Nanluo Guxiang Hutong
can be reached after walking for ten minutes. You may buy some local snacks for a simple dinner and breakfast for the next day at the Hutong area. You can take either bus No. 82 or No. 60 for 20 minutes trip back to the hotel for your luggage. After that you can walk 15 minutes to take bus No. 52 from Tiananmen East Station to Beijing West Railway Station, which takes around 40 minutes. Please leave yourself enough time to fetch your luggage and get to Beijing railway station. Take the overnight soft sleeper train to Xian.
Tips: There is limited space for luggage on the train, so we suggest you read the
train baggage allowance
in advance. In the soft sleeper compartment, the train attendant will change your ticket to a plastic card after boarding and change it back after you arrive at your destination. Please keep your ticket, which is required to show when you exit the railway station. There is free boiled water available on the train but you need have your own drinking cup. Bottled water can be purchased on the train, but it is comparatively expensive. You can buy some before boarding the train.
Meals: Western buffet breakfast
Accommodation: Overnight soft sleeper train
Our travel consultant Bruce with his clients (A happy family)
The train will arrive in Xian in the early morning. Our local guide will meet you at the railway station by holding a sign with your name on it. Breakfast is by your own arrangement. You can have it at a nearby restaurant or at your hotel if you like. Your guide will give you necessary advice on request. The first site you will visit today is the spectacular
Terracotta Army Museum
, the eighth wonder of the world and a must see. You will spend around two hours at this spot. Lunch is not included today. You may have the chance to choose your preference and your guide will help you to make a decision. In the afternoon, you will firstly be guided to the
Shaanxi History Museum
, which is a comprehensive historical museum. Then continue the visit to the Xian Museum and the
Small Wild Goose Pagoda
, which is considered as the fanciest cultural heritage of Chinese Buddhist architecture.
Meals: No meals
Accommodation:
Days Inn City Centre Xi'an



Our client Ms. Susanne Beres Mort with local girls in their traditional dress of Bai-Minority group in Lijiang
Photo by our client Mr. Paul R Mort
Another free day today and only hotel accommodation with breakfast is provided for you. Here we would like to offer an itinerary for your reference. We recommend a visit to the ancient
City Wall
this morning, which has been beautifully conserved and is considered the best of its kind in our country. Walking southward from the North Avenue for around 20 to 25 minutes, you will reach the South Gate, which is also called Yongningmen Gate, from where you can start your City Wall trip. Cycling on the wall is a unique experience if you like. After around one or two hours' visiting, you can get to
Shuyuanmen Street
, which is at the east of the South Gate. The Baoqingsi Pagoda is located at the front of the Shuyuanmen and you can see the pagoda clearly from the South Gate. The noted
Forest of Steles Museum
is also on this street. Then you walk north along the same road, the South Avenue, to get back to the
Bell Tower
and pay a short visit to it. The next suggested site is
Drum Tower
, situated at the west of the Bell Tower and can be easily reached by around five minutes walking. After going across the Drum Tower, you will be at the famous and bustling
Muslim Street
. You can have some leisure time walking this ethnic street to further discover the local's lifestyle. There are some cultural sites along the street, such as the Great Mosque and the Gao's Family Compound. You may have a look if you are interested in it. For your reference, you could find various bars and restaurants around the Bell Tower for lunch and dinner.
Meals: Western buffet breakfast
Take a shuttle bus at a cost of CNY26 to the airport. The bus stop is just in front of the Melody Hotel, which is located to the west of the Bell Tower and not far from your hotel. Alternatively, you can spend CNY130 and take a taxi to the airport and board the only early morning flight to Lijiang. Our local guide and driver will pick you up from Lijiang airport and transfer you to the hotel if early check-in is available. The amazing
Lijiang Ancient Town
is a World Heritage Site. You can visit the Square Street of the town and have a touch of distinctive Naxi ethnic culture in the morning. The rest of the day is free to spend how you wish. You can have a leisurely afternoon at a special bar, or roam around the street in complete forgetfulness of time. And there are many restaurants on the street for you to choose to have your lunch and dinner.
Meals: Western buffet breakfast
Accommodation:
Sanhe Inn



Baisha Village in Lijiang
A full day deep exploration of Lijiang is arranged for you. Visit the Baisha Village, a local
Naxi family
, the
Baisha Murals
,
Shuhe Old Town
and Tea-Horse Road Musuem. We will arrange lunch for you today. In the afternoon, visit the Residence of Mu's, which was the residence of Naxi's chieftain, Mu. It bears witness to a period of Lijiang history. Then pay a visit to the Ancient Tower of the Lion Mountain, which was the garden of Mu's and the symbol of Lijiang. Transfer you to the railway station to take an overnight soft sleeper train to Kunming. We recommend having dinner before boarding as the selection of food on the train is limited and the taste is not good. The train from Lijiang to Kunming takes around nine hours. If you do not want to take the train, please advise us in advance to get a flight instead.
Meals: Western buffet breakfast, Lunch
Accommodation: Overnight soft sleeper train
Arrive in Kunming in the early morning. The guide in Kunming will welcome you at the railway station and give you some suggestions for having breakfast. Guided sightseeing is arranged today, which includes the famous
Stone Forest
, a set of limestone formations. This visit will take between two and three hours. Lunch is included in our plan today. You will take an afternoon flight to Guilin where you will be met by our excellent guide at the airport and transferred to the hotel.
Meals: Lunch
Accommodation:
Hotel Universal



Day 11
Guilin - Yangshuo - Guilin
Li River cruise
The highlight of Guilin tour is the amazing
Li River
cruise to Yangshuo. The cruise ship departs at 09:00 or 09:30 and arrives in Yangshuo at around 13:00 or 13:30. The guide and driver will take you to the cruise ship. You will enjoy the lovely scenery during the four hours cruise and you can spend half a day in Yangshuo all by yourself. When you are in Yangshuo, we recommend you go to the countryside to enjoy the charming rural scenery. You will need to make your way back to the hotel in Guilin by the late afternoon. It is easy to buy a ticket back to Guilin at Yangshuo Bus Station. The ticket costs CNY20 per person and the bus journey takes around 90 minutes. (Tips: As the cruise company offers box lunch on the ship. It may fail to meet with your approval. TravelChinaGuide is aware of the shortcomings and suggests you prepare for the cruise with a generous breakfast at the hotel.)
Meals: Western buffet breakfast, Lunch
Day 12
Guilin - Dusseldorf
As the highlights in Guilin are all easily accessible, we leave the day free for your own arrangements. Taking a taxi in Guilin is very convenient and comparatively economical than other big cities. So we would like to recommend a taxi for you as your main transport in this city. The magnificent
Reed Flute Cave
and the interesting
Elephant Trunk Hill
will take up half a day for visiting. If your flight leaves in the late afternoon, you can also include a visit to the
Seven Star Park
, the biggest and the liveliest park in Guilin. Lunch is on your own arrangement. There are many restaurants in Zhengyang Commercial Walking Street. According to your flight time, please find your own way to the airport to board your flight.
There is no airline company operating the direct flight from Guilin to Dusseldorf. Our suggestion is to take flight KA703 1630/1755 of Dragon Air from Guilin to Hong Kong first, then head to Dusseldorf by flight CX379 0050/0710 in 6 hours and 55 minutes. The whole trip takes 20 hours and 40 minutes. Alternatively, you can fly to Beijing, where there is non-stop flight bound for Dusseldorf. Hope you have enjoyed your time in our country.
Meals: Western buffet breakfast
The above routes do not meet your requirements? Please click
Tailor My Trip