Top Beijing Attractions
More Things to Do
Top 10 City Tours
Code: BJ-BK04
Beijing Xizhimen to Summer Palace Biking
Route: Xizhimen Subway Station- Beijing Exhibition Hall - Beijing Zoo - Beijing Observatory - Purple Bamboo Garden – National Library - Summer Palace
Distance: around 10 kilometers (6.2 miles)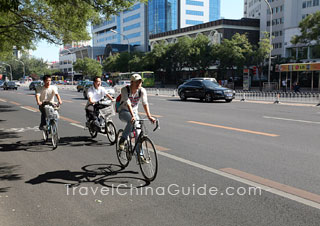 Street View of Xizhimen
Summer Palace
Stop 1: Beijing Exhibition Hall
This biking route for your reference starts from Xizhimen subway station. You may get there by subway line 2 or line 4.
After getting out, rent a sharing bike and ride westward for about five minutes, you will find Beijing Exhibition Hall on your right side. To save time, you are advised to only appreciate its Russian style exterior by roadside.
Stop 2: Beijing Zoo
The
Beijing Zoo
is to the west of the Exhibition Hall, and you can reach it in minutes by bike.
Once a royal garden in the Ming (1368 - 1644) and Qing (1644 - 1911) dynasties, Beijing Zoo is one of the largest zoos with various kinds of animals in China. We specially recommend that you pay a visit to the panda house to see the lovely pandas eating bamboo and playing with each other.
The combo ticket for the Zoo and Panda Hall is CNY19 from April to October and CNY14 from November to Next March. To go inside, you need to store the bike beforehand.
Stop 3: Ancient Observatory
Beijing Ancient Observatory
is just opposite Beijing Zoo to the south.
Constructed in 1957, it is the first observatory in China. There you can see many interesting exhibitions and also learn some astronomical knowledge. The admission fee is CNY20 and an additional charge is required for the theaters.
Stop 4: Purple Bamboo Garden
Continue to ride westwards to Baishi Qiao (White Stone Bridge) at a big intersection. Cross the intersection and you will see
Purple Bamboo Garden
on your right side.
The park takes up an area of 47.35 hectare, and one third of it is covered by water, including one river, one canal, and three lakes. As the name suggests, the park is also abundant with all kinds of bamboos. The park is free of charge and it will be very relaxed to have a rest while enjoy the beautiful scenery.
Stop 5: China National Library
You are advised to get out of the Purple Bamboo Park from it east gate and go northwards along South Zhongguancun Avenue to pay a visit to the National Library just to the north.

It is one of the largest libraries in the world for its rich collection and number of librarians. It's also free of charge but you need to make a reservation in advance on its official WeChat account.
Stop 6: Summer Palace
Keep riding northwards along South Zhongguancun Avenue and turn left at the first crossing, then ride all the way westwards along Wanshousi Road and turn right when you reach a north-south river. Then head northwards along the river bank for about 4 km (2.5mi), you will reach the south gate of
Summer Palace
on the Kunming Road.
As the largest and best-preserved royal garden in China, the Summer Palace boasts breathtaking scenery and grand imperial buildings. Lakes, hills, bridges, long corridor and the old buildings make a perfect combination in the park. The admission fee is CNY30 from April to October and CNY20 in other months and you'd better make a booking in advance from TravelChinaGuide or its official website.
Kindly Notes
1. It is quite tight to finish all the spots mentioned above in one day, so we suggest that you only visit Beijing Zoo and Summer Palace in details and others briefly.
2. Before going inside the scenic spots for sightseeing, remember to park and lock the sharing bike properly. After, you may scan the QR Code to rent another one. Each ride is generally CNY1.5 per half an hour.
See more:
Bike Sharing in China

More Beijing Cycling Routes: