Top Shanghai Attractions
More Things to Do
Top 10 City Tours
Code: SH28
3-Day Shanghai Side Trip to Huangshan
Day 1
Shanghai - Huangshan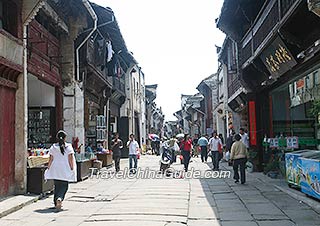 Tunxi Old Street
Yellow Mountain
in Huangshan City, Anhui is renowned for towering peaks, sea of cloud, and pines in various looks. It is workable for visitors in Shanghai to make a side trip to Huangshan by a 4.5 hours' train ride.
It is suggested you take the high speed train leaving at around 8:30 from Shanghai Hongqiao Railway Station to Huangshan North Railway Station. Upon arrival, please get on a special bus to Huangshan Bus Station and find a nearby hotel to check in.
After having lunch in the hotel, you may take bus 1, 2, or 8 opposite Huangshan Bus Station and get off at Yimalu; enter Tunxi Old Street from its western end and start your Shanghai side trip to Huangshan there.
Tunxi Old Street
is the most famous pedestrian street of the city with Hui-style buildings lining along the flagstone-paved path. Fine carvings on bricks, wood, and stones are the most unique architectural feature in Anhui. Besides, Tunxi Old Street is the paradise for backpackers to have a taste of local snacks and pick souvenirs. There are also some private museums exhibiting historic relics such as paintings and ink stones.
At night, red lanterns hanging under the eaves will be lightened up, and you can take great pictures of this block at that time.
When today's tour is over, hail a taxi back to your hotel and have a good sleep for the coming two-day trip to the Yellow Mountain.
Mt. Huangshan
After breakfast, take your entire luggage to check out the hotel and catch a direct bus at Huangshan Bus Station to the Yellow Mountain. The first bus leaves at 6:00 and it would take around one hour on the way.

Upon arrival at the southern entrance, get on a shuttle bus to the Yungu Temple and take telpher there to the White Goose Range. The following is the recommended route for your first-day visit: Stalagmite Peak - Beginning-to-Believe Peak - Black Tiger Pine - Beihai Hotel - Refreshing Terrace - A Monkey Gaping at the Sea - Lion Peak - Shilin Restaurant - Red Cloud Peak - Cloud Dispersing Pavilion - Falling Rock from Sky - Bright Summit Peak. It is suggested you well arrange your time and make sure you not miss the sunset at the Bright Summit Peak.

You are recommended to spend the night at Baiyun Hotel, which is 500 meters (550 yards) away from the Bright Summit Peak. Go to bed early because you are highly advised to enjoy the sunrise scenes the next morning.
Day 3
Yellow Mountain – Shanghai
Please get up at around 5:00 and hike to the Bright Summit Peak to watch the sun rising from the sea of cloud. After that, go back to check out and then visit the following spots in sequence: Turtle Peak, A Thin Strip of Sky, Ladder on the Clouds, Lotus Peak, Jade Screen Peak, and Guest Greeting Pine.

When the visit is over, walk back towards the Jade Screen Peak to take the telpher down to the Mercy Light Temple, and then get on a shuttle bus to the southern gate of the Yellow Mountain. Transfer to a special bus to reach Huangshan North Railway Station in around 50 minutes for your return train. This 3-day independent Shanghai tour to Huangshan will draw to an end at this point.

Tips: Since the last high speed train back to Shanghai leaves at 13:50, it is suggested you finish your visit of the Yellow Mountain before 12:00.

More Related Packages: