Top Shanghai Attractions
More Things to Do
Top 10 City Tours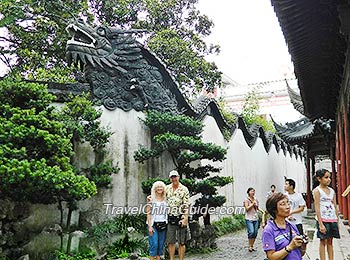 Yu Garden
Route: Yu Garden - City God Temple - Shanghai Old Street - Tianzifang

Take subway line 10 to Yuyuan Garden Station. Leave from Exit 3 and walk eastwards along Fuyou Road to enter the garden from the northern gate. Get out from the main gate of Yu Garden and go through the Jiu Qu Bridge to the other end to have a taste of the famous Nanxiang steamed buns. Then, head south to visit the City God Temple. After getting out from the southern gate, you will find yourself standing on the Middle Fangbang Road, which is also known as the Shanghai Old Street. After strolling around, take a taxi to the Tianzifang to spend some leisure time in a bar or a café there, and this one-day independent Shanghai tour will draw to an end here.
Highlights
| | |
| --- | --- |
| Yu Garden | This garden is located in the middle of the City God Temple Pedestrian Street. Although occupying a limited area, bridges, pavilions, corridors, ponds, and rockeries are exquisitely laid out inside the garden. Stepping into the garden and you may feel like being inside another peaceful world which is totally different from the bustling block outside. |
| Old Street | This street stretches 825 meters (902 yards) from the west to the east. Divided by Guanyi Street, it is lined up with traditional buildings of the Ming and Qing dynasties (1368 – 1911) along the western section while you can see residences following the architectural style during 1912 – 1949 at the eastern part. It is also a famous shopping street brimmed with many time-honored brands such as Tong Han Chun Pharmacy, Lao Tong Sheng Food Store, and Qiu Tian Bao Garment Store. |
| Tianzifang | It is one of the best places to immerse in the past time of Shanghai City in the 19th century. Retro bars and cafes can be found in the distinctive Shikumen buildings here. Besides, it is also a place full of artistic breath with painting galleries, handicraft workshops, and other kinds of cultural stores settled there. |
Shanghai Old Street
Tips:
1. City God Temple Pedestrian Street is usually crowded with locals and visitors during weekends and public holidays, so it might be better to set out this one-day Shanghai backpacking tour during weekdays.
2. There are booths inside Yu Garden, selling handicrafts like porcelains, jade wares, wooden carvings, paintings, and Four Treasures of the Study (brushes, ink sticks, paper, and ink stones), but it is not advised you to make your shopping there for the price might be a little bit higher. You can buy them in shops along the Old Street instead.
2. Most of the stores in Tianzifang have steep and narrow stairway, so it is advised girls not to wear high heels or short skirts.
3. Tianzifang occupies a large area and buildings there look quite similar. To avoid getting lost, you may buy a map at the tourist center by the entrance. Some stores inside also sell novel maps which can also be kept as a souvenir.
Costs
Yu Garden
CNY 40 (Apr. 1 ~ Jun. 30 & Sept. 1 ~ Nov. 30)
CNY 30 (Jul. 1 ~ Aug. 31 & Dec. 1 ~ Mar. 31)
City God Temple
CNY 10
Nanxiang steamed buns
CNY 35~108 for every six buns
Taxi fare: Old Street – Tianzifang
CNY 20

More Related Packages: