Top Xian Attractions
More Things to Do
Top 10 City Tours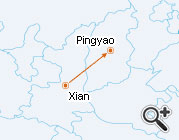 XA10: 2-Day Private Pingyao Tour from Xian
From
$479
per person
Free Inquiry



Ancient City of Pingyao
Our guide will pick you up at your own booked hotel in Xian, and then drive you to Xian North Railway Station. From there you will take a high speed train to Pingyao. The tickets will be reserved by us in advance.
Our Pingyao guide and driver will be waiting for you at the train station. After a warm greeting, they will transfer you to the hotel and help you check in. After a short break, your private tour of Pingyao Ancient City will begin. You will be accompanied to visit highlights of the town, including Ancient Ming-Qing Street, Temple of the City God, Rishengchang Exchange Shop, Tongxinggong Ancient Security Guard Company, and Ancient City Wall.
Meals: No meals, advice freely available
Accommodation:
Yide Guest Hotel

Qiao Family Compound
This morning, our guide will pick you up at the hotel and drive you out of Pingyao Ancient City to visit Qiao's Family Compound - the best preserved courtyard owned by a local merchant in the old times, and Shuanglin Temple where you can appreciate more than 2,000 painted clay sculptures of the Song, Yuan, Ming and Qing dynasties (960 - 1911).

Your two-day private Pingyao tour from Xian will round off at this point. Our guide and driver will transfer you to Pingyao Railway Station and see you off. Wish you a pleasant journey!

Meals: Western buffet breakfast

Ancient City of Pingyao
The ancient city of Pingyao is the most complete antitype of county constructed a thousand years ago. On the axis of the city, you will see the Ancient Ming-Qing Street, the most bustling business block of the ancient city with a length of over 400 meters (440 yards). The street had occupied half of the country's financial institutions during the Qing Dynasty (1644 - 1911), just like a 'Wall Street' in China. The Temple of the City God here is quite different because it was built for people to worship not only the City God but also the Kitchen God and the God of Wealth. As China's first personal bank established in the 1823, Rishengchang Exchange Shop once had its branches reached more than 30 cities of the country and even some European and Southeast Asian cities. Here you can still see some original account books, photos, and documents stored inside. The Tongxinggong Ancient Security Guard Company was one of the most famous agencies at that time and even escorted cargoes for Empress Dowager Cixi.

Qiao's Family Compound
Located about 30 kilometers northwest from Pingyao, Qiao's Family Compound is the most famous and best preserved Shanxi merchants' compound. The magnificent architectural complex is divided into six courts with 313 rooms are finely laid out and artfully designed.The carved brickwork, wood carvings and colored paintings can be seen everywhere. It is no wonder that this compound is reputed to be one bright pearl of folk residences of Northern China.
Price Includes
Hotel accommodation with breakfasts
Train fare of Xian/Pingyao
Private English-speaking guide
Private driver & air-conditioned vehicle
Entrance fees to tourist sites
Price Excludes
International and domestic airfares
Lunches and dinners
Entry visa fees
Tips or gratuities for guide and driver
Itineraries you may also like: