Code: GF-LJ01
4 Days Golf Tour of Lijiang
Lijiang Golf Tour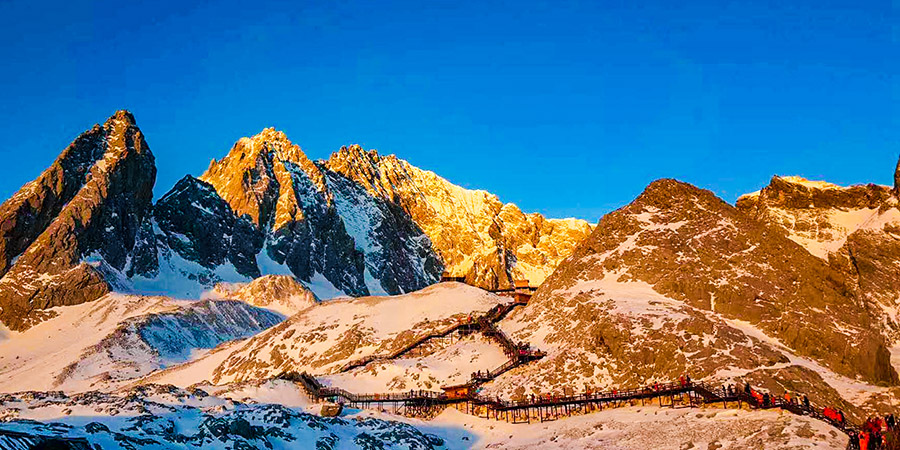 Lijiang Old Town
Have you ever played golf in the famous tourist city Lijiang? If not, just have a try. You could play your golf freely at either of the local two famed golf clubs. You can find the details below. Undoubtedly, it would be a pity if you just spend your golf vacation without traveling around this beautiful city. Lijiang is a fairyland in southern of China with spectacular view. You may choose to wander around Lijiang Old Town which is well-preserved place with deeply Naxi minority culture. Try to feel the small bridge, stream, villager mixed together harmoniously. As you stroll in the Square Street and you will be stunned by the tranquil surroundings. In the next day, you may pay a visit to the Yushui village and Doba valley, an ecological folk culture village. It provides you an opportunity to appreciate the long standing Doba culture. Then proceed to Jade Dragon Snow Mountain considered a holy mountain by the Naxi people and concludes the day at the Rock Joseph's Former Residence in Yuhu Village. Otherwise, if you are not interested in the above itinerary, you may visit the steep but magnificent Tiger Leaping Gorge, the Iron Chain Bridge in the Stone Drum Town instead.

For any organized tour, please check our Lijiang Tour Packages.

RELATED GOLF CLUB INFORMATION:
1. Jade Dragon Snow Mountain Golf Course

Jake Dragon Snow Mountain Golf Course is located at the foot of Jade Dragon Snow Mountain, 3,100 meters (10170.5 feet) above the sea level. The weather at this golf course is very pleasant for the whole year with sunny days, clean air and mild humidity. Designed by the famous golf course designer Neil Haworth, the golf club was built June 2000 and was operational since October 2002. As a typical hilly golf course, it covers and area of 329.5 acres, and has 18 holes and 72 pars that measure 8,548 yards, the longest course in the world. First 9 holes and last 9 holes are designed quite differently according to the landscape.The clubhouse and villa is constructed using local craft and artifacts, showing their special and unique local ethnic flavor.

Address: Ganhaizi, Jade Dragon Snow Mountain, Lijiang, Yunnan Province
Tel: 86-888-5131888
Fax: 86-888-5131582
Email Address: jdgc@li.yn.cninfo.net


2. Lijiang Ancient Town Lake Front Golf Club

Located at the foot of Mount Wenbi, Lijiang Ancient Town Lakefront Golf Club is only 8 kilometers (5 miles) from the Lijiang Old town. Founded in November 2005, it was designed by American designer, Joe Obringer. Winding along Wenbihai Lake and with Yulong Snow Mountain in the background, this golf course has very beautiful natural sceneries surrounded for you to enjoy. The golf course has 18 holes and 72 pars and its fairways are 7661 yards long. First 9 holes present a mountainous style of golf while the last 9 holes create wonderful lake view and watery hazards. It is a great combination of functional design and scenic charms. Playing golf here, you will feel entertained, challenged, and relaxed at the same time.

Address: Huangshan Town, Yulong County, Lijiang, Yunnan Province
Tel: 86-888-5888999/5139999
Fax: 86-888-5392222
Email Address: Lg3102331@vip.kim169.net