Shangri-La Hotel, Harbin(5 Star)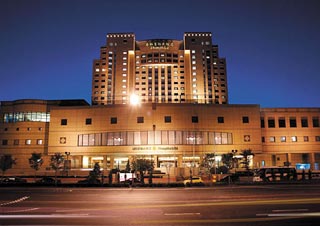 Shangri-La Hotel, Harbin
Hotel Name in Chinese: 哈尔滨香格里拉大饭店
Hotel Profile: Being the first and only international 5-star hotel, Shangri-La Hotel Harbin sits downtown by the scenic Songhua River and overlooks the Central Business District. Surrounded by spectacular landscape, the Hotel features elegantly-appointed rooms, a 24-hour business center, modern meeting facilities and the finest dining in Harbin. Guests can also pamper themselves in the spa and fitness club, completing its range of impeccable services.
Address: No. 555 You Yi Road, Dao Li District, Harbin, 150018 China
Tel: 86-451-8485 8888
Hotel Amenities, Facilities and Services:
24-hour Room Service
Airport Transfer
Baby-sitting
Cable/Satellite TV
Car Rental Services
Conference Facilities
Delicatessen
Drugstore
Facilities for the Disabled
Foreign Exchange Counter
Hair/Beauty Salon
IDD
In-room Internet Access
Laundry & Valet Services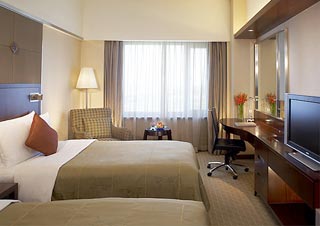 Standard Deluxe Room
Non-smoking Rooms
Parking Facilities
Pastry Shop
Postal/Parcel Services
Safe Deposit Box
Taxi & Limousine Services
Voice Mail
Mini-bar
Coffee/Tea Making Facilities
In-house Movie Channels
Transportation:
Distance from the airport: 40km
Distance from the railway station: 10km
Distance from the urban center: 3km
Nearby Attractions:
The Songhua River, the Central Business District
Songhuajiang Gloria Plaza, Harbin(4 Star)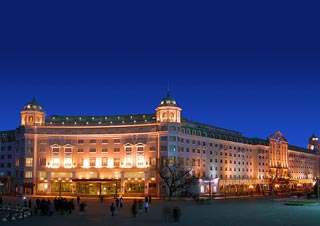 Songhuajiang Gloria Plaza, Harbin
Hotel Name in Chinese: 哈尔滨松花江凯莱花园酒店
Hotel Profile: Songhuajiang Gloria Plaza Harbin is situated on prime location next to the Song Hua River, only 30 minutes from the airport and 5 minutes from the Railway Station. It is located in Harbin's business and shopping districts and only 5 minutes walk from Zhaolin Park - the venue for Harbin's signature event - the famous annual Snow and Ice Festival. For its convenient location, hotel guests are only minutes away from the centre of all activities - be it shopping, business, or pleasure!
Address: No. 259 Zhongyang Avenue, Dao Li District, Harbin, 150010 China
Tel: 86-451-8463 8855
Hotel Amenities, Facilities and Services:
Conference and Meeting Facilities
Banquet Facilities
Currency Exchange
Safe deposit boxes
24-hour room service
Laundry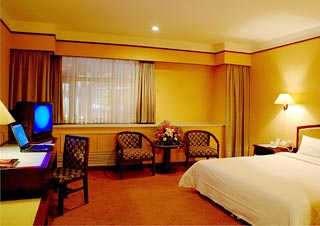 Standard Twin Room
Baby-sitting service
Transportation
Ticketing service
Tour arrangements
Airport Shuttle Bus
Parking Lot
Transportation:
Distance from the airport: 45km (30 minutes' driving)
Distance from the railway station: 3km (5 minutes' driving)
Distance from the urban center: 0km (5 minutes' walking)
Nearby Attractions:
The Songhua River, Zhaolin Park, Zhongyang Avenue Central