Holiday Inn Hotel, Hohhot(4-Star)
Name in Chinese: 呼和浩特假日酒店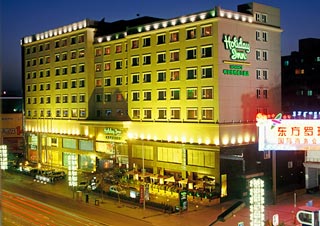 Exterior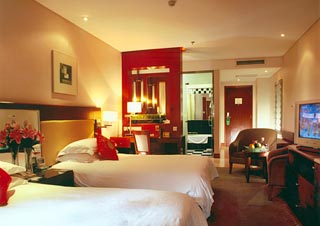 Superior Twin Room
Profile: The Holiday Inn Hohhot (Huhehaote jiari jiudian) is a four star international standard hotel in Hohhot. Situated on West Zhongshan Road, the main avenue in Hohhot, Holiday Inn Hohhot is right in the heart of downtown Hohhot, in close proximity to the business district and the pedestrian shopping street. For business and leisure travelers, Holiday Inn Hohhot is easily accessible to any commercial place, such as Inner Mongolia Convention Hall, and to Inner Mongolia's famous pasture.
Address: No. 185 Zhongshan Xi Road, Hohhot, 010030 China
Tel: 86-471-6351888
Amenities, Facilities and Services:
Meeting Facilities
Business Center
Laundry
Gift Shop
Broadband access in all types of rooms
Airport Shuttle Bus
Chinese Restaurant
Swimming Pool
Fitness Facilities
Transportation:
Distance from the airport: 16km
Distance from the railway station: 3km
Distance from the city center: 0km
Nearby Attractions:
International Trade Mansion, Tianyuan Shopping mall, Minority Market and Qingcheng Park
Zhaojun Hotel, Hohhot(3-Star)
Name in Chinese: 呼和浩特昭君大酒店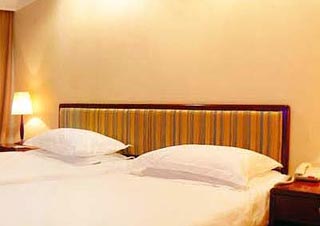 Standard Twin Room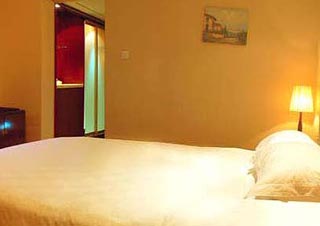 Standard Double Room
Profile: Hohhot Zhaojun Hotel is a modern three-star tourist hotel, which is right located downtown Hohhot. It is an ideal place to make traveling and trading in Inner Mongolia. Although with a less than attractive exterior, this hotel, a Hong Kong joint venture, is one of the best in town, with both well-equipped facilities and good service. The reception is particularly impressive, with murals depicting the life of Wangzhaojun, scenes from the grasslands and a tapestry of Genghis Khan.
Address: No. 69 Xinhua Street, Hohhot, Inner Mongolia, 010050 China
Tel: 86-471-6668888
Amenities, Facilities and Services:
Meeting Facilities
Business Center
Parking
Currency Exchange
Ticketing Office
Domestic Long-distance Access
International Long-distance Access
Laundry Service
Gift Shop
First Aid
Beauty Salon
Broadband Access
Chinese Cuisine Western Cuisine
Coffee Shop
Bar
Lounge
Room Service
Disco Karaoke
Chess / Poker Room
Swimming Pool
Bowling
Fitness Facility
Massage
Sauna
Tanning
Transportation:
Distance from the airport: 15 Km
Distance from the railway station: 1.5 Km
Distance from the urban center: 0km
Nearby Attractions:
Urban center, shopping mall