Grand Soluxe Hotel Gansu (5-Star)
Name in Chinese: 甘肃阳光大酒店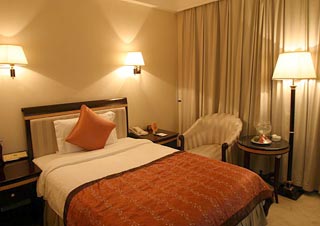 Standard Double Room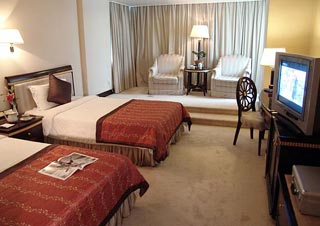 Standard Twin Room
Profile: The Grand Soluxe Hotel Gansu is build under international five star standard.The hotel is located right in the urban center. With its convenient location and the combination of its quiet surroundings and the busy city life, it is one of the most ideal hotels for you choose. The overall services, the luxury decorations and the beautiful surroundings will all surely make your holidays memorable.
Address: No. 428, Qingyang Road, Lanzhou, 730000 China
Tel: 86-931-4608 888
Amenities, Facilities and Services:
Conference rooms
Business
Currency exchange
Ticket offices
Car rental
Laundry
Gift shop
Chinese & Muslim Cuisine
Bowling
Karaoke
Gym
Sauna and Massage treatment
Transportation:
Distance from the airport: 70km
Distance from the railway station: 4km
Distance from the city center: 1km
Nearby Attractions:
Central Square and Parkson Shopping Mall
Legend Hotel, Lanzhou(4-Star)
Name in Chinese: 飞天大酒店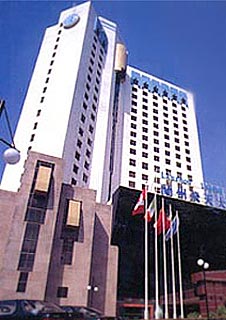 Legend Hotel, Lanzhou
Profile: Lanzhou Legend Hotel, a four star hotel established under a Sino-foreign joint venture, is one of the best hotels located in the heart of the city. Lanzhou Legend Hotel offers 362 elegantly furnished guest rooms and suites for business travelers and vacation seekers. All rooms feature a wide array of amenities and decorated with original Chinese paintings inspired by the "Flying Celestials" murals found in the Dunhuang Grottoes.
Address: No. 599, Tianshui Road, Lanzhou, 730000 China
Tel: 86-931-8532 888
Amenities, Facilities and Services:
Meeting facilities
Business center
Currency exchange
Babysitting
Flower shop
Gift shop
Limousine
Laundry
Fitness center
Sauna
Jacuzzi
Massage
Snooker table
Beauty Salon
Transportation:
Distance from the airport: 76km
Distance from the railway station: 1km
Distance from the city center: 0.5km
Nearby Attractions:
Dongfanghong Square, Five-spring
Jincheng Hotel, Lanzhou(3-Star)
Name in Chinese: 兰州金城宾馆
Profile: Jincheng Hotel provides 300 guest rooms, which are all designed by famous designers. It has a very advantageous geographical location, faces the Yellow River in the North and looks to the Giant Mountain in the South. It is only 10 minutes' walk to the urban center and 50 minutes' driving to the airport.Address:No. 363, Tianshui Road Lanzhou, 730000 China
Address:
Tel: 86-931-8416 638
Amenities, Facilities and Services:
Restaurant
Business Center
Meeting facilities
Internet Access
Parking
Gift Shop
Gym & Sauna
Dancing room
Cable/Satellite TV
Transportation:
Distance from the airport: 72km (50 minutes' driving)
Distance from the railway station: 0.8km
Distance from the city center: 1km (10 minutes' walking)
Nearby Attractions:
Yellow River