Crown Plaza Nanjing Hotel and Suites(5-Star)
Name in Chinese: 南京侨鸿皇冠假日酒店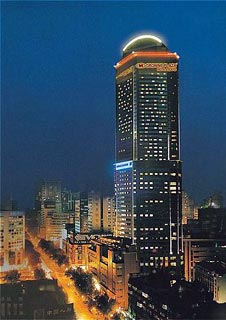 Crown Plaza, Nanjing
Profile: Crown Plaza Nanjing Hotel and Suites, the highest building among the hotels in Nanjing, is located at the financial and business center of Nanjing. It offers silence from bustle and has convenient transportation. The hotel is also adjacent to one of the best and most cosmopolitan shopping centers in the entire city. You will have a pleasant holiday staying here during your trip.
Address: No. 89 Han Zhong Road, Nanjing, 210029 China
Tel: 86-25-84718888
Amenities, Facilities and Services:
Parking Lot
Swimming Pool
Fitness Centre
Japanese Meal
Billiards
Sauna
Internet Access
Business Center
Bar
Coffee House
Banqueting Hall
Western-style Food
Currency Exchange
Hairdressing
Meeting Room
Chinese Meal
Chinese Meal
Entertainment House
Transportation:
Distance from Nanjing Lu Kou International Airport: 53km
Distance from Nanjing railway station: 19km
Distance from Shanghai-Nanjing Expressway: 14km
Distance from Xuan Wu Lake: 3.5km
Nearby Attractions:
Mr. Sun's Mausoleum, Xuan Wu Lake, Qin Huai River, famous teahouse and wine shop, Ling Gu Park, large business center and shopping malls
Yihua Hotel Nanjing(4-Star)
Name in Chinese: 南京怡华酒店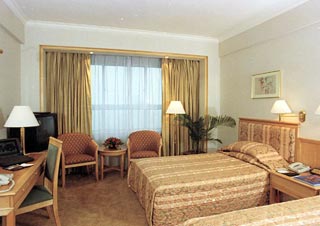 Superior Room
Profile: The Yihua Hotel Nanjing located in the university district of Nanjing, close to the Drum Tower. Its convenient location and excellent facilities make it an excellent place to stay for business or leisure travelers. Being the first international hotel in Nanjing, The Ramada Plaza Hotel offers most consistent, warm services and provides more of what travellers need.
Address: No. 45 North Zhong Shan Road, Nanjing, 210008 China
Tel: 86-25-8330 8888
Amenities, Facilities and Services:
On-site Restaurant
Coffee Shop
Cocktail Lounge
Laundry
Hair Salon
Gift shop/newsstand
Business Center
Printer
Secretarial Services
Safe deposit box at front desk
Car-rental
Broadband Internet Access
Mini-bar
Satellite Color TV
Hairdryers
Transportation:
Distance from the urban center: 2km
Distance from the airport: 40km
Distance from the railway station: 5km
Nearby Attractions:
Confucius Temple & Qing Huai Scenic Area, Xuan Wu Lake and Yangtze River