Yinlong Hotel, Xining(5-Star)
Name in Chinese: 青海银龙酒店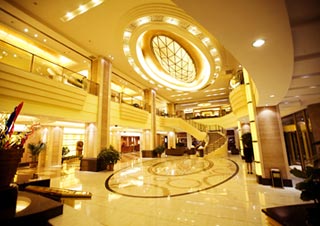 Lobby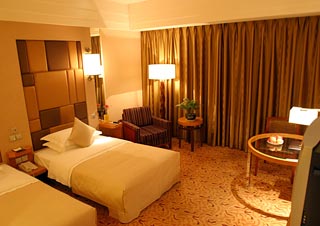 Superior Twin Room
Profile: Yinlong Hotel is a luxurious 5 star business hotel in Xining. It just locates in the prosperous urban center. There are 316 rooms well equipped in different standard meet the various needs of both business travellers and leisure tourists. You will sure love it no matter on its location or its service quality.
Address: No. 38 Huanghe Road, Xining, 810001 China
Tel: 86-971-6166666
Amenities, Facilities and Services:
Business Center
Meeting Room
Parking Lot
Tickets Service
Direct Long-distance call
Laundry
Rooms for disabled people
Hairdryer
Beauty Salon
Tea/Coffee room
Mini-bar
Healthy Club
Night Club
Disco Bar
Transportation:
Distance from the airport: 38km (40 minutes' driving)
Distance from the railway station: 9km (10 minutes' driving)
Distance from the urban center: 0.5km (2 minutes' driving)
Distance from Bus station: 3km (5 minutes' driving)
Nearby Attractions:
urban center, shopping mall
Qinghai Hotel, Xining(4-Star)
Name in Chinese: 青海宾馆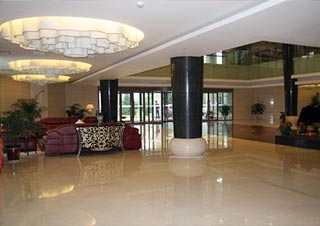 Lobby of the Qinghai Hotel, Xining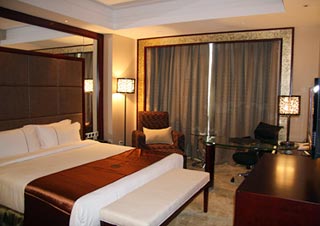 Standard Double Room
Profile: Qinghai Hotel, located in the centre of Xining city, is the only joint venture 4 star tourism hotel and the most modern building in the province. With beautiful environment as well as convenient transportation, it is an ideal place for tourism, conference and business with its advanced facilities of accommodation, traveling, shopping and entertainment.
Address: No. 158, Huanghe Road, Xining, 810001 China
Tel: 86-971-6144888 (6148999)
Amenities, Facilities and Services:
Internet Access
Typewriting
Photocopying
IDD&DDD
Translation
Gymnasium
Sauna
Beauty Salon
Top-viewing
Medical care
Dancing Hall
Shopping Arcade
Night Club
Transportation:
Distance from the airport: 28km
Distance from the railway station: 8km
Distance from the urban center: 0.5km
Nearby Attractions:
Urban center, Shopping Mall