Green Lotus Hotel, Yangshuo(5-Star)
Name in Chinese: 碧莲江景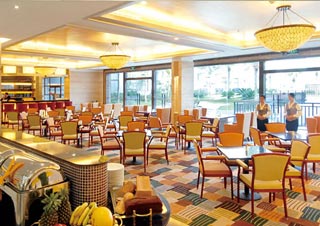 Western Restaurant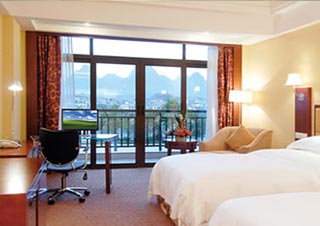 Standard Twin Room
Profile: Located at the foot of the Green Lotus Peak in Yangshuo, and on the bank of the Li River, Yangshuo Green Lotus Hotel is a top luxury hotel integrating the natural beauty of mountains and rivers and the local minority peoples' architectural feature, which is also designed and established according to the standards of the national five-star hotel. Enjoying the convenient traffic, the hotel is adjacent to the ancient Li River Fu'an Wharf; therefore, you can walk on the bank of Li River without going out from the hotel. In addition, it is only about one-hundred-step distance from the renowned Yangshuo West Street. In the hotel, you can take a distant view of the performance place of "Impression of Sanjie Liu". The complete set of functions, with equipments and facilities, the first-class service will create a comfortable holiday for you.
Address: No.1 Guanlian Road Yangshuo,Guilin, Guangxi Zhuang Autonomous Region,541900, China.
Tel: 86-773-8886666
Amenities, Facilities and Services:
Bar/Lounge
Business Center
Laundry
Beauty Salon
Swimming Pool
Restaurants in hotel
Parking
Meeting Rooms
Conference facilities
Bar(s)
Health Club
Karaoke
Spa
24hr Reception
Luggage Storage
Cable/satellite TV
Air conditioning
Private bathroom
Domestic Direct-dial phone
Desk
Wake-up calls
220AC
Housekeeping
Hot and cold water
Transportation:
Distance from the airport: 105km
Distance from the railway station: 65km
Distance from Guilin city center: 69km
Distance from the West Street: 0km
Distance from the center of the town: 0km
Nearby Attractions:
West Street, Li River
New Century Hotel, Yangshuo(4-Star)
Name in Chinese: 阳朔新世纪酒店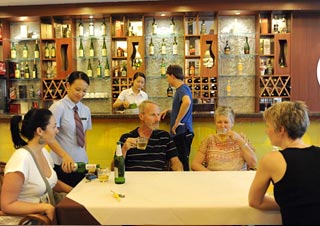 Bar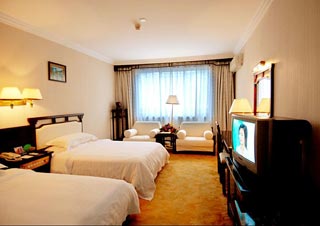 Deluxe Twin Room
Profile: New Century Hotel locates on the busy street in downtown Yangshuo and is adjacent to the well-known Yangshuo West Street and the beautiful Yangshuo Park. It is a local four star hotel with fine facilities and service quality. The guestrooms are all well-equipped, quietly elegant in style, which assures clients a comfortable stay. The bus tickets between Guilin and Yangshuo can be easily reserved at the front desk of the hotel.
Address: Pantao Lu, Yangshuo, 541900 China
Tel: 86-773-882 9819
Amenities, Facilities and Services:
Business Center
Currency Exchange
Tennis
Bar/ Lounge
Beauty Salon
Coffee Shop
High-speed Internet Access
Cable/ satellite TV
Transportation:
Distance from the airport: 89 km
Distance from the railway station: 65km
Distance from Guilin city center: 69km
Distance from the center of the town: 0km
Distance from Yangshuo Park: 0km
Distance from the West Street: 5mins' walk
Nearby Attractions:
Yangshuo Park and Li River