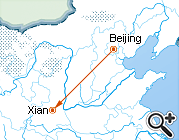 Beijing Xian Express
B-BJ07:
9 Days China Tours from Moscow Russia to Beijing

Xian
As the capital city of the Russian Federation, Moscow is a significant international transport hub. It has direct flights to most capitals of European countries, and prosperous cities like New York, Montreal as well as many popular cities in Asian countries. Convenient air traffic makes it quite easy to travel from Moscow to China, especially Beijing. According to the current airline schedules, there are Aeroflot Russian Airlines flights SU200 1225/0100+1, SU202 1600/0430+1, SU204 2135/0950+1, Air China flight CA910 1845/0715+1, China Hainan Airlines flight HU7986 1955/0830+1 flying from Moscow to Beijing. At least four of the above flights are available every day, and the flight time is around 7.5 hours. For those who live in St. Petersburg, Voronezh and Novosibirsk, they should go to Moscow and then fly to Beijing. Backpacking travelers from Eastern European countries, such as Romania, Lithuania, and Latvia, can also take a transit flight from Moscow to Beijing.

To better enjoy your China tours from Moscow Russia, we suggest you avoid traveling during the Chinese National Holiday, which is from October 1st to 7th. Many Chinese people would go out for excursion during that time, and hotel rooms, train tickets, as well as air tickets are all in great demand. Most popular sights are bursting with tourist crowds. Also, traffic jams occur frequently during that period.
Forbidden City
Upon arrival at the Beijing Capital Airport, you can take the shuttle bus or a taxi to your hotel. Located in the city center, the 4-star Days Inn Forbidden City is recommended, which is near the
Tiananmen Square
and
Forbidden City
, as well as
Wangfujing Commercial Street
and East Chang'an Street. You are suggested to take a taxi to the hotel and it may cost around CNY120. If arriving early, you can have a further exploration in the mentioned commercial areas, or just walk around to familiarize yourself with the surroundings, such as the nearest bus stops, subway stations and restaurants.
Accommodation Suggestion: Days Inn Forbidden City Hotel
After your buffet breakfast in the hotel, you can start your independent tour in the ancient city, Beijing. Here is the suggested itinerary for today: Tiananmen Square, Forbidden City and
Jingshan Park
. Your first stop, Tiananmen Square, is about 800 yards from the hotel. To get there, you may walk eastwards to Nanheyan Street; go southwards for 250 yards and turn west to enter East Chang'an Street. Walk for another 600 yards and you will arrive at the square. Tiananmen Square is the landmark of Beijing and also the world's largest square in the city proper. Wandering around the square, you can also drop by the
Memorial Hall of Chairman Mao
, the
Monument to People's Heroes
,
National Museum of China
, and the
Great Hall of the People
.
Then continue your trip to the Forbidden City, which is to the north of the square. It was served as the imperial palace for 24 emperors of the Ming and Qing Dynasties (1368 - 1911). While your marching all the way to the north, the resplendent palaces enable you to review the glorious scenes of the feudal dynasties.
Opposite the north gate of the Forbidden City is Jingshan Park. On the summit of Jingshan Hill in the park, you can have a bird's eye view of the Forbidden City. After that, take tourist bus line 1 in front of the southern gate of Jingshan Park. Get off at Nanheyan and walk back to your hotel. Or, you can hail a taxi and the taxi fee is about CNY15.
The Great Wall is a must-see of your China tour from Russia. We recommend
Badaling Great Wall
, which is the most typical and best preserved Great Wall section in China. Climbing the Great Wall is energy-consuming, so it is suggested that you prepare some snacks and bottled water before leaving. After breakfast in the hotel, walk about 600 yards towards the Tiananmen Square to find Tiananmen East Subway Station, where you can take subway line 1 to Fuxingmen Station; transfer to subway line 2 to Xizhimen. Take Exit A2 and you will reach Beijing North Railway Station to take train S2 to Badaling. The duration is about 80 minutes and the fare is CNY6.
Upon arrival at Badaling Railway Station, walk about 10 to 15 minutes eastwards; you will reach the ticket office of the Great Wall. There are signs showing the direction, so you can easily find your way. The Badaling Great Wall is divided into northern section and southern section. It may take 2.5 to 3 hours to finish either half. If feeling physically challenged, you can choose to take the cable car to go uphill. You are recommended to have lunch in a nearby fast food restaurant like KFC, DICOS, McDonald's and SUBWAY, as food provided in other local restaurants is of poor quality but high price. When the exploration of Badaling is over, reverse the trip to the city and treat yourself with a hearty meal.
Badaling Great Wall
For today's itinerary, we suggest you visit the
Temple of Heaven
in the morning and
Summer Palace
in the afternoon. After breakfast, walk to Nanheyan Street and take bus no. 60 across the road to Fahuasi. Then walk south for 250 yards and enter the Temple of Heaven from the east gate. Built in 1420 during the Ming Dynasty (1368 – 1644), the Temple of Heaven is the largest sacred imperial site in China. Emperors used to hold ceremonies there to worship the heaven and ancestors, and also pray for a good harvest for the people. Nowadays, local people often gather in the park of the temple playing Tai Chi, practicing opera, flying kites, and dancing. You can have a chance to experience the peaceful local lifestyle there.
Get out from the north gate of the Temple of Heaven. Walk northwards along Qi'nian Street for 550 yards and turn west onto Zhushikou East Street; go ahead for another 270 yards to take subway line 7 from Qiaowan Station to Caishikou, where you can transfer to line 4. Get out from Exit D of Beigongmen Station and walk westwards to find the north gate of the Summer Palace. The palace used to be the summer resort of the royal family, boasting picturesque natural landscape and antique buildings. The
Long Gallery
and
Marble Boat
are must-see sights of the Summer Palace. Rowing a boat on
Kunming Lake
would give you a relaxing and joyful experience.
After sightseeing, take subway line 4 from Beigongmen Station to Xidan; transfer to line 2 to Tiananmen East Station. Get out from Exit B and then walk back to your hotel.
Your trip in Beijing comes to an end today. After checking out of the hotel, it is suggested that you take a high speed train to Xian, another ancient city of China. To avoid arriving in Xian too late at night, we suggest you take a train departing before noon, among which G671, G655, and G659 are recommended. In travel peak season, the train tickets would be in great need, so it is advised to book the tickets in advance. TravelChinaGuide provides train ticket booking with an unrivaled low service fee, which would be your best choice. Please use the search bar by the end of this itinerary to get the real-time train schedule and check the tickets availability.
From the hotel, you need to walk to the Tiananmen East Station to take line 1 to Beijing West Railway Station of line 9, with a transfer at Military Museum. Upon arrival at the train station, collect your tickets at the ticket office using your valid identity certificate. Then pass the security check and wait for boarding. There are luggage racks on top of the seats for passengers to put backpacks and medium-sized suitcases. You can also find luggage closet at each joint of two carriages to place large suitcases.
After 5-6 hours' train ride, you will get to Xian North Railway Station. As for accommodation, the 4-star Days Inn City Center near the
Bell Tower
is a good option. You can take subway line 2 from the train station to Beidajie. Take Exit C1 and walk about 500 yards southwards to the hotel.
Accommodation Suggestion: Days Inn City Centre
Xian City Wall
A whole day will be spent in the
Terracotta Army Museum
, which is about 22 miles northeast of Xian City. Take a taxi from your hotel to Xian Railway Station at a cost of CNY9, and then get on the tourist bus line 5 (306) from the east square of the station to the museum. The bus trip takes about one hour and you need to pay CNY7 for a one-way trip. The Terracotta Army Museum is one of the most famous historical sites in Xian. It is a grand underground military formation buried with Emperor Qin Shi Huang (259 – 210 BC), the first emperor in China's history, in order to guard him in the underworld. The pottery soldiers are all of life size and have different facial impressions. Visiting the museum can help you not only learn more about the Qin Dynasty (221 - 207 BC) and the great king, but also get to know the excellent pottery craftsmanship of that time. Afterwards, backtrack to downtown city and have a big meal.
Your first destination for today is the ancient
City Wall
. From your hotel, please spend CNY10 hailing a taxi to Yongning Gate, the south gate of the City Wall, and climb up to the wall from there. The well preserved wall was built in the Ming Dynasty with a history of over 600 years. The wall is rectangle in shape, surrounding the city center. It used to be the most powerful defensive system in warring times, and now it has become a favored site for visitors to have a general view of this historical city. There are bicycles for rent on the wall, providing a cool and relaxing visiting experience.
Still get down from Yongning Gate and walk northwards along the South Street for 700 yards to reach the Bell Tower. Just 400 yards northwest you will find the
Drum Tower
. The
Muslim Quarter
behind the Drum Tower is also worth a visit. It is one of the most notable snack streets in Xian, gathering numerous time-honored restaurants. There, you can taste popular local foods, such as dumplings, crumbled flatbread in mutton stew (Yangrou Paomo), Shaanxi Sandwich (Rou Jia Mo), and cold noodles (Liang Pi). Besides, there are also shops selling exquisite craftworks and souvenirs. After a feast in the Muslim Quarter, you can either walk back to your hotel or take a taxi with a fare of around CNY9.
Your memorable China holiday tour concludes today. You can take a taxi directly from your hotel to the airport at a cost of CNY120. At present, the flight MU5009 1355/1700 from China Eastern Airlines is available every Tuesday, Thursday and Saturday from Xian to Moscow. Its flying time is 8 hours and 5 minutes. You will disembark from the plane intraday as Moscow time is about 5 hours slower than Beijing time.

If you want to extend your tour in China, you can contact us for further guidance. We are pleased to help.
Need detailed infomation on train, flight or bus/ metro schedule? Use the search tool below.
If the above route does not meet your requirements, you could DIY an itinerary by choosing daily guided tours, free days, hotels, trains and/or flights freely. Our estimated quotation can be a reference for your independent travel.

Similar Guided Itineraries:
Beijing Xian Essentials: 6 Days Small Group Beijing - Xian starting from $569
Beijing Xian Express: 6 Days Private Beijing - Xian starting from $439