Highlights
Mini group of only 1 to 6 guests, with more personal service.
Price Beat Guarantee: 100% lowest price among all identical tour service.
Avoid the ticket line at the entrance of all attractions.
Elaborately designed itinerary with highlight attractions, activities and experiences.
Enjoy the VIP Privilege of unlimited bottles of drinking water for free.
We provide Free Headsets during the tour to keep away from the noisy museums.
NO shopping detours, no factory stores, no tea ceremony, no shopping site restaurant. Avoid wasting time at any shopping motive stop. That's also the reason we can include more attractions than others. We value your time at attraction sites for a pure sightseeing experience.
Detailed Itinerary
Day 01: Visit Terracotta Army, Small Wild Goose Pagoda, City Wall, Muslim Bazaar
8:00 Hotel Pick-up
Welcome to this 2 days Xi'an group tour! In the morning, your guide and driver will pick you up at your hotel. The guide will confirm with you the exact meeting time the previous night. Please feel free to contact us anytime if you haven't received the message from the guide. We promise to be at your back 24 hours.
9:00 Drive to Visit Terracotta Army
One hour's drive will take you to the magnificent Terracotta Army Museum. It is crowned as "the eighth wonder of the world", and a symbol of the splendid civilization of ancient China. With your guide's vivid narration, this would be an exceptional experience taking you back to the Qin Dynasty 220BC. You will spend 2.5 to 3 hours exploring the museum, which is a longer time than any other tour groups.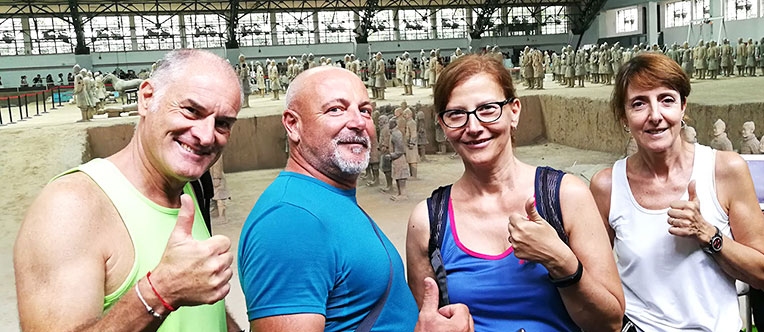 Our guests at the Terracotta Army Museum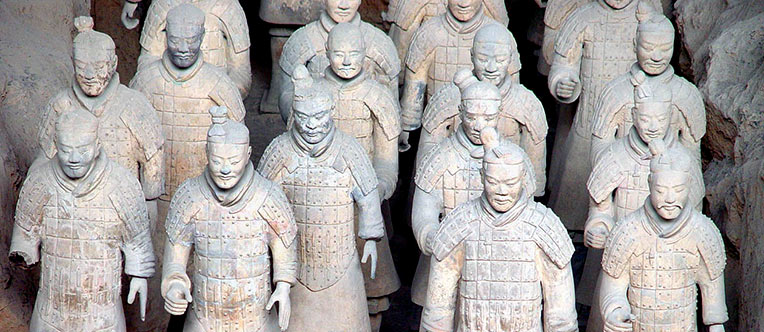 Marvel at the 2200-year-old Terracotta Warriors
13:00 Free Time for Lunch
To avoid the low quality tourist eateries around the site, we leave today's lunch on your own. We suggest you have a hearty breakfast at the hotel in the morning and a light meal for lunch. With your guide's assistance, you may try some local food or fast food like KFC, Subway as you wish, which might cost you US$3 to 5 per person.
13:40 Drive to Visit Small Wild Goose Pagoda
One hour's drive will take you back to downtown Xi'an. We will visit the Small Wild Goose Pagoda, which is an important symbol of Xi'an in the Tang Dynasty (618 - 907AD).
Friendly Tips: Small Wild Goose Pagoda cannot be visited before March 31, 2021 due to maintenance. If you happen to be traveling at the period, your travel consultant will make alternate arrangements for you. Thank you.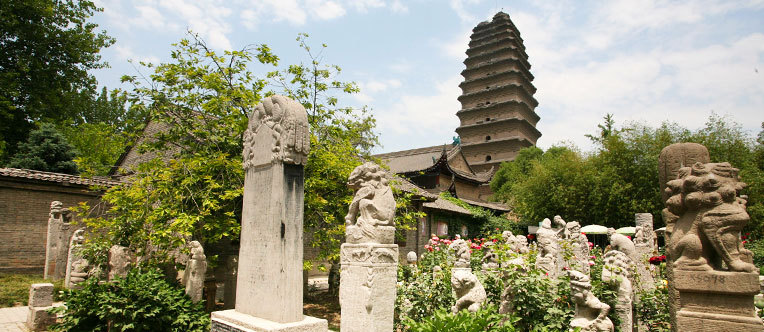 Learn more of ancient Chinese culture in the Small Wild Goose Pagoda
16:00 Visit City Wall
Afterwards we will continue to visit the ancient Xi'an City Wall. You can rent a bike to ride on the wall, which would be enjoyable and interesting. The bike rental fee is CNY45/US$6 per bicycle. If you are interested, you may pay on the spot.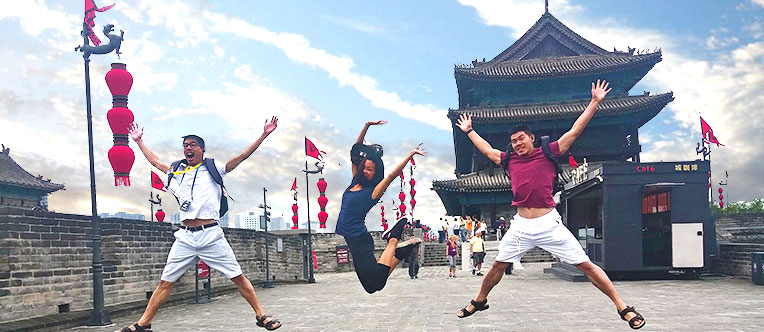 Have fun on the ancient Xian City Wall
17:30 Muslim Bazaar and Hotel Drop-off
After the sightseeing tour, we will accompany you back to your hotel; or if you like, we can transfer you to the Muslim Quarter and say goodbye there. The left time is all yours. The Muslim Quarter is famous for cheap souvenirs and best local food. You can have a stroll and appreciate the night views of the nearby Bell Tower and Drum Tower.
Day 02: Visit Hanyangling Mausoleum, Great Mosque, Shaanxi History Museum, Giant Wild Goose Pagoda
7:30 Hotel Pick-up
Your guide and driver will greet you at the hotel to begin your second day of Xi'an group tour.
8:30 Drive to Visit Hanyangling Mausoleum
We first drive for one hour to visit the Hanyangling Mausoleum, which is on the site of the Mausoleum of Western Han Emperor Liu Qi built in 153 AD. In the company of the guide, you will have a close look at the thousand-year-old tombs through the glass floors and the glass walls in the tomb pits. Besides, the advanced Spectra Vision program will reproduce the real life of the Western Han Dynasty about 2,000 years ago. We will ensure you two hours exploring the site.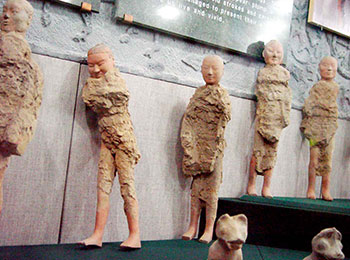 The unearthed pottery figurines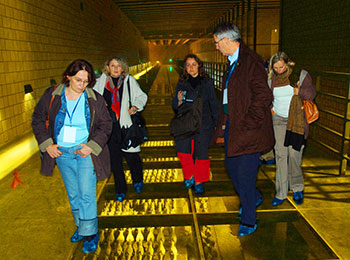 View the tomb pits through the glass floor
11:30 Free Time for Lunch and Visit Great Mosque
Then, we will drive to the Great Mosque in the core area of Xi'an City. The mosque's location at the Muslim Quarter is very convenient, with many souvenir stores and local food restaurants. You can have your lunch here with the guide's suggestions.

After that, we will escort you to visit the Great Mosque, which was first built in 742AD during the Tang Dynasty. It is one of the oldest, largest and most well-preserved Islamic mosques in China.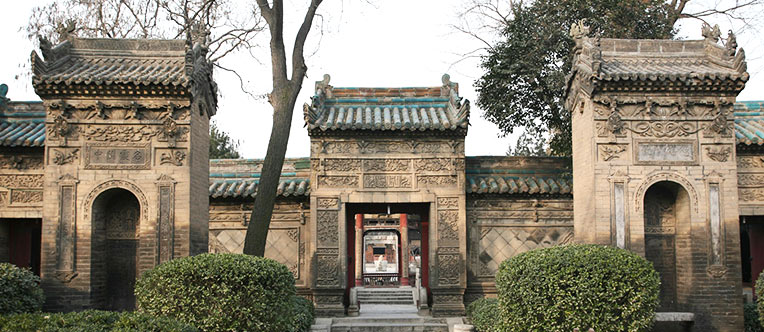 Explore the Great Mosque, one of the best-preserved Islamic mosques in China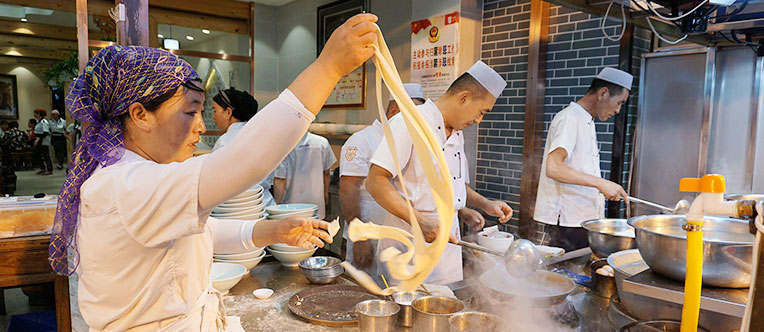 Seek for the authentic local food at Muslim Bazaar
14:30 Drive to Visit Shaanxi History Museum
Now we continue Xi'an group tour to explore Shaanxi History Museum. Unique historical and culture heritage of Shaanxi is undoubted worth the praise as treasure house of Chinese civilization, and Shaanxi History Museum is definitely a palace of art to display Shaanxi's history and culture and China's ancient civilization. There are as many as some 370,000 antiquities collected, ranging from prehistorical relics to that of the 1840s. Time spans more than one million years and the collection is superior in value, quantity, rank and species. Your guide will provide professional full explanations.
The exhibit in Shaanxi History Museum
Colorful painted mural
16:40 Drive to Giant Wild Goose Pagoda
Instead of entering the temple to visit the Giant Wild Goose Pagoda, we will have a photo stop here for half an hour. With suggestions from our former guests, it is enough to see the pagoda and the statue of Monk Xuanzang at the south square outside the temple. As a well-preserved ancient building and a holy place for Buddhists, the pagoda built during the Tang Dynasty was once the site for Xuanzang to translate the Buddhist sutras.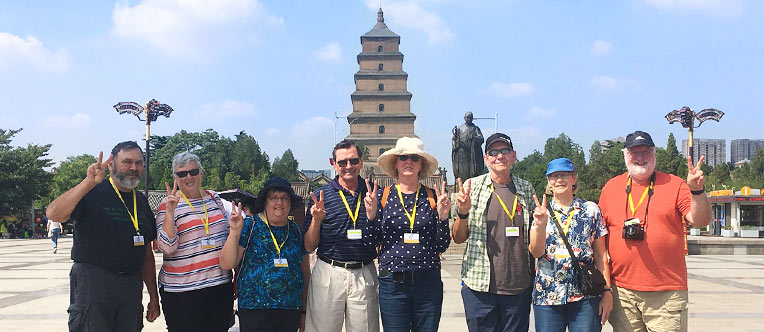 Enjoy your time at the South Square of Giant Wild Goose Pagoda
17:30 Free time at the Pagoda Area or Hotel Drop-off
Nowadays the Giant Wild Goose Pagoda Area has become the most popular area for both tourists and locals in Xi'an. It is truly a wonderful place to enjoy the charming night scenes and get relaxed. Around the pagoda, there is south square leading to the Great Tang All Day Mall, where you can appreciate many unique sculptures of Tang Dynasty styles and enjoy some classical music performances in public; also there is north square with the biggest musical fountain in Asia. It is free but with show time schedules. If you are interested, you may take a leisurely stroll here at night and then return to the hotel by yourself. Your guide will show you directions back.

If you prefer not to stay longer, we will escort you back to your hotel. Your 2 days Xi'an group tour package comes to an end now. Thank you for travelling with us!
Price Includes
Pick-up & drop-off from your hotel
Entrance fees as indicated above
Professional English speaking guide
Experienced driver & air conditioned vehicle
Unlimited bottles of drinking water for free
Price Excludes
Entrance fee to Giant Wild Goose Pagoda
Bicycle hire on the City Wall
Tips or gratuities for guide and driver
WeChat QR Code

For last minute booking within 24 hours, please feel free to contact us to check the availability or ask questions.

+86-18629541315

inquiry@travelchinaguide.com

WeChat: 18909182319
Hotel Pick-up Service
Xian is relatively a big city. To ensure the morning pick-up service going smoothly as scheduled, we recommend you stay in the downtown area. If your hotel is located in a narrow lane or an apartment block, we will find you a nearby hotel on a main street to serve as your pick-up point. Please refer to the
map of Xian Downtown
below. The color in orange is our free pick-up range in Xian.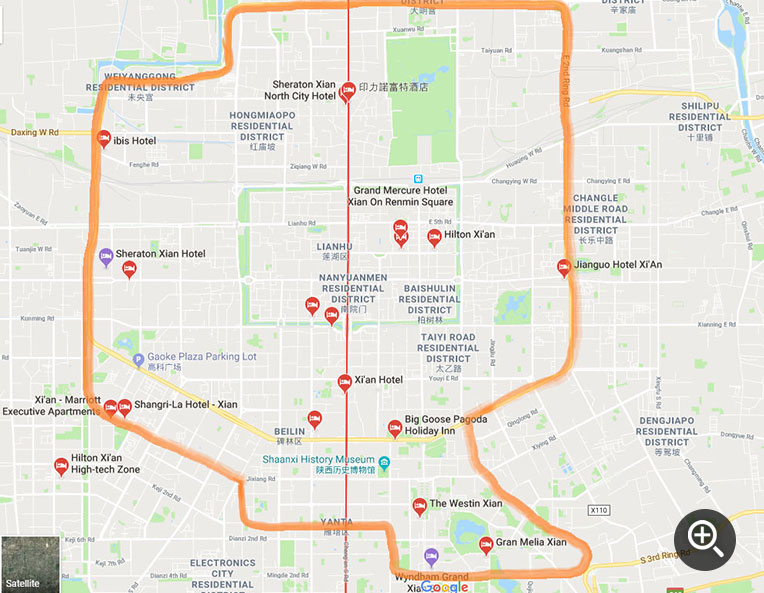 An additional transfer fee will be incurred if your hotel is outside the above mentioned area. Please indicate it when filling the inquiry form. If you are not sure about the pick-up issues, our travel consultant is ready to serve anytime.
Booking Policy
Infant Price: It is free of charge for an infant 0-2 years old.
Confirmation: Upon receiving your booking request, confirmation will be sent within 12 hours.
Payment: Full payment is required at least two days prior to the trip. We accept payment by PayPal, Credit Card, Alipay, Wechat and Bank Transfer.
Cancellation:

Your payment is fully refundable if you cancel more than 24 hours prior to the trip.

Cancellation within 24 hours or any unused portion after the day trip begins is non-refundable.
Schedule: The time schedule of the itinerary is for reference. It may be adjusted according to the traffic and real situations.
Since the Small Wild Goose Pagoda is usually not open on Tuesdays and the Provincial History Museum is not open on Mondays, we will adjust the itinerary with substitutes if you happen to meet these dates.
Departures are guaranteed with two persons.
Guests under the age of 80 can participate in this mini group tour.
Itineraries you may also like: