Xian Museum
Located in the
Small Wild Goose Pagoda Scenic Area
, Xian Museum was opened to the public on the World Museum's Day, May 18th, 2007. Not only does it enhance the environment of the nearby ancient building complex but also means that Xian has a large municipal museum at long last.
As many as 130, 000 fine cultural relics are kept here, most of which were unearthed in the important tombs and the capital sites of the Zhou Dynasty (11th century BC-221 BC), the Qin Dynasty (221 BC-206 BC), the Han Dynasty (206 BC-220 AD), and the Tang Dynasty (618-907). More than 2,000 of these articles reflect the outstanding technological achievements of past dynasties.
It is a three-storied building, with an underground floor unseen from the outside. The underground exhibition hall features many relics that have been unearthed, showing the history of Xian, the one-time capital of 13 dynasties, its economy, social life, as well as cultural exchange and trade with foreign countries.
The exhibition hall on the first floor has a display of Buddhist statues and other precious historical relics of municipal counties and districts. Most of the lifelike statues are carved in stone while some fine gilded statues are made of copp
er and bronze. They display the pomp of the Buddhism in Chang'an (The name of Xian in ancient times).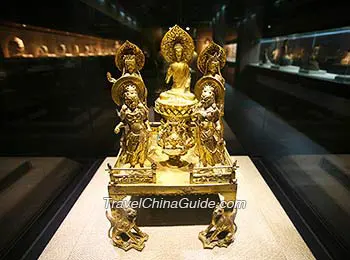 Statues of Sakyamuni and Two Bodhisattvas
There is also a three-dimensional virtual imaging system installed in a cabinet on this floor. When the visitors approach the cabinet, the virtual stone door opens automatically, and the virtual 'Gilded Amitabha Buddha Statue' gradually appears. The statue turns as it follows the steps of tourists and now and then sends out Virginia Bright Leaf. A theater nearby shows the mystical story of the Small Wild Goose Pagoda. The pagoda was cracked by earthquakes on three occasions but miraculously these cracks were closed by later quakes.
The jade articles, seals, paintings and calligraphies are shown on the second floor. The display includes delicate jades used in ceremonies and daily life. There are some famous seals in the display, such as the clay seal of the Qin Dynasty, more than 200 official seals excavated in the square of
Bell Tower
and
Drum Tower
in the city. The museum has almost 10,000 paintings and calligraphies, including works by Zheng Banqiao, a very famous painter during the Qing Dynasty (1644-1911).
The architectural design of the museum follows the traditional Chinese concept of the universe - a round heaven and a square earth. It has been recognized as one of the ten landmark buildings of the city and offers excellent facilities for the display of precious cultural relics thereby ensuring their full appreciation.
| | |
| --- | --- |
| Blue and White Porcelain Bowl | Stone Statues of Sakyamuni |
Entrance Fee:
The museum issues 3,000 free ticket from 09:00 to 12:00 and 13:00 to 16:00 to visitors every day.
Bus Route:
Take bus 18, 21, 29, 32, 40, 46, 203, 204, 224, 407, 410, 508, 521, 610, 700, 707, tourism bus no.7, tourism bus no.8 or Wulong Special Line and get off at Xiao Yan Ta (Small Wild Goose Pagoda) station.
Take bus 18, 203, 204, 218, 407, 410, Wulong Special Line or tourism bus no.7 (You 7) and get off at Xiajiazhuang Station.
Xian Bus / Subway Search
Opening Hours:
09:00-17:30; closed on Tuesday and the Chinese New Year's Eve
Print