Stone Drum and the First Bend of the Yangtze River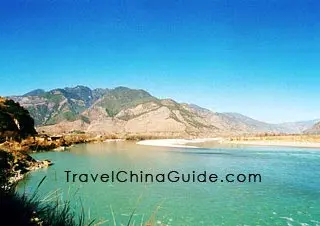 A V-Shaped Bend of the Yangtze River
The First Bend of the Yangtze River
Yangtze River
, considerd the mother river of China, flows majestically through the center of China and is the third longest river in the world. Starting from the Qinghai-Tibet Plateau, the Yangtze River surges southeastward until it meets the Hengduan Mountain Range. About 71km (44 miles) outside of Lijiang, unusual geological phenomenons force the Yangtze to make a sudden V-shaped bend and flow to the northeast. This extraordinary turn, nearly 180-degrees, creates beautiful and marvelous views that startle the imagination. Here, the river is wide and the water flows in a gentle, slow pace. Large willow trees grow luxuriously alongside the river that is banked on both sides with lush, fertile deep green vegetation and immense, steep mountains that rise up from the river to touch the clouds in the blue sky above. The whole sight is like a wonderful landscape painting that never ends. This is the First Bend of the Yangtze River - a world-famous geological phenomenon and an extraordinary panoramic scene whose vistas you will long remember with great pleasure.
Stone Drum
On the mountain at the river's bend stands Stone Drum (Shigu) Town, named after a drum-shaped marble plaque. Built during the Jiaqing era (1548-1561) of the Ming Dynasty (1368 - 1644), the stone drum is a monument commemorating the victory of Lijiang's Naxi ruler over an invading Tibetan army. It is one point five meters (five feet) in diameter and zero point five meters (two feet) in thickness. The stone drum has an obvious vestige of what appears to be a "rip" in it. It is said that the stone drum would rupture prior to any war and then fold when peace returned.
| | |
| --- | --- |
| Lijiang Stone Drum | The Shigu Village |
Stone Drum Town
Throughout time, Stone Drum Town was always a significant and vitally strategic military area where many famous historical events have been taken place. It was here that Zhuge Liang, the famous and highly acclaimed military strategist of the Three Kingdoms Period, chose to cross the Yangtze River and gain "battle advantage" over his opponents. The first emperor of the Yuan Dynasty (1271 - 1368), Kublai Khan, used this place for his expeditionary forces to ferry across the river. In April 1936, the Second Route of the Red Army, led by General He Long and Ren bishi, crossed the river here and continued to march north. There are memorials here honoring the people whose histories are entwined with the Stone Drum Town.
This whole area abounds with attractive stories and dazzling visions. Stone Drum Town, together with the First Bend of the Yangtze River, and so many other spots nearby such as the Tiehong Bridge and Rock Gate ensure that a trip here will be an exciting one that you will greatly enjoy.
How to get to Stone Drum Town and the First Bend of the Yangtze River
1. Take regular bus from Lijiang Bus Station to Weixi. It passes by Stone Drum Town. The mountain where the town is located is one of the best view points to enjoy the First Bend.
2. Take private minivans from Jinkai Square in Lijiang. It costs around CNY 20 per person.
3. The bus from Lijiang to Shangri-La passes by several viewing platforms for the First Bend.
| | |
| --- | --- |
| Entrance Fee | Free |
| Recommended Time for a Visit | 1 hour |
- Last updated on Apr. 12, 2021 -
Questions & Answers on Stone Drum and the First Bend of the Yangtze River
Asked by Masyita | Nov. 13, 2015 09:31

Reply
Is there any public bus from Shangrila that can go to First Bend and bus from the Bend to Lijiang?
Is it enough to have a half day tour to First Bend so that I can visit Black Dragon Pool and LJ Ancient Town after that? E.g, 8am-1pm to first bend and 2-5 to BDP and Old Town.
Answers (3)
Answered by Joe | Nov. 15, 2015 02:59

0

0

Reply
Yes, at the Long-distance Bus Station, take a bus of LJ route and get off at Shigu Town. Then you can take a taxi to the First Bend for a visit and it costs CNY10-15. After that, you can take a taxi or rent a private car to LJ so that you will have enough time to the rest two attractions.
Answered by Masyita | Nov. 15, 2015 09:21

0

0

Reply
Do you have any idea how much it will cost to take a taxi from the first bend to LJ? Do they have any bus service too?
Answered by Rosina from SINGAPORE | Nov. 16, 2015 02:40

0

0

Reply
The cab fare from the First Bend is CNY150-200. If by bus, you need to go back to Shigu Town for a transfer. But in this way, your time may be pressed for all visits.
Asked by Maria from SPAIN | May. 14, 2015 10:21

Reply
bus Shigu Town to QiaoTou
Hi there, i would like to visit Stone Drum and the First Bend of the Yangtze River at morning in bus from Lijiang and that same day take a bus to QiaoTou, you think is that posible? there is a buses from Shigu to QiaoTou directly or i have to return to Li jiang?
thank you very much and best regards to everybody
Answers (5)
Answered by Hank | May. 15, 2015 22:34

1

0

Reply
From Lijiang to Shigu: You can take a direct bus at the Long-distance Bus Station. Duration is about 1.5 hours.

From Shigu to Qiaotou: There is no direct bus and you may need to hire a private minibus. It should be no more than CNY30 per person. There is no need to go back to Lijiang, which is a waste of time.

Have fun~
Answered by Maria from SPAIN | May. 18, 2015 06:34

0

0

Reply
Thank you very much Hank, do you maybe know is it easy to take minibús? I mean they are frecuently
thanks and best regards
Answered by Hank | May. 23, 2015 01:39

1

0

Reply
When will you go? If it is a peak travel season, it won't be difficult.
They are actually private cars of the local residents who offer the ride for a living and the frequency depends on passenger flow.
Answered by Maria from SPAIN | May. 23, 2015 08:07

0

0

Reply
Hello Hank thank you for your answer, i go in august
best regards
Answered by Hank | Nov. 16, 2015 19:11

0

0

Reply
August is during China's summer holiday, so it is a peak travel season. But don't worry. You will find a minibus there. Have a nice trip! :)
Asked by Gogo from SPAIN | Mar. 06, 2015 13:20

Reply
shigu and white water
Hi everybody, I would like to ask is it posible to visit White Water River and Shigu ancient town from Lijiang in one day using public buses or some day trip?
thank you very much in advanced and best regards
Answers (1)
Answered by Glace from USA | Mar. 06, 2015 20:16

0

0

Reply
Yes, from LJ city to White Water River, it takes around 2.5 hours on the way. And the distance between the river area and ancient town is not far.
So you have enough time to tour around these two scenic areas and come back to the city on the same day.
BTW, you can appreciate the famous U bend of Yangtze River at the town.
Have fun!
Asked by Mike from PHILIPPINES | Aug. 05, 2012 03:26

Reply
Will the students appreciate Shigu Drum?
I'm a teacher from the Philippines. I am going to Lijiang this october with 80 high school students. This seems to be an interesting place, but will the students appreciate this? Is there a park or people that the students can interview about the history of the place? Thanks!

Answers (2)
Answered by Sally | Aug. 05, 2012 20:05

0

1

Reply
I have been there once, so I think the students will appreciate the Lijiang Old Town.
There is no park, but the town itself is a natural park with long history. You can live in the local families and learn their daily life and chat with them to know the long history. People there are very kind.
After you visit the Lijiang Old, you can also choose to go to other old towns around Lijiang such as Shigu Town.
Answered by Lorraine Dupray from U.S.A. | Sep. 08, 2012 18:34

0

0

Reply
I just got back from Lijiang. My daughter and son-in-law have retired there. It is easy to get a local English speaking guide in Lijiang. Who will drive you to out lying places around Lijiang. Make your way to the Prague Cafe, along the canal. Ask for Richard to get the best guide in Lijiang. You may also inquire about guides at the Water Wheel in the main part of town (near Pizza Hut, McDonald's). This is an ancient, fascinating place with a rice history.