Guilin Shopping--Where to Buy
For daily articles and local specialties:
Guilin Department Store
Location: No.122, Zhongshan Middle Road
This 7-storied building showcases quality products from all over China. This is where the locals and travelers alike enjoy shopping.
Guilin Weixiaotang Department Store
Location: No.187 Zhongshan Middle Road
This complex provides shopping, a beauty salon, bookstore, cafe, food court, children's playground and supermarket.
Hua Zhong Hua Store
Location: Zhongshan Middle Road
Wang Cheng Store
Location: Jiefang East Road

Zhengyang Pedestrian Street
Shopping Places for Souvenirs:
Guilin International Tourism Commodity Wholesale City is one of the largest wholesale markets for tourist souvenirs in China. You can find local paintings, stones, root carving as well as Burmese jade ware, Fujian woodcarving, Qingtian stone carving, Yixing clay pot, Suzhou embroidery, and Hunan embroidery.
Every evening, thousands of locals and travelers will rush into the Zhengyang Buxing (pedestrian) Street for shopping, entertainment and dining. The dazzling lights from various shops, the bubbling people, the multifarious goods justify this street's reputation as 'the first street in western China'.


Shopping Places for Jewelry:
Wanya Jewelry Co., Ltd Exhibition Hall
Location: No.211, Lizhong Road
Specialty: Gems, rings, necklace, bracelets, earrings and pendants
Guizhou Yinlong (Silver Dragon) Jewelry Co., Ltd
Location: No.26 Qixing Road (Jewelry Branch) and No. 1 Chuanshan East Road (Pearl Branch)
Specialty: Gold ornaments, jade articles, stone carvings, pearls, crystals and ivory articles.
Gaoxin Jewelry Company
Location: Hi-tech Development Building, Canluan Road
Specialty: Natural gems from around the world, jade articles and golden ornaments.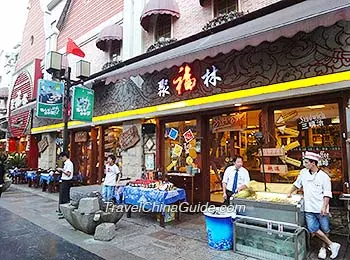 Zhengyang Pedestrian Street
Yinhai Pearl Company
Location: Guixing Hotel, Qixing Road
Specialty: Pearls
Jubao Ge
Location: No.18 Longyin Road
Specialty: Jewelry production and sales. Professional appraisers appreciate jewelry for customers.
Rundong Jewelry Company
Location: No.7 Dongjiang Road
Specialty: Natural gems and golden ornaments. Natural jade articles feature ethnic color.
Ziyuan Pearl Company
Location: No.35 Xishan Road
Specialty: Over 600 different creations from pearls such as pearl necklaces, bracelets, rings, ties, etc.
Longquan Shuijing Gong
Location: No.2 Zhongshan South Road
Specialty: Over 700 series of natural crystal like necklace, bracelet, rings, balls and glassware.
Jiashan Pearl Shop
Location: No.5 Taohuajiang Road
Specialty: Pearl handicrafts


Shopping Places for Paintings and Calligraphy:
Bagui Zhai
Location: No.1 Rong Hu South Road
Specialty: Paintings and calligraphy works and souvenirs.
Guangxi Normal University Arts Shop
Specialty: Paintings, calligraphy works, and the "four treasures of the study", i.e. writing brush, ink stick, ink slab and paper. Handicrafts, jewelry and jade articles are also sold here.
Guilin Antique Shop
Location: No.2 Shahu North Road
Specialty: Old paintings, calligraphy works, chinaware, jade articles, handicrafts, etc. There are four branches, namely, Wenyuan Ge, Jubao Tang, Yilin Ge, and Yang Shuo County branches.
Guilin Museum Paintings and Calligraphy Works Shop
Location: Fl.1, Guilin Museum
Specialty: Paintings, calligraphy works, the four treasures of the study, jewelry, jade articles, handicrafts made of bamboo, wood, stone, cotton and silk, duplicates, rubbings and archaized paintings and calligraphy works.
- Last modified on Jun. 07, 2017 -
Questions & Answers on Markets & Department Stores in Guilin
Asked by nellie from MALAYSIA | Jan. 15, 2017 22:46

Reply
Can I know the best hotel stay nearby zhengyang pedestrian that I can enjoy the Chinese culture?
Answers (1)
Answered by Danny from CANADA | Jan. 16, 2017 02:39

0

0

Reply
Right on the street there is a Seven Days Inn. You can stay there for your convenience.
Asked by Ellen from MALAYSIA | Apr. 23, 2016 03:01

Reply
Are there any shops along the walking street in Guilin that sells flowers and plants?
Answers (1)
Answered by Coco | Apr. 23, 2016 04:12

1

0

Reply
Yes, of course. No worry, look carefully and you'll find them.
Asked by Katherine from USA | Oct. 19, 2014 16:21

Reply
How best to get from Guilin Park Hotel to Zhengyang Pedestrian street?
Looks like all the way north of town. How is the best way to get to Zhengyang pedestrian street? What bus? If taxi, how much would it be? Thank you
Answers (5)
Answered by Cherly from UNITED KINGDOM | Oct. 19, 2014 20:22

1

0

Reply
You are suggested to take a taxi to your destination directly. The distance is just 1.2 miles.And the taxi fare is about CNY10.
Or you can take public bus no. 30 at Baoxian Bridge Station, and get off at Shizi Street Station. Then walk to Zhengyang Pedestrian Street. :)
Answered by Katherine from USA | Oct. 21, 2014 08:26

0

0

Reply
Hi, thanks for the reply. I'm trying to map on google Baoxian Bridge and Shizi Street. I'm guessing the station names are from the bridge and street they're near. I guess google isn't detailed enough because I can't see it. Could you provide more details where Baoxian Bridge and Shizi Street stations are? Thanks.
Answered by Luna from CHINA | Oct. 22, 2014 04:25

0

0

Reply
The Baoxian Bridge is crossing the Gui River. To take the bus, you should walk through the bridge first. In Chinese, the bus stop is 宝贤桥 (Baoxianqiao). Shizi Street is on East Jiefang Road and you still need to walk east for around 164yd to Zhengyang Pedestrian. In Chinese, it is 十字街(Shizijie). Now try to google it!
Answered by Katherine from USA | Oct. 22, 2014 15:03

0

0

Reply
i'm guessing Google map isn't to that level of detail, I don't see Shizijie. I do see a bridge, it goes on Shihui Road. Is the stop at the corner of Shihui Road and Yiwu Road?
Answered by Luna | Oct. 23, 2014 02:28

0

0

Reply
Yes, the bus stop is near the Sihui Road and Yiwu Road.
Asked by Wong from MALAYSIA | Aug. 21, 2013 22:00

Reply
Hi, would like to know where is the pet shop or pet market in guilin.
Want to buy some cheap snack and accessories for the dog. Any address? To in advance.
Answers (1)
Answered by Edgar from GERMANY | Aug. 22, 2013 00:57

0

0

Reply
I saw there were such items at the opposite of the local Flowers and Birds Market at Huacheng North Road. You can go and have a try!