Getting Around
Line 1
,
Line 2
,
Line 3
,
Line 4
and
Line 11
are in operation. Line 1 and
north-south Line
2 are crossed at South Guangji Road.
Metro
Line 1, running between Mudu and Zhongnan Street, covers 16 miles (about 26km) and passes 24 stations. Line 2 connects Qihe and Sangtiandao, passing
Suzhou Railway Station
and
North Railway Station
. Line 3, running between Suzhou New District Railway Station and Weiting, contains 37 stations. Line 4 in north-south direction consists of a main line from Longdaobang to Tongli and a branch line from Hongzhuang to Muli. Line 11 contains 28 stations and connects Suzhou with Kunshan and Shanghai. Besides, metro
Line 5 to Line 9 are planned to be built.
See
metro maps
for reference.
Bus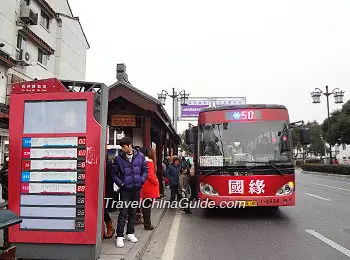 A bus stop in Suzhou
Like other tourist cities in China, Suzhou has a convenient public transport system. Most of the buses running in the city only take exact change so make sure you have some small coins before getting on. The price of regular buses is 1Yuan per person. Air-conditioned buses cost 2 Yuan per person. Buses running from the city to the suburbs vary in price. Check the sign on the front of the bus to see the fare.
Additionally, there are five special tourist buses as follows:
No.1: Tiger Hill-the Suzhou Railway Station (5:15 am-9:00 pm)
Stops: Tiger Hill, Lingering Garden, Humble Administrator's Garden, Lion Grove Garden, Silk Museum, and the Beisi Pagoda
No.2: Tiger Hill-The Dock (5:45-6:45)
Stops: Tiger Hill, Main Railway Station, Silk Museum, Beisi Pagoda, Suzhou Museum, Humble Administrator's Garden, Lion Grove Garden, and the Garden of the Master of the Nets
No.3: Main Railway Station - Jin Shan Lu (5:30 am-8:45 pm)
Stops: Amusement Park, Yushan Park, and the Science and Technology University
No.4: Main Railway Station - Taiping Mountain (5:00 am-9:00 pm)
Stops: Silk Museum, Beisi Pagoda, Ancient Town of Mudu, Lingyan Mountain, and Taiping Mountain
No.5: Oushang Supermarket- Oushang Supermarket (6:00 am-10:30 pm)
Stops: The Double Pagoda, Suzhou Museum, Humble Administrator's Garden, and the Lion Grove Garden
Taxi
Taxis in the city are of various brands like Santana, Passat, Nissan, Qoros and Toyota Camry. By now, there are over 4,800 regular taxis running in the downtown area (except Wujiang District), as well as another 500 deluxe cars which are dedicated for reservation service. The charge varies a little as follows:
Regular Taxis
Fare
Cars with Emission lower than 2L (0.5gal)
Cars with Emission higher than 2L (0.5gal)
Flag-down Rate for First 3km (2mi)
CNY10
CNY10
Fare between 3-5km (2-3mi)
CNY1.8/km
CNY2/km
Fare over 5km (3mi)
CNY2.7/km
CNY3/km
Reservation Hotline
0512 67776777 Ext.1
Deluxe Taxis
Starting Rate for First 3km (2mi)
CNY15
Unit Price per kilometer (0.6mi)
CNY3
Reservation Hotline
0512 67776777 Ext.2
Reservation Service Hours
07:00 – 22:00
Notes:
1. If a car runs around 23:00 – 05:00 the next day, night allowance is required, for which you need to pay extra 20% when the distance is over 3km (2mi).
2. No small changes will be charged or given for the taxi fare. For example, for CNY12.3, the driver shall only charge CNY12; for CNY29.7, you need to pay CNY30.
3. All possible surcharges like toll fee should be paid by passengers.
| | |
| --- | --- |
| Taxis | Rickshaws |
Rickshaw
The city is the classic Chinese water town and many points of interest are located on narrow streets and alleyways where it is difficult for a bus or a taxi to pass through. Don't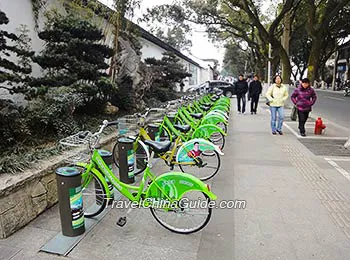 Bicycle parking lot
worry. The rickshaws will make your journey more convenient. The starting price of a rickshaw is 2 Yuan per person and then 4 Yuan for every additional kilometer. If
you want to hire a rickshaw, the price is 5 Yuan per person for an hour.
Bicycle
The bicycle is the most popular vehicle in China. If you want to enjoy more of the water town by yourself, why not rent a bicycle. Most of the stores that rent bicycles for visitors are located east of Suzhou Railway Station. Generally, the price is 2 Yuan for four hours, 3 Yuan for five to six hours, and 5 Yuan for the whole day.
Tip: If you want to rent a bicycle, you'll need to leave a deposit and show your identity card.
- Last updated on Jun. 21, 2023 by Gabby Li -
Questions & Answers on Getting Around Suzhou
Asked by Calvin from MALAYSIA | Dec. 12, 2019 14:16

Reply
How to get to silk museum from pace hotel in suzhou? By metro line? Thanks to advice.
Answers (1)
Answered by Clark from UNITED KINGDOM | Dec. 15, 2019 23:06

0

0

Reply
Which Pace Hotel do you refer to? There are many hotel branches in the city.
Asked by Cheong from MALAYSIA | Aug. 19, 2019 03:21

Reply
Can i know if there is any metro to Suzhou Beisi Pagoda / Boa'en Temple?
Answers (1)
Answered by Angus from USA | Aug. 21, 2019 18:29

0

0

Reply
The nearest metro station is 250m away from Beisi pagoda and it is Beisita Station (metro line 4).
Asked by Manasanan from THAILAND | Jul. 25, 2019 00:11

Reply
How can I get to Suzhou international expo center from the Main railway station?
Answers (1)
Answered by Liza from USA | Jul. 29, 2019 19:36

0

0

Reply
Take metro line 4 to Leqiao Station, and transfer to metro line 1 to Expo Center Station (Exit 3), and walk around 100m to it, which takes around 30 minutes with CNY4.
Asked by Debra from USA | Jan. 27, 2019 15:47

Reply
Does any tourist bus stop at or near the embarkation site of the Suzhou Canal ?
Answers (1)
Answered by Violet from CANADA | Jan. 27, 2019 22:52

0

0

Reply
There is no tourist bus nearby. But you can take bus no.7, 45, 51, 200, 300, 522, 921 or 970 to Xinshiqiao Cruise Terminal.