China Embassy in Tanzania

Visa Application Form of PRC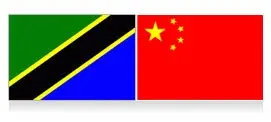 Ambassador: Mr. Liu Xinsheng
Address: No.2 Kajificheni Close, Toure Drive, Dar es Salaam, Tanzania (P.O.Box 1649)
Tel: +255-22-2667475, 2667105
Fax: +255-22-2666353
Email: chinaemb_tz@mfa.gov.cn

Consular Office
Tel: +255-22-2668064
Fax: +255-22-2666353
Office Hours: 09:00 - 11:00, Monday, Tuesday, Thursday and Friday
Sections of Chinese Embassy in Tanzania
Sections
Information
Administrative Office
Tel: +255-22-2667475, 2668064
Fax: +255-22-2666353
Cultural Office
Tel: +255-22-2666298
Fax: +255-22-2666353
Research Office
Tel: +255-22-2667586
Fax: +255-22-2666353
Consulate-General of the PRC in Zanzibar
Consul General: Mr. Li Yiping
Address: P. O. Box 1200, Mazizini Kati, Zanzibar, Tanzania
Tel: +255-24-2232547,
+255-754601627 (Mobile Phone)
Fax: +255-24-2232681
Email: chinaconsul_zan_tz@mfa.gov.cn

People: It has a population of more than 37 million with 126 ethnic minorities.

Language: Kiswahili and English are the Official Languages of Tanzania.

Religion: Residents in Tanganyika embrace Roman Catholicism, Christianity, Protestantism and Islam. Residents in Zanzibar are almost all adherents of Islam.

Climate: Tropical Savanna Climate in the eastern coastal areas and in part of lowland in inland; tropical mountain climate (cool, dry) in the western plateau; tropical sea climate in Zanzibar with the average temperature 26 degrees Celsius.

Geography: Tanzania is made up of Tanganyika (mainland) and Zanzibar (Island). Occupying 945,000 square kilometers in area, it is in the east of Africa, in the south of equator. Tanzania lies to the south of Kenya and Uganda, to the north of Zambia, Malawi and Mozambique, to the east of Congo (Kinshasa), Rwanda and Burundi, to the west of the Indian Ocean. The land descends from northwest to southeast.

Tourism: This country abounds in natural and historical wonders. The famous scenic spots on the boundary line include Lake Victoria, Lake Tanganyiki and Lake Malawi. The world-famous Kilimanjaro, in northeast Tanzania near the Kenya border, is the highest mountain in Africa with the altitude of 5,895 meters. The snow cap of this mountain is famed in literature by Ernest Hemingway's 'The Snows of Kilimanjaro'. Other well-known landscapes are the Great Rift Valley, Maniyana Lake, the Slave City in Zanzibar, the site of world's oldest human and the site of Arab merchants.
2019 Public Holidays of the Embassy
Festival
Date
Day
New Year's Day
January 1

Tuesday

Zanzibar Revolutionary Day
January 12
Saturday

Chinese New Year

February 4 - 6
Monday -

Wednesday

Qingming Festival
April 5
Friday
Union Day
April 26

Friday

Worker's Day
May 1

Wednesday

Dragon Boat Festival
June 7

Friday

Saba Saba
July 7

Sunday

Mid-Autumn Festival

September 13

Friday

Chinese National Day
October 1 - 5

Tuesday

-

Saturday

Independence Day
December 9

Monday

Christmas Day
December 25

Wednesday

Boxing Day
December 26
Thursday

Please contact Embassy of Tanzania in China if Tanzanian citizens have troubles there.



Related China Embassies in Africa: Togo, Tunisia, Uganda
- Last modified on Feb. 27, 2019 -
Questions & Answers on China Embassy in Tanzania
Asked by Masele from TANZANIA | May. 22, 2019 02:14

Reply
I just want to apply for visa to visit China on official trip, which type of form do I have to fill?
Answers (1)
Answered by Jhameel from TANZANIA | May. 22, 2019 20:27

0

0

Reply
Hi, there is only one kind of application from for all types of visa.
Asked by Mariam from TANZANIA | Feb. 11, 2019 03:06

Reply
Iam Kenyan visiting Tanzania is it possible to apply visa from here??
Answers (1)
Answered by Steve from DENMARK | Feb. 11, 2019 18:36

0

0

Reply
It's possible to apply there if you meet all the requirements.
Asked by neema from TANZANIA | Feb. 07, 2019 14:49

Reply
hi i wanted to ask about how can.i renew my Q1 visa
i am married in but lost my marriage certificate and right now im in Tanzania and not in good relationship with my husband and i want to go see my friend please help me find a way
Answers (1)
Answered by Hale | Feb. 11, 2019 18:35

0

0

Reply
If you want to apply a Q1 type, you need to prepare the required documents include your passport, the application form, passport-style photo, an invitation letter from your spouse and copy of her/his Chinese ID card, as well as your marriage certificate, and other documents the consular officers consider necessary. Next, submit the application to the visa office.
Asked by Muki from TANZANIA | Sep. 27, 2018 07:27

Reply
I need to understand cost of visa for student from zanzibar
Answers (1)
Answered by Alex from DENMARK | Sep. 28, 2018 00:26

0

0

Reply
If you want to apply for a student X type from the Chine embassy, you may need to pay TZS100,000 per person for the application.
Asked by Ntuli from TANZANIA | Jul. 26, 2018 02:14

Reply
What are requirements for the business/tourist visa?
And also the price for the multiple entry for both business and tourist L
Answers (1)
Answered by Jonathan from UK | Jul. 26, 2018 18:30

0

0

Reply
Usually, you need to provide a filled-out application form affixed with a passport-style photo, your passport and its photocopy, your identity certificate, round trip air tickets and hotel reservation. You need a invitation letter from your Chinese business partner if you want to apply for the business M type. You may need to pay TZS 200,000 per person for each application. Just for reference.