China Embassy in Tanzania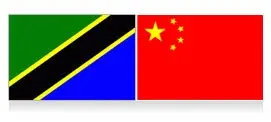 Ambassador: Ms. Wang Ke
Address: No. 2 Kajificheni Close, Toure Drive, Dar es Salaam, Tanzania (P.O.Box 1649)
Tel: +255-22-2666817
Fax: +255-22-2666353
Email: chinaemb_tz@mfa.gov.cn

Consular Office
Tel: +255-22-2668064
Fax: +255-22-2666353
Office Hours: 09:00 - 11:00, Monday, Tuesday, Thursday and Friday
Sections of Chinese Embassy in Tanzania
Sections
Information
Administrative Office
Tel: +255-22-2667475, 2668064
Fax: +255-22-2666353
Cultural Office
Tel: +255-22-2666298
Fax: +255-22-2666353
Research Office
Tel: +255-22-2667586
Fax: +255-22-2666353
Consulate-General of the PRC in Zanzibar
Consul General: Mr. Xie Xiaowu
Address: P. O. Box 1200, Mazizini Kati, Zanzibar, Tanzania
Tel: +255-24-2232547,
+255-754601627 (Mobile Phone)
Fax: +255-24-2232681
Email: chinaconsul_zan_tz@mfa.gov.cn

People: It has a population of more than 37 million with 126 ethnic minorities.

Language: Kiswahili and English are the Official Languages of Tanzania.

Religion: Residents in Tanganyika embrace Roman Catholicism, Christianity, Protestantism and Islam. Residents in Zanzibar are almost all adherents of Islam.

Climate: Tropical Savanna Climate in the eastern coastal areas and in part of lowland in inland; tropical mountain climate (cool, dry) in the western plateau; tropical sea climate in Zanzibar with the average temperature 26 degrees Celsius.

Geography: Tanzania is made up of Tanganyika (mainland) and Zanzibar (Island). Occupying 945,000 square kilometers in area, it is in the east of Africa, in the south of equator. Tanzania lies to the south of Kenya and Uganda, to the north of Zambia, Malawi and Mozambique, to the east of Congo (Kinshasa), Rwanda and Burundi, to the west of the Indian Ocean. The land descends from northwest to southeast.

Tourism: This country abounds in natural and historical wonders. The famous scenic spots on the boundary line include Lake Victoria, Lake Tanganyiki and Lake Malawi. The world-famous Kilimanjaro, in northeast Tanzania near the Kenya border, is the highest mountain in Africa with the altitude of 5,895 meters. The snow cap of this mountain is famed in literature by Ernest Hemingway's 'The Snows of Kilimanjaro'. Other well-known landscapes are the Great Rift Valley, Maniyana Lake, the Slave City in Zanzibar, the site of world's oldest human and the site of Arab merchants.
2023 Public Holidays of the Embassy

Please contact Embassy of Tanzania in China if Tanzanian citizens have troubles there.



Related China Embassies in Africa: Togo, Tunisia, Uganda
- Last updated on Mar. 29, 2023 by Brenda Lian -
Questions & Answers on China Embassy in Tanzania
Asked by kr Links Travel and Tours from TANZANIA, UNITED REPUBLIC OF | May. 28, 2019 23:52

Reply
KR Links Travel and Tours
I'm a Travel Agent Company located in Dar Es Salaam. I would like to know the procedures if I want to assist my clients travelling to China for Business to obtain visa.
Answers (1)
Answered by Maria from USA | May. 29, 2019 20:11

0

0

Reply
Hi, you should bring passport, application form and recent photo, and invitation letter from Chinese partner and submit the application at Chinese Embassy in Tanzania.
Asked by Dossi from TANZANIA | May. 28, 2019 08:20

Reply
Can I visit the embassy for China government scholarship questions
Answers (1)
Answered by Andy from USA | May. 29, 2019 00:07

0

0

Reply
For your question, you should contact with Chinese Embassy in Tanzania.
Asked by Masele from TANZANIA | May. 22, 2019 02:14

Reply
I just want to apply for visa to visit China on official trip, which type of form do I have to fill?
Answers (1)
Answered by Jhameel from TANZANIA | May. 22, 2019 20:27

0

0

Reply
Hi, there is only one kind of application from for all types of visa.