Top Xian Attractions
More Things to Do
Top 10 City Tours
Code: XA32
2 Days to Foping Panda Valley
Day 1
Xian - Foping Panda Valley
Giant panda sitting on a tree
To start your Xian panda tour, you can take subway Line 2 to Xian North Railway Station and take a high speed train to Foping. There are many trains available daily and the ride only takes around one hour. Upon arrival, take a Tourism Special Line to the entrance of
Foping Panda Valley
.
Then, take a battery car inside the scenic area to a suspension bridge. Go across the bridge and pick the path to the northeast to visit the Golden Monkey Great Canyon. You will pass by the Panda Forest Hotel in the midway. You are suggested to check in the hotel and leave your luggage there.
After visiting the Great Canyon, get back to the suspension bridge and go along the other path to the Panda Homestead. When today's visiting is over, get back to the Panda Forest Hotel to have a good rest.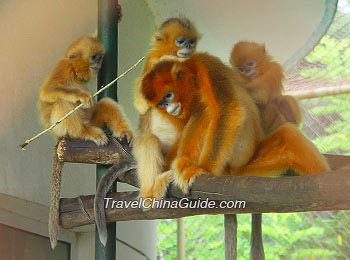 Golden Monkeys
Highlights of Foping Panda Valley:
1. See the world's only brown-and-white panda
Although there is only one giant panda named Qizai in the Valley, you still won't feel disappointed because Qizai is the only living panda in the world that wears white and brown fur, but its mother is a normal black-and-white panda. Qizai is so active that backpackers can have a large chance to see it somersaulting on the ground or climbing trees.
2. Feed the golden monkeys by yourself
Besides giant panda, the golden monkey is the other host of the valley. When you arrive at the Golden Monkey Great Canyon, you may find furry monkeys squatting on the tree branches. Some are grooming each other while some sit on the ground looking around. You may have a close contact with these golden monkeys by feeding them under the guidance of the staff.
3. Spend a night in the panda-themed hotel
Once you get in the Panda Forest Hotel, you may feel being inside the world of pandas for the major tone of the hotel is black and white and you can find patterns of pandas and their footprints as well as bamboo trees ornaments everywhere. Even the corridors were built to resemble narrow caves.
Cost:
| | |
| --- | --- |
| Foping Panda Valley | CNY 60 |
| Round-trip battery car in the valley | CNY 10 |
| Xian - Foping High Speed Train | CNY 56 (second class seat) |
| Panda Forest Hotel | CNY 550~800 for different room types |
Day 2
Foping Panda Valley - Xian
After breakfast, you may check out the hotel and take a battery car back to the gate of Foping Panda Valley. Transfer to a Tourism Special Line to Foping Railway Station and then take a high speed train back to Xian.

If you want to extend your independent Xian panda tour, you may take a coach to Hanzhong from Foping Bus Station and the last bus leaves at 16:00 or so.

More Related Xian Tours:
Tour to Hancheng: 3 days to Sima Qian Temple, Dang Village, Ming and Qing Ancient Town.
Xian Night Tour: Suggested night trip to Muslim Quarter, Musical Fountain Show and Great Tang All Day Mall.
Hanzhong: 2 days to Ancient Han Platform, Baoxie Plank Road and Wuhou Memorial Temple.