On April 30, the day before China's Labor Day holiday, two attackers used knives and explosives at Urumqi South Railway Station. Three were killed, including the two attackers and one innocent passenger, and 79 were wounded in the incident. The case was solved the next day, and police said it was a "violent terrorist attack" and the two criminals were affected by religious extremism for a long time.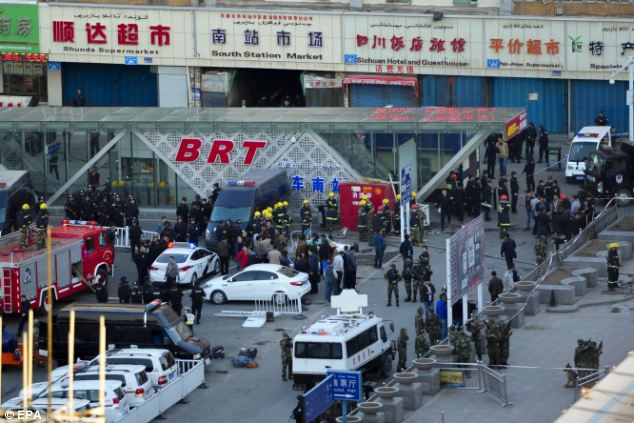 Urumqi South Railway Station after the attack Image source: internet
After the attack, China's President Xi Jingping, who just finished his visit to Xinjiang on April 30 and stressed that" Xinjiang's stability is vital to whole nation" during his visit, demanded "decisive action" against terrorists, and the local government and police took immediate action and tried best to solve the case and calmed down the public. Media and societies both home and abroad condemned the violent action. The US Department of State spokeswoman Marie Harf said "The United States condemns the horrific and despicable acts of violence against innocent civilians at the train station in Urumqi in Xinjiang Uygur Autonomous Region of China," The South African government issued a statement, said that "The South African government condemns all forms of terrorism. We believe that terrorism in any form and from whichever quarter cannot be condoned." The ministry of Singapore said "such dastardly acts of violence against innocent members of the public cannot be justified under any circumstances." International community also expressed their grief to the victims and condolence and sympathies to the relatives and publics affected by the incident.
The blast in Urumqi reminds people more terrorist attacks made by separatists and extremists:
l 29 killed and 143 wounded in the attack at Kunming Railway Station on March 1, 2014
l Two civilians and two policemen were wounded in the violent attack against police in Akesu, Xinjiang on February 14, 2014
l A jeep ran into crowds and crashed into the guardrail of Golden Water Bridge in front of the Tiananmen Tower, Beijing. Three extremists burnt the vehicle and died in the jeep. Two more civilians were killed and 40 were injured.
All the wounded are now accepting treatment in local hospitals. The train station and the city have already gone back to normal, except more heavily armed policemen can be found on street. The wound on the body heals fast, that on heart, however, cannot be easily cured. Any form of terrorism and violence are intolerant and people deserve a harmonious and safe society. We hope that in the future, no tragedy of this kind will happen any more and people of different nationalities live together harmoniously.