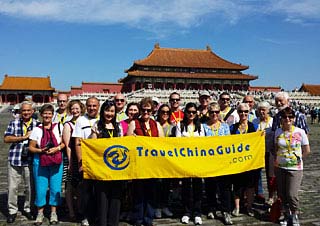 Our Group at Forbidden City
May 19, 2014 was the fourth Tourism Day in China. On the day, many attractions in the country carried out free entry or half price entrance fee. To attract more visitors, there were also all kinds of activities and celebrations in attractions. For example, students younger than 19 year old from all over the world can visit Zhangjiajie Scenic Area for free from May 19 to May 30, 2014; some attractions in Shanxi Province were free to enter on the day; a folk culture show and exhibition was held in Nanning City, Guangxi on May 19.
Since April, China has come to its tourism peak season with a growth of tourists from both home and abroad. Travel agencies and scenic spots attract visitors by offering discounts and promotions. However, traps and troubles also come with the prosperous tourism market. To help you with an enjoyable and safe holiday in China, we collect some practical tips for your reference:
1. Keep your valuable items, like cash, jewelry, and laptop, in the safe of your hotel; check them carefully when you leave the hotel. Carry your valuable items in your hand bags instead of checked luggage.
2. Always stay with your guide or follow the direction signs in an attraction; do not go to strange or unopened places alone. Take care of your belongings, especially your wallet, camera, cell phone, and tablet PC.
3. The luggage limitation of domestic flights in China is 20 kg (44 pounds) for each passenger. Liquors in checked luggage should be unopened. Lighters and matches are not allowed to take on plane either in carry-on or checked luggage. Portable chargers (should have clear capacity on the surface, and the capacity should be within 20,000mA) and batteries must be carried in hand bags.
4. Watch out "warm-hearted" strangers. Decline their invitation to an art gallery, café, or tea house.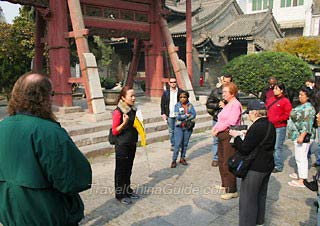 Visitors Hear the Guide Carefully
5. There are always many venders selling books, watches, or souvenirs near attractions. Try to ignore them as some of them may cheat visitors with forged money.
6. We suggest that you have meals in your hotel or large restaurants, if meals are not included in your tour packages. The food in hotels and large restaurants may be expensive, but they are safe and clean.
7. For visitors traveling with agencies: if your visit starts from Beijing, then Tiananmen Square and the Forbidden City will always be your first destination. We suggest that you wear sport shoes as it takes at least 3 hours to finish the attraction by foot. If Beijing Hutongs are in your itinerary, remember to tip the guide and the rickshaw driver. Usually, a small group less than 7 people tip CNY 20 to the guide and CNY 10 to the rickshaw driver.
8. Always carry toilet paper by yourself, as most public toilets in China do not provide toilet paper.
9. The used toilet paper should be put in the basket beside the toilet.
10. Your guide will try to take you to the seat type toilet, but many public toilets in China are squat type, so you may read some tips of how to use them before your China tour.