The Pathetic Truth of One Hundred Travelers Being Refused to Board the Train

Embarrassment Caused to Tourism by Real-name Train Ticket Policy
Published: Jul. 29, 2014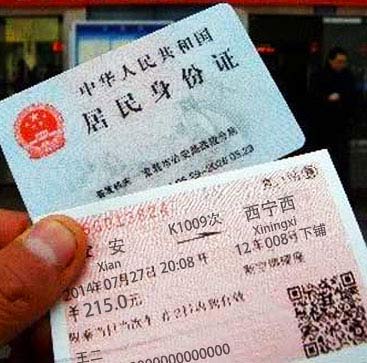 A Real-name Train Ticket and An ID Card
On July 27, 2014, over one hundred travelers were refused to board their train from Xian to Xining, because of the inconsistent information on their ID cards and their train tickets. All the travelers booked tours to Qinghai with local travel agencies, and also provided their ID numbers for train tickets booking. The night of departure, they got their hard sleeper tickets but with someone else's names and ID numbers. They were denied when they tried to get on the train and could do nothing but watched the train leaving with more than 100 empty sleeper berths. The 100 travelers finally got refunds and a compensation of CNY100 per person from their agencies.
As assumed by some insiders, rail tickets are hard to get during peak seasons, so travel agencies will use all methods to "store" some tickets in advance to guarantee their future clients get their tickets. In the mean time, the real-name policy requires consistent personal information on passengers' ID cards and tickets. There comes the embarrassment: travel agencies may not able to provide train tickets to their clients if they did not store tickets, especially in peak season; but if they purchase train tickets with other person's information in advance, their clients will be refused to board the train for the inconsistency of personal information.
Obviously, the real-name policy did work in cracking down scalpers, but we have to realize the problems it brings to tourism. Travel agencies have to get train tickets by all means for their clients, or they have to face the loss in the above report. Tourists waste a chance for traveling, but they can make up it later; agencies can also earn the money back in the future. How about the empty sleeper berths traveling from Xian to Xining? Who takes responsibility for the loss? Will the officers of China railway pay for it? Will the travel department shoulder the bill? None! All the losses find their way to the tax payers! If the travel agencies were given any favorable options in purchasing train tickets, the loss can be avoided, and the 100 travelers will be enjoying the gorgeous scenery by Qinghai Lake. If the officers who made the real-name ticket policy in the intervals of drinking tea and reading newspapers took all parties into consideration, there will be less embarrassment. We believe that an efficient and good policy should not sacrifice a party to benefits others. We also suggest that to develop tourism, travel agencies, as one of the creators and producers of tourism, should get some priority on the premise of fair, so that they can provide high-quality services to tourists.