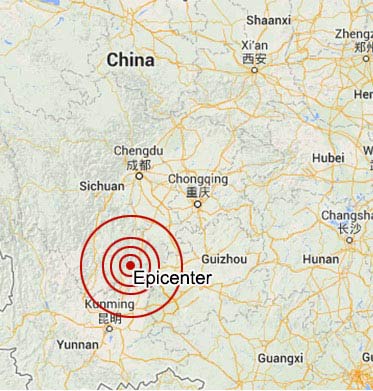 The Epicenter Is in North Yunnan
Travel China Guide warns travelers to delay or cancel your recent tour plans to Yunnan Province due to the deadly earthquake on August 3, 2014. It is not safe to travel to the area as aftershocks continue and heavy rains also hit the area; the most important is that we should make way for rescue vehicles and relief supplies.
A strong earthquake hit Ludian County, Yunnan Province at 16:30, August 3, 2014. Citizens in Chengdu, Chongqing and Xian also felt the quake. Up till now, this 6.5 magnitude earthquake at a depth of 7.5 miles (12 km) killed 398 and caused over 1,800 wounded and 3 missing. Traffic, electricity, and communication of the quake-hit area are completely down. Heavy rain, aftershocks, and seismic secondary disasters will bring more damage in the following days. Aid groups and survivors have already come to search and rescue. More rescue teams and relief supplies are on the way to the stricken area.
Here Travel China Guide wants to express our condolence and sympathy to the dead and wounded. We hope more survivors will be rescued and regain their health. May the deceased rest in peace!