Travel has become more and more popular among Chinese people during the Spring Festival holiday. During the past 2015 Chinese New Year Holiday (February 18th – 24th, 2015), Mainland China witnessed an impressive traveler volume of 261 million from both home and abroad, increased by 12.9% compared with the previous year; among them, 61.5 million stayed overnight at hotels. The received total revenue reached 14.483 billion CNY, an increase of 14.6% over 2014.
New Year blessing and greeting trips were favored by independent travelers and families. They were also the mainstream of travel during the holiday. Temple fairs and lantern fairs were especially popular. During the holiday, 1.861 million people visited temple fairs held at the Altar of the Earth and Dragon Pool Park in Beijing; by February 22nd, the lantern fair by Nanjing Qinhuai River has received 0.25 million visitors.
| | |
| --- | --- |
| Chinese New Year Temple Fair | Lantern Fair |
Hot springs, ice and snow related activities, and winter resorts were still popular. In Jilin, Hunan, Jiangsu and Guizhou, hot springs were operated at full capacity; in Harbin, the Ice and Snow World received 170,000 visitors. On Hainan Island, visitors coming by air increased by 4.44%, those arriving by car by 5.85%, and high-end hotel occupancy reached nearly 80%.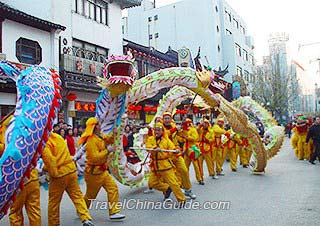 Dragon and Lion Dance
In addition, lots of visitors traveled to enjoy Chinese New Year celebration activities and folk customs in ancient towns and countrysides like Zhoucun Village in Shandong Province.

Outbound tourism grew rapidly. During the 7-day holiday, 5.182 million mainland Chinese went abroad, an increase of 10%. The favorite outbound destinations by group visitors were still Thailand, Japan, South Korea and some nearby regions in Southeast Asia; visitors to more distant locations such as Australia and the United States also increased greatly.
During the holiday, the overall organization of Mainland China's tourism market was generally good. Complaints received by China National Tourism Administration were down 50.3% to 93. Serious accidents did not happen and no visitors were ripped off in Hainan. However, there were still some problems to be resolved. For instance, the Forbidden City received 523,600 visitors during the festival, increasing by 19.58% and an average of 74,800 daily. This brought great pressure for the protection of the ancient architecture and cultural relics as well as threatening visitors' safety. Shunting and other crowd-limiting measures were urgently engaged. This was also a problem in front of many attraction sites. In addition, self-employed or illegal tour guides did not respect the holiday and kept cheating visitors. For your own sake, TravelChinaGuide strongly advises you to only join itineraries organized by legal, qualified, and professional agencies instead of those by roadside booths.