Shenzhen Subway Long Hua Line (Line 4)

Fu Tian Kou An - Qing Hu (Identification Color: red )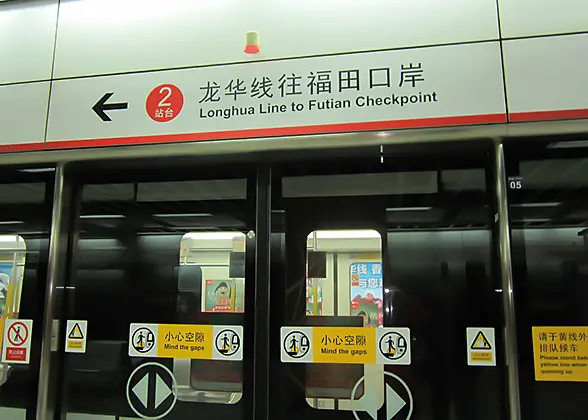 Shenzhen Subway Line 4, or Long Hua Line, runs between Fu Tian Port station and Qinghu station in a south-north distribution. Long Hua Line is about 20.5km ( about 12.7 miles) with 15 stations, of which Fu Tian Kou An (Futian Port) station is connected to Lok Ma Chau station of Hong Kong MTR East Rail Line via Futian Port. It takes around 32 minutes to complete a single trip of line 4 at an interval of 8 minutes. Long Hua Line runs from 06:30 to 23:00 and it costs CNY6 for the whole journey.

Route
Fu Tian Kou An (Fu Tian Port) – Fu Min – Hui Zhan Zhong Xin (Convention and Exhibition Center) – Shi Min Zhong Xin (Civil Center) – Shao Nian Gong (Children's Palace) – Lian Hua Bei – Shang Hai Lin – Min Le – Bai Shi Long – Shen Zhen Bei Zhan (Shenzhen North Railway Station) – Hong Shan – Shang Tang – Long Sheng – Long Hua – Qing Hu


See subway maps for reference.



Timetable
Long Hua Line (Subway Line 4)

To Fu Tian Kou An

To Qing Hu

Station Names

First Train

Last Train

First Train

Last Train

Fu Tian Kou An
---
---
06:30
23:00
Fu Min
06:35
23:26
06:31
23:01
Hui Zhan Zhong Xin
06:33
23:24
06:33
23:03
Shi Min Zhong Xin
06:31
23:23
06:35
23:05
Shao Nian Gong
06:30
23:21
06:36
23:06
Lian Hua Bei
06:49
23:19
06:38
23:08
Shang Hai Lin
06:47
23:17
06:40
23:10
Min Le
06:44
23:14
06:43
23:13
Bai Shi Long
06:42
23:12
06:45
23:15
Shen Zhen Bei Zhan
---
---
---
---
Hong Shan
06:38
23:08
06:49
23:19
Shang Tang
06:36
23:06
06:52
23:22
Long Sheng
06:34
23:04
06:54
23:24
Long Hua
06:32
23:02
06:56
23:26
Qing Hu
06:30
23:00
------
------

Surroundings and Bus Routes along Long Hua Line: ('

' Subway Transfer Station)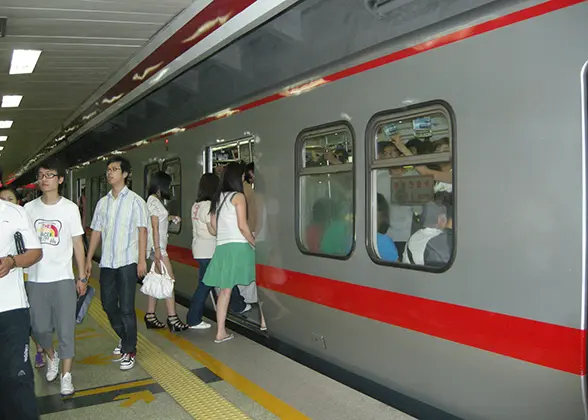 Fu Tian Kou An (Futian Port)
Exit A: Futian Port Entry & Exit Hall
Exit B: Haiyue Huacheng, Fuxiang Garden, Yunongcun, Jinganghaoting, Shenrong Building, Futian Bonded Area, People's Armed Police Frontier Detachment
Buses: Exit B: 52, 91, 203, M204, B689, B618, B685

Fu Min
Exit A: Fumin, Futaodongyuan, Fumin New Village, Stationery Wholesales Market, Shixingkai Fat Farm
Exit B: Xinshengyuan, Zhiben Building, Dongyu Leisure Center, Shidai Xingkong KTV, Nanguo Hotel, Futian Mother and Children's Health Institute
Exit C: Huanggang Village Committee, Jinyihuating, Huanghou Avenue Entertainment Square
Exit D: Yinzhuang Haoting, Jingang Haoting, Renrenle Supermarket, Gome Electric Appliance
Buses: Exit A: 28, 33, 34, 60, 62, 63, 73, 103B, K113, 202, 212, 231, 235, 303, 305, 317, 372, 385, B689, N10

Hui Zhan Zhong Xin (Convention and Exhibition Center)
Exit A: Great China International Exchange Square, Sheraton Hotel
Exit B: Yijing Central City
Exit E: Ritz-Carlton Hotel, Golden Central Square, Convention and Exhibition Center
Buses: Exit A: 15, 60, 64, 71, 76, 76 (inter-zone), 235, 371, 373, 374
Exit B: M224, 3, 398, M223, M221, Costal Line 4
Exit E: 15, 33, 34, 50, 60, 62

Shi Min Zhong Xin (Civil Center)
Exit B: Civil Center, People's Armed Police Detachment, Anlian Building, Trade Center
Buses: Exit F: 15, 34, 38, 60, 64, 71, 76, 235, 371, 373, 374, 398

Shao Nian Gong (Children's Palace)
Exit A: Children's Palace, Metro Building, Shenye Garden (A1)
Exit B: Lotus Hill Park
Exit C: Music Hall, Children's Hospital, Hongli West Road (West), Pengcheng 4th Road, Shenzhen Bookstore Town Central Part, Library
Exit D: Fuzhong 1st Road (West), Pengcheng 4th Road, Shenzhen Bookstore Town Central Part, Jiangsu Mansion
Exit E: Music Hall, Children's Hospital, Shenzhen Library, Rongchao Centre
Exit F: Guanshanyue Art Gallery, Children's Palace, Lotus Hill Park, Tianjin Elementary School, Metro Building, Lotus Hill Park,
Buses: Exit E: 25, 34, 64, 65, 371, 350, 108, 111
Exit F: 25, 108, 71, 371, 65, 350

Lian Hua Bei
Exit A: Shuiyuan Building, Caitian Village, Anju Yuan
Exit B: Duoli Building, Yutian Village, Lianfeng Garden, Huamao Yuan, Hongwei Garden, Xianke Garden, Aoshida Garden, Shanghailin New Village
Buses: Exit A: 6, 11, 12, 14, 46, 213, 104, 71, 58, 209, 59, 79

Shang Hai Lin
Exit B: Huilong Garden, Meihua Elementary School
Exit C: Wanke Building, Yijing Building, Haikang Building, Meilinsi Village, Kaifeng Garden, Zhongkang Park, Shanshui Hotel Meilin Branch, Vienna San Hao Inn Meilin, Meilin Hospital
Buses: Exit A: 102, 201, 216, 218, 222, 242, 30, 324, 334, 388, M203, M204, 240, 374, B627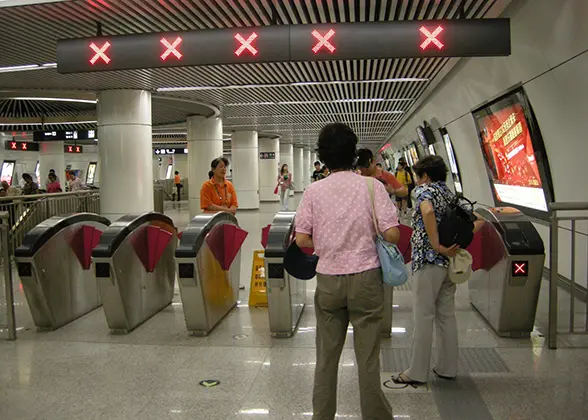 Min Le
Exit C: Minle Village, Fengzehu Villa
Buses: Exit A: 388, 16, 210, 245, 312, 302, 324, 328, 333, 350, 60, 334, 335, 350, 622, 624, 53, 620, 54, 390, 76, 787, 339

Shen Zhen Bei Zhan (Shenzhen North Railway Station)
Exit: Liuxian Boulevard, Shangtang Road, Yulong Road, Xinqu Boulevard
Buses: 390, 76, 658, B657, B742, K302, K384, M201, M202, M223, Peak Hour Special Bus 12 and 14

Long Hua
Exit A: China Telecom Building, Huayu Yuan, Huafu Integrated Market
Exit B: Longpeng Building, AAA Mansion, Vanguard, Youyi Bookstore, Jiahua Shopping Mall, Jin Peng Hotel
Exit C: AAA Garden, Longhua Commercial Centre Shopping Square, 7 Days Inn Hotel
Exit D: Daxin Garden, Jinyong Ge



Qing Hu
Exit B: Xinmeiyuan Four Seasons Hotel
Exit C: 365 Furniture Square, Treasure Hotel
-