Top Cafes in Shanghai
Can not get used to the Chinese tea? Miss the aroma of coffee? Here we recommend with you a large number of top cafes in Shanghai.
Starbucks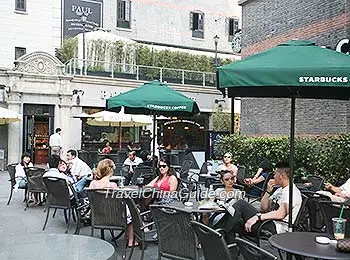 Starbucks, Shanghai
As one of the top cafes in Shanghai, Starbucks has nearly 100 branches in this city and you'll find one almost everywhere. Binjiang Starbucks, with its outdoor seating, allows you to enjoy the scenery of the Huangpu River. All of Starbucks' coffee shops in Shanghai offer the same best coffee as elsewhere in the world. Mocha, Caramel Macchiato, Latte, Cappuccino, Frappuccino, Tiramisu, and cheesecake are very popular.
Average cost per person: CNY50
Here are some branches for your reference:

Zhongxin Taifu Branch
Location: CITIC Square, No. 1168, West Nanjing Road, Jing'an District

Binjiang Branch
Location: Fudu Section, Bingjiang Avenue, Pudong New Area

Super Brand Mall Branch
Location: B2-05 Unit, 3F, Super Brand Mall, No. 168, West Lujiazui Road, Pudong New Area

Xintiandi Branch
Location: Building no. 18, Lane 181, Taicang Road, Huangpu District

Yu Garden Branch
Location: No. 100, Yuyuan Road, Huangpu District

It is divided into a smoking area and a non-smoking area, making customers feel more free and comfortable. The Vanilla Latte here is highly recommended. Mocha, ice blended, sandwiches, cheesecake, Tiramisu, and milk tea are also worth trying here. In addition, there are several kinds of tea for sale, such as Jasmine Dragon Phoenix Pearl Tea, Earl Grey Tea and Moroccan Mint Tea. Free WIFI is available.
Average cost per person: CNY50
Location: 4F, Baisheng Youke Shopping Mall, No. 789-889, Tianshan Road

Being one of the t

op cafes in Shanghai, Costa is from England and is popular in Europe, small but comfortable. Coffee, Tiramisu, and chocolate crisp rolls are tasty here.
Average cost per person: CNY50


Wujiaochang Branch
Location: No. 8, Songhu Road


Yongxinfang Branch
Location: 1F, No. 117, Xingeng Road


Hongkou Branch
Location: No. 19, 1F, Longzhimeng Shopping Mall, No. 388, Xijiangwan Road


East Nanjing Road Branch
Location: No. 10, Guizhou Road

Average cost per person: CNY180
Location: No. 249, North Maoming Road

The environment is of course excellent with an amazing vault stretching up 31-story high. There are Chinese and western music performances at night.
Operating Hours: 11: 30 – 23:00 from Sunday to Thursday; 11:30 – 24:00 on Fridays and Saturdays
Average cost per person: CNY300
Location: 56F, Grand Hyatt Shanghai, No. 88, Century Avenue, Pudong New Area

For some people, it is a cafe of their dreams! The environment inside is leisurely and pleasant. The owner will warmly welcome the customers and make every cup of coffee by himself.


You can taste best coffee in Shanghai. The cheese cake here is also delicious.
Average cost per person: CNY30
Location: 1F, Shanghai Mart, No. 2299, West Yan'an Road, Changning District

Seesaw Caf

é

in Shanghai gets the name from a saying "see what we saw". Nowadays, it is on the list of

Top Cafes in Shanghai. It was established by some young people who dreamed of serving coffee of good quality at a low price.
Average cost per person: CNY50


Yuyuan Road Branch
Location: Jing'an Design Center, No. 8, 433 Lane, Yuyuan Road, Jing'an District (near Urumqi Road)

Shiboyuan Branch
Location: L102-02, International Expo, intersection of Shangnan Road and Guozhan Road


Bailian Branch
Location: No. 1217, Century Avenue

This is a romantic café, which is actually a two-storey wooden house, becoming one of the t

op cafes in Shanghai. There are wooden tables and chairs and sunshades surrounded by grass and flowers outside; while inside are comfortable sofas and many books which create a fashionable atmosphere! It is really pleasant to have a cup of coffee here!
Average cost per person: CNY60


Jinhui Road Branch
Location: No. 265, South Jinhui Road, Minhang District (near Wuzhong Road)

Xinzhuang Branch
Location: No. 158, Zhucheng Road, Minhang District (near Fudu Road)

Jinqiao Branch
Location: No. 479, Zaozhuang Road

It is originated from Singapore and has been popular among all Chinese people in the world.
Average cost per person: CNY30
Location: No. 84, Xuefu Road

Makoo Café in Shanghai wins high popularity among young people nowadays, becoming one of the top Shanghai coffee shops.
Average cost per person: CNY60
Location: No. 42, Lane 339, Changle Road

This coffee shop offers best espresso coffee in Shanghai.
Average cost per person: CNY75


North Shaanxi Road Branch
Location: No. 415, North Shaanxi Road


Huamu Road Branch
Location: No. 1388, Huamu Road

Café Del Volcan can be regarded as one of the best cafes in Shanghai.
Average cost per person: CNY50


Yongkang Road Branch
Location: No. 80, Yongkang Road


Wuding Road Branch
Location: No. 991, Wuding Road


Guanghua Road Branch
Location: No. 689, Guanghua Road

As a themed coffee in Shanghai, it offers several popular dishes, such as Red Velvet Cake, Green Tea Latte, Caffe Mocha and Vanilla Latte.
Average cost per person: CNY55
Location: 2F, Building No. 1, No. 198, Ruijin 2nd Road
- Last modified on Jun. 22, 2020 -
Questions & Answers on Top Cafes in Shanghai
Asked by Mrs.Parker from CHINA | Apr. 16, 2009 08:42

Reply
I honestly wasn't able to find Costa Cafe at

Wanda Branch: 1F, the Middle Tower, Wanda Commercial Plaza, No. 600, Handan Road, Yangpu District (near Zhengtong Road)

Answers (1)
Answered by Mrs.Fidelity from PHILLI | May. 03, 2009 06:28

0

0

Reply
Well, they forget the best. Paul (super cakes but lousy cappuccino) and Expressamente at line 2 terminal station pudong (super cappuccino)