Lucky Number 2
General Analysis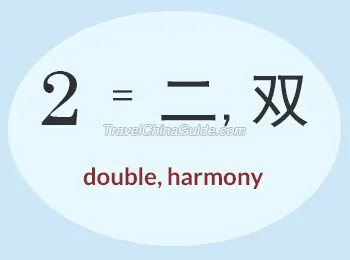 People with the lucky number 2 enjoy close relationships with friends. Generally, they really dislike to be alone, but are particular about their partners. Naturally sensitive, these people are good at analyzing problems and have the capability to be a commenter. Females have a touch of male strength, and males have a particular feminine charm, which can easily be spotted from their personal appearance. The neurotic behavior is dominant among all their characteristics. They may either be fiercely independent or be excessively dependent on others. They are considered somewhat selfish because of their need to be alone occasionally. They are also emotional and easily angered once refused by their partners.

Strong points: They cooperate well with others, so people usually feel comfortable to work with them. Their patience, mildness and politeness help them to easily make friends with others. As they are reliable, people always turn to them, even for small matters. They are usually merciful and tolerant, so whoever is looking for support will not be rebuffed. In addition, their graceful behavior and charming looks make them never short of admirers.

Weak points: They are too shy, causing many career chances and love interests to slip away. They are never decisive people, and are easily affected by their surroundings. In daily life, they muddle through and don't take life seriously; therefore, they lack ambition and targets. They easily get frustrated and bored when repeatedly doing certain work. To lead a good life, they mostly need a strong will.
Romantic Relationship
They are very sensitive in romantic relationship, so they easily get aggravated by their partners' refusals. They are not only particular about their partners, but also depend on them too much. Due to their character of hating to be alone, they request their lovers to spend quite a lot of time with them. However, this does not help to the evolution of the relationship. It is advisable that they keep a balance between independence and dependence. An important lesson for them is to know when to stop asking for too much from their partners for the sake of ever-lasting relationship.
Number 2 in Chinese Culture
Two is the smallest even number, usually with the meaning of 'double', 'twinned' and 'again'. It is an auspicious number in Chinese culture, because Chinese people believe that 'good things come in pairs'. For wedding ceremonies, according to the
custom of ancient Chinese marriage
, people will decorate gates and windows with a paper-cut 囍 (meaning double happiness). There are many congratulatory and complimentary phrases with the auspicious meaning of 2. For instance, 'Bi Yi Shuang Fei' (Shuang meaning double), literally means flying wing to wing, which is the best wishes to remain a devoted couple to the end of their lives; 'Cai Mao Shuang Quan' is used to describe a person to be pretty and also talented. When giving names to children, it's also common to include the word 'Shuang' for luck. Also, in many areas of China, it is a custom to send duplicate gifts when married women visit their parents.
However, Two has another interesting use in dialects of different places of China, but mostly negative. In Shaanxi Province, 二 (Two) pronounced 'Er' in Chinese is used as an adjective to ironically describe those who are intemperate, reckless, or intrepid. So when someone says you are Er or Er Bai Wu (Two Hundred and Fifty), it is not a word of praise. In Baoding and some cities in the northeastern China, it has the meaning of stupidity, and people usually make fun of each other with it. Among Nankang Hakka people in Jiangxi Province, they give kids diminutive names such as 'Er Zai' or 'Er Zei'. People think that a child with a lowly name is more easily to be brought up. Here 2 is used as a term of affection. There is also a standard song-and-dance duet popular in the northeastern China named Er Ren Zhuan.
For a family with three children in countryside, there is a popular saying 'the eldest child gets most love because he or she is the baby and the youngest child is most cared because he or she is so young; then the child in the middle is usually roughly brought up'. Therefore, people often say the second baby in such a family gets least love but become most independent.
In recent years, the derogatory meaning of 2 lessened a lot. Among many young people, Er is an increasingly popular adjective, which is partially a synonym of frank, innocent, and with pioneering spirit. They believe that Er stands for a positive attitude towards life and some even love to be called Er Ge (second elder brother) or Er Jie (second elder sister).
- Last modified on Sep. 07, 2020 -
Questions & Answers on Lucky Number 2
Asked by Percy from AUSTRALIA | Jul. 21, 2020 10:31

Reply
Dove 16 September 1958
What is the lucky number?
Answers (1)
Answered by Ivy from FINLAND | Jul. 27, 2020 01:32

0

0

Reply
3, 4, 9
Asked by Vicky from MALAYSIA | Jun. 08, 2020 20:40

Reply
Luckily Number
My Date of Birth is 13 June 1999
Answers (1)
Answered by Caden from DENMARK | Jun. 14, 2020 23:36

0

0

Reply
3, 4, 9
Asked by Lucinda Lim from MALAYSIA | Oct. 11, 2019 21:35

Reply
lucky number that suit DOB 27sep77 please.tq
Answers (1)
Answered by Sylvia from UKRAINE | Oct. 14, 2019 01:30

0

0

Reply
2, 8, 9
Asked by Mathura from INDIA | Aug. 14, 2019 12:01

Reply
Date of Birth 22nd December 1988
What is the lucky number for d.o.b 2nd december 1988
Answers (3)
Answered by Amari from UKRAINE | Aug. 14, 2019 23:10

0

0

Reply
The lucky ones are 1, 6 and 7.
Answered by Mathura Jagadish from INDIA | Aug. 15, 2019 07:30

0

0

Reply
D.o. B 2nd December 1988 not 22
Answered by Amari | Aug. 15, 2019 18:20

0

0

Reply
Oh, it doesn't matter. The lucky numbers only depend on the birth year.