Lucky Number 7
General Analysis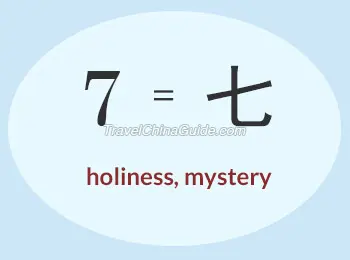 People with the lucky number 7 usually like to explore the causes of the matters. However, when finding the truth, they are too afraid to accept it. Thus they often try to cover up their fear and weakness. In spite of this, they have an excellent analysis capability, which helps them succeed in any job. Besides, people with the lucky number 7 are doomed to be fortunate and get good opportunities which others try hard to seek. So to some extent, their success ought to be attributed to their good luck. What a pity that they are sometimes lazy and idle because of their frequent and easy chances. Anyway, generally speaking, they are smart and knowledgeable, but a little suspicious of, and indifferent to, other people.

Strong points: They are thought of having philosophical qualities – mysterious, quiet and skillful in analysis. Their clear awareness and prudent attitude give them a swift intuition. Confronted with some complicated problems, they can quickly calm down and find solutions. Additionally, they have a sensitive intuition and self-control introspection. Their strong sense of justice and sympathy help them make many friends. What's more, they have a unique aesthetic sense. The purity of their temperament sets a good example for many people around.

Weak points: These people often feel lonely so that sometimes they look depressed. They are likely to not care about others. They gradually become unmerciful and apathetic in the eyes of their friends. Their low spirits should actually be attributed to their personality, being shy, slow and introvert. They avoid consulting and discussing with others, so they tend to be self-assertive when solving problems. The most intolerable characteristics of these people are that they are scheming, inconsiderate, and abandon their duties without consultation.
Romantic Relationship
Once meeting their dream lover, they will try their best to pursue and maintain the relationship. However, if there is something wrong with the relationship, they will hysterically seek its cause. Otherwise, they complain a lot. Thus those who have love affairs with people with the lucky number 7 should love truth as well, be ready to face reality and prepare enough explanations to their constant questions.
No. 7 in Chinese Culture
In the traditional Chinese culture, Seven represents the combination of Yin, Yang and Five Elements (Metal, Wood, Water, Fire and Earth). This combination is considered as "harmony" in the ideology of
Confucianism
. While in Chinese
Taoism
, it stands for Tao which has a close connection with kindness and beauty.
7 was widely used in ancient Chinese culture, for example the Seven Treasures for Buddhist Scripture refer to gold, silver, colored glaze, coral, amber, seashell, and agate. Another example is the
Double Seventh Festival
when the Milky Way Lovers (the Cowherd and the Weaving Maid) can have their annual meeting only on July 7th. As a Chinese legend goes, when the Jade Emperor in Heaven learnt that his beloved daughter, Weaving Maid, had married a poor cowherd and lived a happy life, he created the Milky Way to separate the lovers. After that, only on the seventh day of the seven month each year, the Cowherd and the Weaving Maid got a chance to meet on the Magpies Bridge which was formed over the Milky Way by a large number of magpies. Therefore, July 7th is regarded as the Chinese Valentine's Day.
"To create a poem within seven steps" is used to describe somebody's quickness in wit and dexterity in literary creativity. The old saying dates back to a scholar and poet named Cao Zhi, son of
Cao Cao
, King of the Wei, during the
Three Kingdoms Period
(220-280). In order to avoid being killed by his brother, Cao Zhi created a poem within the time required for taking seven steps.
"Seven Arrests and Seven Releases" means making an opponent give in by using some tricks. It is also based on a story that happened in the Three Kingdoms Period.
Zhuge Liang
, an excellent strategist and military counselor in the Shu Kingdom, artfully arrested a southern tribe chief seven times and released him as often, to get the chief to eventually give in.
Although Seven is generally considered a propitious number, it is at times disliked in China. The July 7th Incident of 1937 (also named Marco Polo Bridge Incident) always reminds Chinese people of the painful history of the eight-year's Sino-Japanese War. 7 has the same pronunciation with 欺, Qi in Chinese, meaning cheating, lying to, or riding roughshod over someone. When choosing a telephone number or something like that, 7 is often left out of the list. The Seven Year Itch, the famous American movie, has long been a popular saying in China to describe the unsteady period of a marriage. It means that in the seventh year of a marriage, the couple faces serious problems in their relationship. Once a bit of negligence or unwise action is taken, their marriage may end up in the same year.
- Last updated on Jun. 11, 2023 -
Questions & Answers on Lucky Number 7
Asked by Mary from INDIA | Sep. 16, 2023 17:31

Reply
Born on July 5 1977 , what's my lucky number?
Answers (1)
Answered by Molly | Sep. 18, 2023 02:05

0

0

Reply
The lucky numbers of the Snake are 2, 8, and 9.
Asked by Spencer from MALAYSIA | Jun. 10, 2023 07:17

Reply
Birthdate 15 August 1952
What's my lucky number?
Answers (1)
Answered by Diana | Jun. 11, 2023 23:01

0

0

Reply
They are 1, 6 and 7.
Asked by Al from CANADA | May. 27, 2023 18:09

Reply
Born July 26, 1957, what is my lucky number?
Answers (1)
Answered by Andrew | May. 29, 2023 02:07

0

0

Reply
You were born in the year of Rooster and the lucky numbers are 2 and 7.
Asked by Segun | Mar. 04, 2023 00:06

Reply
Born in June 24, 1997 what's my lucky number
Answers (1)
Answered by Kathy | Mar. 05, 2023 21:32

0

0

Reply
2, 7, 9 are your lucky numbers.
Asked by Zhaowei luo from CHINA | Feb. 01, 2023 14:00

Reply
Born april 15, 1993 what is my lucky number
Answers (1)
Answered by Jojo | Feb. 02, 2023 21:54

0

0

Reply
0, 1 and 8.