Lucky Number 9
General Analysis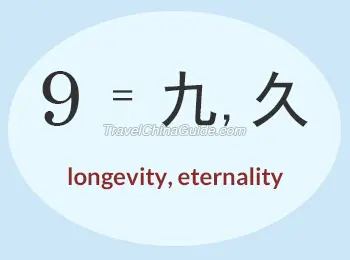 Endowed with the gift to serve others, people with the lucky number 9 are able to freely create an easy and relaxed atmosphere. They make people around them laugh and encourage them to live a colorful life. They are very considerate in taking good care of anyone in need of help. With an inborn free soul, many people, having 9 as the lucky number, never stop weaving their dreams. They can usually realize these dreams as long as they have the practical plans and real actions. However, they are likely to boast a lot with little real action. They can hardly be successful unless they take dream-seeking actions. In general, they have rich imagination, universal love and kind-hearted sympathy.

Strong points: Their humanity is welcomed among their friends. Besides, they are brilliant, funny, smart and generous. The adventurous spirit gradually makes them have sharp insight and sacrifice their own interests for the sake of others. Thus in their daily life, they prefer to do some voluntary work. Some tiny things can sometimes touch them a lot. What's more, they love the exotic culture, which usually easily inspires them.

Weak points: Maybe in order to flee from the constant loneliness, they usually pretend to live a romantic life with kinds of relationships. Therefore, they can be thought of as hypocrites. They actually cannot make a good decision in face of some difficulties due to their random attitude to life. They seem to be very sophisticated, though, they often feel self-pitying. Another weakness of them is to be self-centered and some coldhearted.
Romantic Relationship
In the pursuit of the real love, they usually weigh the fantastic dreams more than the reality. Therefore, it is easy to become happy and exited getting along with them. Once you fall in love with a person with the lucky number 9, you'd better help her or him to figure out the importance of concerning about the reality. In that way, they may find out what they really want from the life and the romantic relationship. In brief, these people mix the significance of the dreams and the reality as seeking for love.
No. 9 in Chinese Culture
Besides 6 and 8, Chinese people like 9 very much as 9 has the same pronunciation with 久 (Jiu, meaning everlasting). On the Valentine's Day, a man usually presents his lover 99 or 999 roses to symbolize the eternal love. Similarly, according to the
traditional Chinese marriage custom
, the bridegroom has to give a Red Packet to his bride's family, in which CNY 9,999 or CNY 99,999 is enclosed to bless a long-lasting marriage of the couple.
Since Nine, the highest single-digit number in base ten, stands for completeness and eternity, many emperors in the ancient China love the number a lot. 'Nine Continents' is used to describe the large territory of an empire. The emperors wore Nine-dragon Imperial Robes, ordered to construct Nine-dragon Walls and other buildings with relationship with number 9 in the imperial palaces, to show their great power, hope for longevity, and eternal reign of their empire.
The world-famous
Forbidden City in Beijing
is a representative palace of Nine. In this magnificent imperial palace of China's Ming (1368 - 1644) and Qing (1644 - 1911) Dynasties, the total number of the rooms is 9, 999 and a half. The three major halls - Hall of Supreme Harmony, Hall of Central Harmony and Hall of Preserved Harmony - are all of a height of 9 Zhang and 9 Chi (about 108.2 ft; Zhang and Chi are both ancient Chinese length unit). There are 81 doornails in nine rows and nine columns on each gate. The number of almost all the stairs is nine or a multiple of nine. Apart from the Forbidden City, the construction of the
Summer Palace
and the
Temple of Heaven
are also based on number 9.
Thanks to the special propitious meaning, number 9 and its multiples are also liked among Chinese folk. The Nines of Winter (Shu Jiu) is a popular folk song recording the weather changes during the nine periods of nine days each following the
Winter Solstice
. Besides, the 36 (9*4) Military Strategies from ancient China, the 72 (9*8) Metamorphoses of the Monkey King and the 81 (9*9) Tribulations in the Journey to the West are all widely-known stories in China.
- Last modified on Feb. 18, 2019 -
Questions & Answers on Lucky Number 9
Asked by Icefox from SINGAPORE | Feb. 18, 2019 07:09

Reply
What is my lucky number? DOB is 24 July 1993
Answers (1)
Answered by Lucy from USA | Feb. 18, 2019 22:31

0

0

Reply
They are 5, 7 and 8.
Asked by Athinais from GREECE | Feb. 14, 2019 13:16

Reply
What is my lucky number? Birth year 9-8-2019 I think it's 9
Answers (1)
Answered by Nina from NETHERLANDS | Feb. 14, 2019 18:30

0

0

Reply
You mean you were born in 2019?
Asked by Theresa from UNITED STATES | Feb. 01, 2019 07:00

Reply
What is my lucky number please? April 6, 1980
Answers (1)
Answered by Bowen from SINGAPORE | Feb. 11, 2019 01:51

0

0

Reply
They are 1, 7 and 8.
Asked by Courtney from AUSTRALIA | Jan. 22, 2019 05:25

Reply
What is my lucky number birthday being 27/12/1987?
Answers (1)
Answered by Dennis from CANADA | Jan. 22, 2019 20:02

0

0

Reply
They are 3, 4, 9.
Asked by Jagadeesh Reddy from INDIA | Jan. 08, 2019 09:25

Reply
What is my lucky number? My birday is 09/12/1991
Answers (1)
Answered by Dennis from CANADA | Jan. 08, 2019 19:42

0

0

Reply
3, 4, 9 are your positive numbers.