Lucky Number 8
General Analysis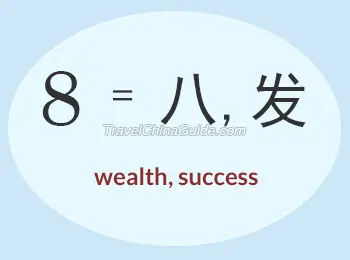 People with the lucky number 8 have strong intuition and insight, so they have the potential to explore things undiscovered. In general, they are bestowed with a special gift of being inborn businessmen, and can achieve all their plans step by step. They are usually mild and honest to others. Their characteristics would never lead to arguing with other people or causing them to be depressed. Nevertheless, in order to avoid hurting people around them, they always hide their real emotions, whether they are sad or happy. It would be to their advantage to learn to be more frank when communicating with others, and rather than giving greater consideration to disappointing or encouraging aspects, speak out frankly about their real feelings as this can make them more popular.

Strong points: Due to their decent temperament, they have a good reputation. It is certainly not a nominal compliment because they are always there for philanthropic deeds and generous offer. Besides their potential for enterprise, they have excellent leadership qualities coupled with abundant ambitions. Their usual good fortune enables them to pursue a higher quality of living standards. They often can be successful based on their courage and sincerity. In the eyes of their friends, they are decent, fascinating and reliable.

Weak points: Their abundant ambitions sometimes make them careerists and a little dictatorial and extreme. Being self-centered can be their most intolerable personality trait that may make them selfish. They tend to seek for an inflated reputation, and gradually become very arrogant. Besides, they cannot help to waste money and time. Probably because of this characteristic, they try their best to make money by any means.
Romantic Relationship
They live for the life-long love pledge. However, they always strongly urge their lovers to earn more money and to be more successful. They do not mean to be unsatisfactory with their lovers; they just try to encourage people around them to give full play to their potential. Anyway, don't worry too much. People with this lucky number are very considerate and enthusiastic. They are even willing to sacrifice their own interests to keep the relationship everlasting. Generally speaking, the love they are seeking for is the combination of friendship, business partnership and also lifelong romance.
No. 8 in Chinese Culture
Because Eight (Ba in Chinese) has the similar pronunciation with 发 (Fa, meaning wealth or fortune), this number is very welcome among Chinese people. The popularity of 8 was obvious in relation to the
Beijing Olympic Games
which commenced at exactly eight o'clock eight minutes on the eighth day of the eighth month in 2008. When people choose telephone numbers, mobile numbers, house numbers, car identification numbers and important dates, 8 is usually the first choice.
In modern China, numerical lingo has been very popular especially on the internet. For instance, 518 with the approximate pronunciation with Wo Yao Fa, meaning I want to be very wealthy. 886, with the Chinese pronunciation Ba Ba Liu like bye-bye in English, is frequently used during the instant chat on the internet to say 'good-bye' or 'see you later'. In the same way, 84 (pronounced Ba Si) means 'bus' in the internet lingo, or 'no' for its sound similar to Bu Shi expressing denial in Chinese.
Also, some unique Chinese expressions are formed with 8. Here are some examples:
1. Birthday and Ba Zi (8 is pronounced Ba in Chinese) refers to a person's birthday and the eight characters according to the horoscope. In the ancient China, based on this information, the fortune-teller can figure out the fortune of a person for his whole life.
2. Bagua: On one hand, it refers to the Eight Diagrams, a series of symbols in ancient Chinese philosophy and astrology. It derived from
the Book of Changes
(I Ching). On the other hand, it has a modern meaning of some bamboo telegraph, some private information of the stars, or to describe someone who is fond of gossip.
3. Babai Relationship: In ancient China, it used to mean the rules of etiquette governing the relationship of the young towards their seniors and friendships spanning generations. It also describes the friendship between sworn brothers or sisters.
4. Talent of Eight Buckets: This is used to speak highly of a person who has a wide range of knowledge or extraordinary talents.
- Last modified on Feb. 13, 2019 -
Questions & Answers on Lucky Number 8
Asked by Emily from DOTSON | Feb. 13, 2019 08:52

Reply
im born on 12/9/02 does that mean 8 is my lucky number??
Answers (1)
Answered by Ben from MALAYSIA | Feb. 13, 2019 21:47

0

0

Reply
Hi, your lucky numbers are 2, 3 and 7.
Asked by shirl Nelson from US | Feb. 01, 2019 07:09

Reply
Hi my birthday is 8/8/1977. Can you give me some insight on it, please?..
Answers (1)
Answered by Alan from NEW ZEALAND | Feb. 11, 2019 01:55

0

0

Reply
It's not a very lucky year for you. On the one hand, you may suffer a setback in the love relationship. On the other hand, you may meet some difficulties in wealth aspect. It is not suggested to make some risky investments.
Asked by Handel Ochieng from CANADA | Jan. 31, 2019 12:10

Reply
If my birthday is March 5 1998 what should I avoid / go towards?
Answers (1)
Answered by Cindy from CANADA | Jan. 31, 2019 22:17

0

0

Reply
Hi, this year is very favorable for you and things may get smooth in most aspects for you. However, you need to avoid saying mean words or going to humid places.
Asked by Dee from AUSTRALIA | Jan. 25, 2019 13:38

Reply
I am about to move into a house no 8 ( well it's 17)is that a good house number?
My birthday date is 29/10/1950
I could have moved into no 13, but it didn't have a good feel
Answers (1)
Answered by Anne from SINGAPORE | Jan. 27, 2019 23:26

0

0

Reply
Well, it is okay.
Asked by Iris Torreira from UNITED STATES | Jan. 22, 2019 06:12

Reply
My lucky numbers? I was born Sept. 10 1951
Answers (1)
Answered by Jane from MALAYSIA | Jan. 22, 2019 21:46

0

0

Reply
3, 4 and 9 are the auspicious numbers.