Lucky Number 6
General Analysis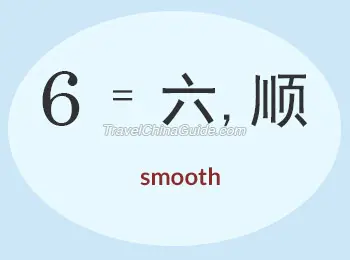 People with the lucky number 6 are sentimental. They usually contribute too much to maintain a relationship, so they become very fragile as the relationship ends. To some degree, they are considered as the completists. As well as that, they are responsible and serve people well with all their heart and soul. If their friends are faced with difficulties or have a lot of complaint, they would never hesitate to act as good listeners.

Strong points: They are willing to do anything they can to present how they love their families. They always hold strong responsibility and humanity. Selflessness, sympathy, loyalty and consideration to other people make them have many friends. Therefore, these friends often ask him or her for help. They operate everything well and are regarded as the most trustworthy people. Moreover, they are brilliant, thoughtful and meticulous in handling the daily affairs. The typical characteristics of people with the lucky number 6 are being pure in the heart and noble in their morality.

Weak points: They tend to pursue the fairness, but usually superficially instead of essentially. It seems that they are judged uncompetitive. Sadly, they don't think so, thus gradually they become a little arrogant and hot-headed. In the eyes of people around, they are too rash to figure out a solution. Furthermore, they are nosy, picky and gossipy.
Romantic Relationship
They always have pious faith in love, so they are born to pursue a real and steady life. Sometimes, people compare them to Liang Shanbo and Zhu Yingtai for the continuous pursuit of love. The touching love story between Liang Shanbo and Zhu Yingtai happened in the ancient China. It is similar to the story of Romeo and Juliet created by William Shakespeare. Both the girl and the guy in the love story end with death for their eternal love.
Due to the ever-lasting seeking for love, people with the lucky number 6 take their relationship very seriously once in a love affair. Actually, they pay a lot to maintain the relationship at the expense of energy, time and money, never considering whether it is worth or not. Due to too much passion, their lovers often feel smothered and finally leave without hesitation. However, in face of the separation, they usually totally end their feelings and then seek a new passion. Therefore, they should realize the importance of personal space in the relationship.
No. 6 in Chinese Culture
Chinese people take Six (六) as a fortunate number mainly meaning smooth or well-off. In Chinese "六六大顺" means that everything is going smoothly. In choosing the telephone numbers and the vehicle identification numbers, people often prefer a number including 6. Besides, there is even an interesting tradition about 6 in some areas of China: when a man wants to get married with a girl, he has to present the betrothal gift to the girl's family. The gift is usually some money: CNY 6,666 or CNY 66,666. People consider that the fortunate money account can help to bless the new couple a harmonious and happy life. When a person comes across his or her 66th birthday, it should be grandly celebrated, as Chinese people hold a generally-accepted opinion that if a person lives to 66 years old, he is doomed to be longevous.
Additionally, 6 has a wide use in
China history
. For example, Chinese Classical Six Arts refer to Etiquette, Music, Archery, Riding, Writing, and Mathematics. Six Kinfolks refer to father, mother, brother, sister, wife and children.
- Last updated on Jun. 20, 2023 -
Questions & Answers on Lucky Number 6
Asked by Lina from USA | Jun. 19, 2023 22:48

Reply
Lucky number ?
Hello, I was born on July 22 1969. Just curios what is my lucky number ?
Answers (1)
Answered by Cindy | Jun. 20, 2023 02:57

0

0

Reply
It's 2.
Asked by Darren from USA | Jan. 15, 2023 12:59

Reply
Lucky numbers
Born 11/6/1959
Answers (1)
Answered by Daisy | Jan. 15, 2023 19:23

0

0

Reply
It's 5 and 8.
Asked by allanwilkins from NEW ZEALAND | Oct. 01, 2022 20:21

Reply
I am born 10/10/1956 what are my lucky number
I am born 10/10/1956 what are my lucky numbers 23?
Answers (1)
Answered by Stella | Oct. 09, 2022 23:31

0

0

Reply
It's 5.
Asked by Richard Alexander Swain from BAHAMAS | May. 21, 2022 20:06

Reply
What is my lucky number.Born Oct.24th.1966.
Answers (1)
Answered by Jojo | May. 29, 2022 23:16

0

0

Reply
It's 2.
Asked by Livy from AMERICA | Apr. 19, 2022 14:15

Reply
Hello hello, I'm just curious on my lucky numbers. I was born on March 1st 2003
Answers (1)
Answered by Sabria | Apr. 22, 2022 16:36

0

0

Reply
It must be 9 since 01+03+2003= 1+3+2+3= 9