Top Beijing Attractions
More Things to Do
Top 10 City Tours
BJ-WK03: Beijing Hutong Walking Tour
Yonghe Temple - Temple of Confucius and Imperial Academy - Drum Tower stopover - Hutong
Free Cancellation

24-hour Before

Today, your guide will accompany you all the time in this Beijing Hutong Walking Tour. The first stop is Yonghe Temple, also called Lama Temple and literally Harmony and Peace Palace Lamasery, then walk to the Guozijian (Imperial Academy) and Temple of Confucius. Afterwards, walk along Andingmen Inner Street and East Gulou Street to Bell Tower and Drum Tower. The following route is to stroll along Yandai Xie Street, Yinding Bridge and finally arrive at Shichahai Park. We will spend around 6 hours and walk about 4 kilometers (2.5 miles) in this rickshaw tour Beijing. Walking and taking the bus or subway are the main ways of transport for this trip. If choosing to take a taxi, you are supposed to pay by yourself.
In the morning, your guide will pick you up from your hotel at the agreed time. Then we will head to the Lama Temple by subway. Lama Temple used to be the birthplace and residence of Yongzheng and Qianlong emperors, so the design is similar to the Forbidden City with yellow roofs and red walls. What is different is that the architectures have combined the ethnic style of Han, Mongol and Manchu Nationality. In 1744, it was changed to be a lama temple. Among the 661 rooms, 238 are Buddha Halls. In the middle and late of Ming Dynasty (1368 - 1644), it had been the highest-profile Buddhist temple.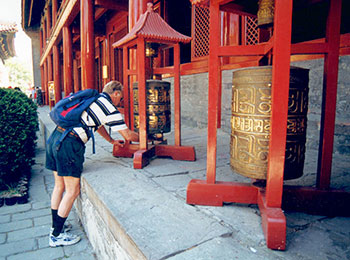 Yonghe Temple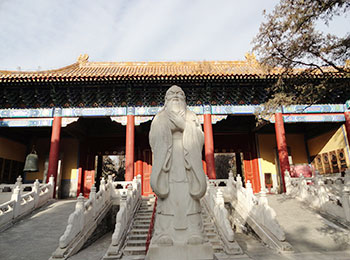 Statue of Confucius
Next, we will walk five minutes to Temple of Confucius and The Imperial Academy, the second stop of your Hutong Walking Tour Beijing. As one of the four great Confucius Temples in China, it has been the place for worshipping the great ancient thinker, Confucius, in Yuan (1271 - 1368), Ming and Qing (1644 - 1911). Though restored in several dynasties, the main structure has maintained the architectural style of Yuan Dynasty. The main architectures in central axis are Xianshi Gate (Gate of the First Teacher), Dacheng Gate (Gate of Great Accomplishment), Dacheng Hall (Hall of Great Accomplishment) and Chongshengci (Worship Hall). Guozijian is the only preserved imperial academy in China. It used to be the highest educational institution and administration from Yuan to Qing Dynasty. It enrolled not only students from all nationalities in China but also foreign students, so it played an important role in cultivating the talents and promoting the cultural exchange between China and foreign countries.
After finishing the tour there, your guide will lead you to the Bell Tower and Drum Tower where we will stop for a short time so that you can take some nice photos. The 30-minutes' walk to this scenic spot will pass by Andingmen Inner Street and East Gulu Street. Bell and Drum Towers made of bricks and stones were used to tell the time in past dynasties and were the landmarks of ancient Beijing. The copper bell in the Bell Tower is the earliest and heaviest one existing now with a history of about 650 years and a weight of 63 tons. If you want to climb onto the tower to overlook the communities or courtyards around connected by hutongs, you can pay on the spot.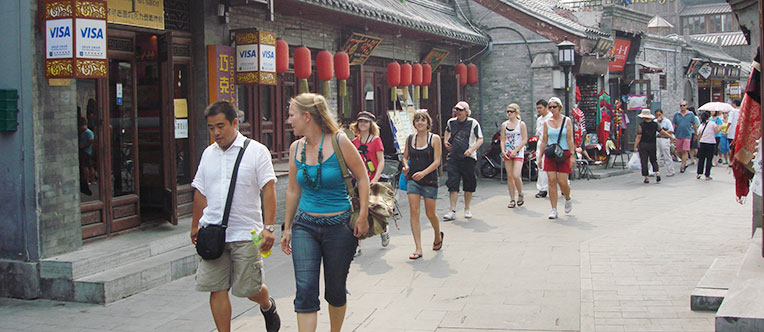 Walk around the Hutong area to learn the real life of old Beijingers
Then, we will walk for 10 minutes to Yandaixie Street. There are many shops, restaurants and café along the street, so it is a good place to have your own lunch. After that, we will wonder along Yinding Bridge, south part of Houhai to Shichahai Park finally. The scenery along the way is beautiful and quite suitable for taking pictures. There are many traditional residence, hutongs and alleys in this area. Your guide will be glad to accompany you to see the traditional community if you are interest in it.
Your one day trip of Beijing Hutong Walking Tour finishes here. If you want, you can stay and explore the Hutong area further by yourself, or head to another destination, your guide will be willing to help you with the transportation
.
Prices (US$ Per Person)
1 person

$135

2 persons

$83

3 persons

$72

4 persons

$58

5 persons

$55

6 persons

$45

7 persons

$44

8 persons

$44

9 persons

$41

10+

$35
Remarks: We can also assist you to book the hotel and offer you a preferential price.

Price Includes
Hotel pick-up
Private English-speaking guide
Entrance fees to tourist sites
Price Excludes
Meals
Tips or gratuities for guide
Itineraries you may also like:
The above routes do not meet your requirements? Please click
Tailor My Trip