At about 23:35 on the last day of 2014, a stampede on Chenyi Square of the Bund area in Shanghai caused 36 dead and 49 injured. The victims were sent to hospitals across the city in the first time. Some have discharged from hospitals while several severely injured ones are still under recovery.
Earlier before the deadly incident, a light show was planned in the area to celebrate the coming New Year, which was canceled as too many people crowded in. Although canceled, visitors kept pouring into the area and tried to ascend the sightseeing platform while some tried to descend. The incident happened when the crowd ascending and descending the steps crushed into each other, with the descending people knocking down and stepping over people on the bottom steps. TravelChinaGuide.com feel so sorry about the incident and hope it would never happen again!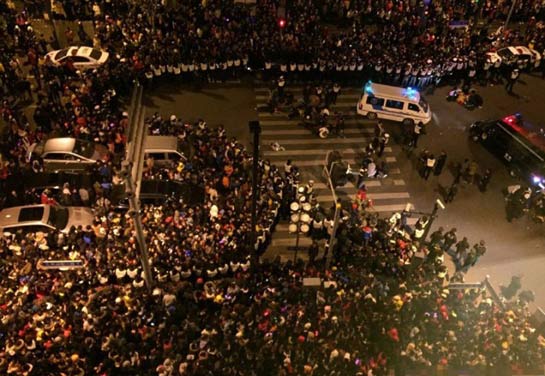 Here below are some self-rescuing methods if encountering a stampede:
1. If possible, avoid going to crowded areas;
2. Remember the location of exits and map a evacuation route in head before going into the crowd;
3. Once stuck in the crowd and unable to control your own moving direction, stay calm, do not stop moving or jostling with the crowd. Keep moving with the stream of people while gradually move to either side of the crowd till getting out;
4. While moving, clench hands and put them in front of chest to protect chest from being squeezed and get some space to breathe;
5. Do not bend or squat even if your shoes are lost or clothes is tore up;
6. Watch your steps and avoid being tripped. If tripped , stand up immediately;
7. If unable to stand up after being tripped, crawl with the stream of people and gradually move to either sides until getting out;
8. If unable to crawl either, protect head with both arms, put knees in front of chest to protect chest and stomach, but leave some space for breathing, and then ask for help loudly;
9. Lie on your sides. Do not lie on back or chest.