2017 Spring Festival Travel Rush - A Toughest One in Years for Train Passengers
Published: Dec. 20, 2016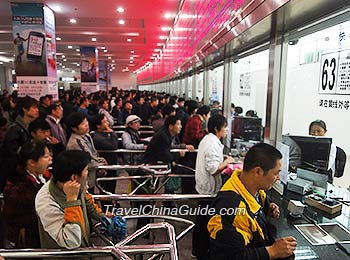 Passengers Queue to Buy Train Tickets
Train ticket booking for the 2017
Spring Festival Travel Rush
has opened since December 15, 2016. The battle for securing a ticket started again. Will you travel during the 2017 Chinese New Year Travel Rush, ie., during the time period of January 13 to February 21 of 2017? If yes, you'd better take actions right now and choose a reliable agency because it's reported the train tickets are more difficult to get than previous years.
Why is this a tough year?
1. The Railway Authority currently gives a short pre-sale period of only 30 days for train tickets because of nationwide train timetable adjustment to be made in January 2017. Therefore, passengers have limited time to get the ticket.
2. The 2017
Chinese New Year
comes over ten days earlier than previous years. Correspondingly, the Spring Festival Travel Rush in 2017 will arrive earlier. Students and migrant workers travel home at the same period while in usual years students go back home earlier for winter vacation.
3. Due to the La Nina Phenomenon, the weather condition around the 2017 Chinese New Year is not optimistic. Possible rainfall, snowfall, and fog may lead to delay and temporary cancellation of trains.
Tickets from / to which places are the most difficult to get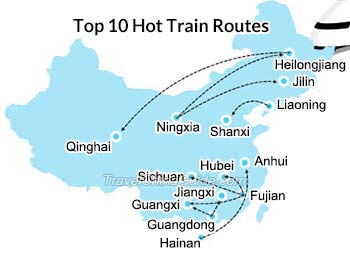 Top 10 Hot Train Routes
According to prediction, the top ten cities of departure are Guangzhou, Beijing, Shanghai, Shenzhen, Hangzhou, Fuzhou, Ningbo, Wenzhou, Xiamen and Wuhan, most of which are first-tier cities with concentrated population. The top ten places of arrival are Hunan, Hubei, Jiangxi, Henan, Sichuan, Guangdong, Chongqing, Anhui, Heilongjiang and Shaanxi, where a majority of migrant workers source from.
Hot train routes include Ningxia - Heilongjiang, Fujian - Hubei, and Liaoning - Shanxi. Standing room tickets account for over 17% on these routes.
Tickets for which days are the most difficult to get
Train tickets dated on January 25 will be the most difficult to get as many Chinese may travel home for family reunion on that day. Tickets for January 21 and 24 are not easy to get either. The tickets for these dates will be respectively on sale since Dec. 27, Dec. 23, and Dec. 26 in 2016.
The Railway Authority is now trying every method to soothe passengers. It announced that extra trains would be adopted to cope with the huge travel flow. Newly-built high speed railways will be put into use. Besides, more windows for purchasing and picking up tickets will be opened. 2,397 ticket vending machines will be added. Even so, it's wise not to go on trips during the travel rush. If you have to travel, please take a plane or bus rather than the train. Those who need to take a train should
book a train ticket
as early as possible.