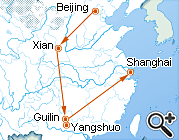 Classic China Photo Shoot
PT01: 14 Days China Tours from Athens Greece to Beijing

Xian

Guilin

Shanghai
Mutianyu Great Wall in autumn
Both Greece and China are countries with long history, ancient civilization, brilliant culture and rich tourism resources. Long distance never stops travelers from enjoying their China tours from Greece. Nowadays, you can take the Air China flight CA962 1130/0630+1 for 13 hours & 40 minutes with a short stopover at Munich from Athens to Beijing on every Wednesday and Saturday. If you are travelling on other days, you can make a flight connecting in another city, such as Moscow, Frankfort, Zurich, Munich, Vienna, Milan and Paris. Among these cities, Moscow and Frankfort are more recommended.

If you make the flight connecting in Moscow, you can take the Aeroflot-Russian Airlines flight SU2111 1330/1720 to Moscow, have a layover for 4 hours & 15 minutes, and then transfer to the flight SU204 2135/0950+1 to Beijing. The whole journey takes 15 hours & 20 minutes.

If you make the flight connecting in Frankfort, you may first take Aegean Airlines flight A3830 0815/1015 and then transfer to the Air China flight CA966 1355/0515+1 after a 3 hours & 40 minutes' layover. Alternatively, you can take Lufthansa flight LH1279 1355/1600 to Frankfort, have a layover for 4 hours & 15 minutes, and then transfer to the flight LH7320 2015/1125 to Beijing. For both options, you need about 16.5 hours for the air travel including the layover.
Welcome to China! Upon your flight arrival, you will be greeted by a well-trained guide outside the baggage claim at the Capital Airport. You will be driven straight to check in at the hotel and rest up for the remainder of the day.
Meals: No meals, advice freely available
Accommodation: Pentahotel Beijing




Your private photographic Beijing tour from Greece starts today! We will first head to Qianmen Street and Dashilan Street, both of which are less-bustling in the morning. Here you can get some great shots of distinctive archways and antique name brand stores. We will then move to
Tiananmen Square
. Flanked by some imposing structures, Tiannamen Square is also favored by the professional and amateur photographer for capturing outstanding images. Afterwards, we proceed to the
Forbidden City
, where plenty photo opportunities are in store for you. The square before Meridian Gate, the northwest corner and the northeast corner outside the Forbidden City are rated among the best shooting spots. After having an
a la carte lunch
at a superb restaurant, we will take a relaxing visit to the
Beihai Park
. Our last stop is the
Jingshan Park
. Standing on the top of the hill inside this park, one can get a matchless perspective of the Forbidden City towards the southerly direction. If it happens to be a clear day, we will get there before sunset to make the best of the photographic light. Also, Jingshan Park offers a great way for you to interact with the active local people.
Meals: Western buffet breakfast, A la carte lunch
Amateur photographers shooting the Corner Tower of Forbidden City
This morning we focus on a photo shoot of the awe inspiring
Mutianyu Great Wall
. To conserve energy from climbing the mountain, we will ride by cable car up to the wall. Possessing more natural and original views, the less-crowded wall at Mutianyu section allows visitors to take many unobstructed photos. On the way back to downtown area, we will stop near to the
Bird's Nest
and
Water Cube
for some pictures. Next we head for the Old Hutongs, which best demonstrate the unique local culture and life. The small groceries, food stands, elders playing chess or chatting together, children having fun after school and so on, all come more vibrant when the 'Golden Hour' is approaching. We believe the
Hutongs
will provide rich pickings for your lens.
Meals: Western buffet breakfast
Our morning excursion aims for the
Temple of Heaven
. Here you will find a group of outstanding ancient buildings spread out under the spacious sky. Most people are very satisfied with the pictures they have taken here. The surrounding park also presents an amazing display of Beijingers' colorful life. It is quite entertaining to observe people playing Tai Chi, musical instruments, Chinese checkers, singing and dancing in the park. Afterwards, we pay a visit to the
Summer Palace
. The Seventeen-Arch Bridge and Long Gallery are the most frequently photographed scenes in this royal park. Then visit the
Lama Temple
, namely the Yonghe Lamasery, is attractive both for the splendid royal buildings and mysterious Tibetan religion. After the sightseeing, we will drive you to the railway station for an overnight soft sleeper train to Xian.
Meals: Western buffet breakfast
Accommodation: Overnight soft sleeper train
Terracotta Warriors
The train arrives in Xian Railway Station in the morning. You need to arrange your own breakfast. Our guide will meet you on time at the platform and escort you to the hotel. After a short break, we visit the
Provincial History Museum
to see its great collection of artifacts from all periods in Chinese history. We make a special arrangement for your lunch today, which will be served by
a local family
. It is a rare chance for you to take photos of the ordinary Chinese people's daily life and diet. We will then go to the
Great Mosque
and the Muslim bazaar, where there are endless photo opportunities.
Meals: Home-cooked a la carte lunch
Accommodation:
Holiday Inn Xian Big Goose Pagoda




Xian City Wall
To avoid tourist crowds we will get up early to drive to the
Terracotta Warriors and Horses Museum
. It will be a mind blowing experience to use your camera to record the incredible life size terracotta figures of warriors and horses. To protect the cultural relics, photos are allowed but no flash at the museum. Of the three Terra Cotta pits, Pit No.1 is the most outstanding one. Experience tells us images of terracotta figures taken in profile turn out clearer and sharper than full face pictures.
The afternoon is dedicated to the
City Wall
. You can have a relaxing walk at the City Wall Park, which offers a great way to interact with the locals. It is best to shoot good quality pictures outside from the southwest corner and southeast corner of the City Wall. Once ascending the wall, you will get great views of the city at different spots and from different angles.
Meals: Western buffet breakfast
Our morning scheduled visit is Xian Museum and the
Small Wild Goose Pagoda
, both of which are set in a picturesque park. You can take time to roam through the site and enjoy photographing the various relics. Then take a flight to Guilin. Upon your arrival, our guide will meet you at the airport and transfer you to the hotel. After a good refresh, we head to the central lakes area before sunset. When taking a leisurely stroll along the lakeside, you can capture stunning photos of some beautiful bridges, Double Pagodas, pavilions and other architecture. You will be fascinated when, like in a fairyland, the ornamental lights come on.
Meals: Western buffet breakfast
Accommodation:
Guilin Bravo Hotel




Day 9
Guilin - Xingping - Yangshuo
Li River Cruise
Following breakfast at the hotel, we set out for a cruise journey along the
Li River
, which has long been photographers' desired heaven. It is true that descriptions can hardly do justice to the enthralling landscape around. Let's snap great pictures to record what we encounter as the boat winds its way down the river. We will disembark at Yangshuo and transfer to Xingping County where you can see the scenery that appears on the back of the 20 RMB note. It is said that one can get exceptionally fine images when shooting in any direction from this spot. If it's sunny, our visit continues with a photo stop at Laozhai Hill, where we can get a scenic view of its appearance from a distance. Afterwards, we will drive back to Yangshuo.
Tips: As the cruise ship offers simple Chinese box lunch with plain food, we kindly suggest you have a good breakfast at the hotel this morning.
Meals: Western buffet breakfast, Lunch
Accommodation:
New Century Hotel



Yulong River
There are endless photo opportunities waiting for you today. In the morning we will have a wonderful photographic excursion to the
Moon Hill
, Yulong River and Jiuxian Village. The Moon Hill gets its name for having a hole in its center, which looks like crescent, half-moon and full moon from different angles. No matter in what season or in what weather, the Yulong River presents varied bewildering scenes with romantic charms. Retaining authentic ancient grey brick buildings in addition to clear rivers, green mountains and rice paddies, Jiuxian Village gives us a great insight into the tranquility of traditional rural life. In the afternoon, we climb up the Snow Lion Hill to get more gorgeous shots of the Li River and hills. We then go to the Gongnong Bridge of Yulong River before sunset. The semi-circular arch of the bridge makes for perfect pictures during the 'Golden Hour'.
Meals: Western buffet breakfast, Lunch
Day 11
Yangshuo - Guilin - Shanghai
After breakfast, we will transfer you to Guilin to visit the
Reed Flute Cave
. This spectacular limestone cave is beautifully presented with colorful and creative lighting effects. You can let your imagination run wild when seeing the magically shaped stalactites and stalagmites. It is really a challenge to photograph them since the light in the cave is subdued and requires a lengthy exposure. The Crystal Palace and Flower and Fruit Mountain are the must shooting spots. Then we go to the
Elephant Trunk Hill
, which makes great settings for photos. After sightseeing, we will escort you to the airport for your flight to Shanghai. Again, you will find the local guide is awaiting you outside the baggage claim and transferring you to check in at the hotel.
Meals: Western buffet breakfast, Lunch
Accommodation:
Ocean Hotel Shanghai




Huangpu River Cruise
This morning we visit
Shanghai Museum
and the
Yuyuan Garden
. Pictures taken in the gallery of Ancient Bronze and Ancient Sculpture come out more ideally in Shanghai Museum. As the lighting is low in the exhibition hall, you may use a large aperture to get a shallow depth of field in an effort to record the exhibits. Also, some precious exhibits are placed in glass cases, so you'd better bring your Circular-Polarizing Filters. Next we get to the lovely Yuyuan Garden, where you will definitely find good subjects to shoot. Don't miss the delicate Dragon Wall! After having an
a la carte lunch
, we take a short
cruise
on the Huangpu River to capture more interesting images. The last stop today is
the Bund
. The old buildings of different architectural styles on the west side of the Bund and the contrasting modern high rise structures in Pudong are photographically the most stunning scenes Shanghai has to offer.
Meals: Western buffet breakfast, A la carte lunch
Xitang Water Town
We continue your Shanghai tour from Greece with a visit to
Tianzifang
. It is a photogenic area, where you can see old styled residencies mixed with fashionable shops and eateries. You do not need to look for inspiration since it pops up on every corner as you wander around the lanes. Then we are going to explore the more than 1000 years old
Xitang Ancient Town
, which is overflowing with plentiful photo opportunities. Walking through the alleys of the water town, you can easily become intoxicated by its charming environment. We will leave for Shanghai by nightfall.
Meals: Western buffet breakfast
Your private China tour from Athens, Greece completes today. Our guide and driver will escort you to the airport and see you off based on your flight information. Since there is no direct flight from Shanghai back to Athens, you may book the Qatar Airways flight QR871 2350/0350+1 to Doha, have a layover there for 3 hours & 25 minutes, and then connect to the flight QR209 0715/1205 to Athens. Or you may consider taking the Lufthansa flight LH727 2335/0535+1 to Munich, having a layover there for 3 hours & 20 minutes, and then connecting to the flight LH1750 0855/1215 back to Athens. These two options are available daily, and the air travel plus the layover takes around 17.5 hours. We wish you a smooth onward journey!

Meals: Western buffet breakfast