Museums in Kowloon
Hong Kong Space Museum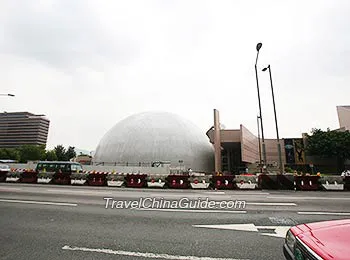 Hong Kong Space Museum
As one of the most famous landmarks in the city, Hong Kong Space Museum is located on the
Tsim Sha Tsui
waterfront and is easily recognized by its unique egg-shaped dome. Construction began in 1977 and was completed in 1980, covering an area of 8,000 square meters (about 1.97 acres). This museum is reputed to be the first local planetarium built to popularize astronomy and space science.
The museum is comprised of two wings, east and west. The east wing located under the dome is the planetarium's core, housing the Hall of Space Science, the Space Theatre, workshops and offices. The west wing houses the Hall of Astronomy, the Lecture Hall, the astronomy book store, gift shop and offices.
The planetarium was the first in the world to possess a fully automated control system. The Space theatre is equipped with a domed screen with a diameter of 23 meters (about 25 yards). Every year, two multi-media planetarium shows and the best foreign OMNIMAX films are shown on the dome screen with presentations broadcast simultaneously via head phones in English, Cantonese, Mandarin and Japanese. The images are notable for their unsurpassed size, clarity and impact. The Hong Kong Space Museum was the first planetarium in the eastern hemisphere with an OMNIMAX film projector.
There are two main thematic halls: the Hall of Space Science is on the ground floor and the Hall of Astronomy on the first floor. The Hall of Space Science consists of three parts: the Ancient Astronomical History Area, the Early Rockets Area and the Space Station Area that portrays the history of human space exploration. Visitors have the opportunity to experience many interactive exhibits. In the Launch Vehicles Area, visitors can sit in a 'gyrochair' and learn how to control a gyro as well as launch a multi-stage rocket. The Hall of Astronomy introduces visitors to the solar system, stars and universe. With the help of interactive electronic equipment and the exhibits, visitors can learn about the mysteries of space quite easily.
The museum has a collection of meteorites and organizes extension activities that enrich the lives of both children and adults. A lot of information related to astronomy can be found by visiting the its homepage.
Admission Fee:
Omnimax Show/Sky Show (Children under 3 years old will not be admitted)
School Show
Exhibition Halls (Children under 4 are free, but they must be accompanied by adults)
Standard:
HKD 24 (Front Stalls);HKD 32 (Stalls)
Concession:
HKD 12 (Front Stalls);HKD 16 (Stalls)
Student: HKD 16
Standard: HKD10
Concession: HKD 5
Weekly Pass: HKD 30
Opening Hours:
Monday, Wednesday, Thursday and Friday : 1:00 pm - 9:00 pm
Saturday, Sunday and Public Holiday : 10:00 am - 9:00 pm
Closed at 5:00 pm on Christmas Eve and Lunar New Year's Eve
Closed on Tuesdays (Except Public Holiday) and the first two days of the Lunar New Year
* Concession is applicable to full-time students, people with disability and senior citizens aged 60 or above.
* Weekly Pass Holders can enjoy unlimited admission to the following Museums within ONE WEEK: Museum of History, Science Museum, Space Museum (excluding the Space Theatre), Museum of Art, Museum of Coastal Defence and Heritage Museum.


Hong Kong Museum of History
Formerly called Hong Kong Museum, Hong Kong Museum of History was established in July, 1975. In 1998, it was moved from Kowloon Park to the present location at 100 Chatham Road South, Tsim Sha Tsui.
The museum has a gross floor area of 17, 500 square meters (4.32 acres). The building is a contemporary one, designed by P&T Architects and Engineers Ltd., with the architectural concepts of Mr. E. Verner Johnson. Its exterior and color harmonize with its neighbor, the Science Museum, together forming a museum complex.
The collection here is mainly from the local region and Southern China. After many years' search and acquisition, it now has over 90, 000 pieces, divided into four types – natural historical, archaeological, folk-custom and local historical.
The permanent exhibition Hong Kong Story, which introduces the history of the city, covers 7,000 square meters and comprises eight exhibition zones. You can get a good understanding of the city's natural zoology, folk customs and history through 4,000 exhibits, 750 graphic panels, many dioramas and multimedia facilities. Other than the permanent exhibition, the museum often holds special exhibitions. Some special exhibitions require an extra admission fee.
In addition, HK Museum of History has five branch museums, namely HK Museum of Coastal Defence in Shau Kei Wan, Law Uk Folk Museum in Chai Wan, Fireboat Alexander Grantham Exhibition Gallery in Quarry Bay Park and Sun. Yat-sen Museum in Mid-Levels.
How to get there:
You can walk to it from Tsim Sha Tsui, Jordan or Tsim Sha Tsui East subway station.
Admission Fee:
HK$10
Open Hours:
Mon. & Wed. to Sat.: 10:00 – 18:00
Sun. & public holidays: 10:00 – 19:00
Christmas Eve & Chinese Lunar New Year's Eve: 10:00 – 17:00
Tue. (except public holidays) & the first and second days of Chinese Lunar New Year: closed
More Museums in
Kowloon
:
Hong Kong Museum of Art
Hong Kong Science Museum