Car Rental with Chauffeur in Xian
Information on Xian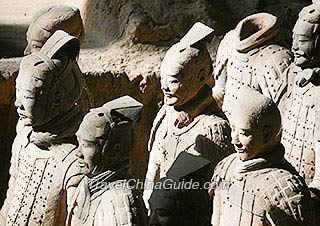 The ancient capital city Xian has always attracted people from all over the world to discover its profound history and experience its local culture. Exploring the city at a leisurely and flexible pace is a good way to see more and to delve deeper into its past. Maybe you will have trouble to find your way to your hotel or a tour destination due to the language barrier? Take it easy! Travel China Guide is honored to offer you our car rental service which can ensure that your trip is economical, comfortable and efficient.
Xian Xianyang International Airport is 47km away from the downtown city. It takes about one hour driving time for the single journey. With a private airport pick-up, you may get to your hotel and rest from the flight journey immediately. We can offer you various vehicles upon your request with an experienced licensed driver. All our chauffeurs have been trained to be professional, courteous, warmly welcoming and with them you will be safe and able to enjoy your transfer in style.
Should you also be interested in visiting the world famous Terracotta Warriors and Horses Museum, the challenging Huashan Mountain, the mysterious Qianling Museum, or the Buddhist pilgrimage Famen Temple which are located at the suburb areas then no problem! Rent one of our vehicles with or without a guide to avoid the bother of public transportations. Of course you may also use vehicles for places in downtown area, like the Big Wild Goose Pagoda, the City Wall and the Shaanxi History Museum etc.
When the night falls, the city of Xian becomes charming and exciting. The recommended evening entertainment for you to attend is the lively Tang Dynasty Song and Dance Show at the theater. We are glad to assist you with our comprehensive ticket and transfer service upon request.
We look forward to assisting you with our top-level car rental service now!