Arxan National Forest Park
Arxan National Forest Park founded in 2002 is seated in the southeast of the Greater Hinggan Mountains in Inner Mongolia and covered with primeval forests. The highlight of Arxan National Forest Park is the landscapes formed by solidified lava, such as Heavenly Lake and Shitanglin Forest. Arxan National Forest Park is rich in mineral spring and wildlife including 269 kinds of plants and over 90 varieties of animals. It also houses Terme Mountain and Darbin Lake, the highest peak and the largest lake of the Greater Hinggan Mountains respectively. Arxan National Forest Park is located at plateau continental climate zone with a long winter and a short summer. The snowy period even lasts for over 150 days per year, which makes it a wonderful place for ice activities.
| | |
| --- | --- |
| Heavenly Lake in Arxan National Forest Park | Shitanglin Forest |
Heavenly Lake
With an altitude of 1,332.3 meters (4,371 feet), it is the third highest pool in China after the
Heavenly Lake
in Urumqi and the one at
Changbai Mountain
in Changchun. This oval lake looks like a green mirror with reflections of green pines, silver birch, azaleas, and pure sky on its surface. The magical thing is that its water level keeps the same all year round, and there is no living fish in it. There is a saying that the Heavenly Lake has no bottom. Locals once hung a weight at the end of a 300-meter (330-yard) long rope, but it still cannot reach the lakebed.
Shitanglin Forest
Shitanglin acts not only a wonder of the Greater Hinggan Mountains but also the Asia's largest basalt landscape on dead volcano. Besides, visitors can admire bizarre solidified lavas in shapes of swords, men, and troops. There is also a large-scale of land with the lavas sketching a tortoise shell. At the same time, you can admire a particular scene that larch trees firmly grow on volcanic rocks, with their roots penetrating into the cracks.
Three Pond Gorge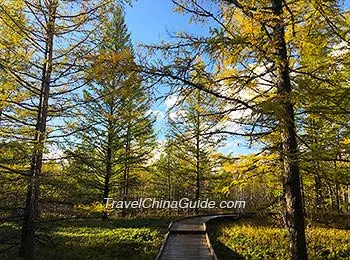 Three Pond Gorge
The gorge contains three ponds – Woniu Pond, Hushi Pond, and Yuexin Pond. In Hushi Pond pure streams rush through huge rocks in shape of jumping tigers and then into the quite pond. In front of Woniu Pond are several rocks looking like lying cattle. Yuexin Pond is at the end of the gorge. It has the widest surface through which visitors can see the pond bottom clearly. Among the twists and turns of the gorge, there is a special land which is covered with snow even in June and July and praised as the "glacier in summer".
Azalea Lake
It is an L-shaped lake inlaid among the flaming azalea flowers in Arxan National Forest Park. In winter, it will turn into a natural ski field. After it melted, flocks of ducks, geese, and cranes will come back and paddle in the lake, which is really an enjoyable scene.
Heavenly Lake on Camel Hump Mountain
Different from the Heavenly Lake mentioned above, this one is like a huge footprint left by a giant and is 1,284 meters (4,213 feet) above the sea level. It is a little bit far from the major sightseeing area of Arxan National Forest Park, so a few visitors will come here making it the best place to enjoy the quietness of Arxan.
Transportation Suggestion:

There are direct trains from Ulanhot, Baicheng, and Shenyang to Arxan City directly. Upon arrival, charter a car at a cost of CNY400 to the forest park. Visitors from Beijing, Tianjin, Changchun, Dalian, and Hohhot can take a train to Ulanhot first, and then transfer to the Arxan City.

Six buses are usually available from Ulanhot Bus Station to Arxan City at 5:50, 10:00, 14:05, 15:00, 16:00, and 17:00; the bus ride takes less than two hours. After that, charter a car to the destination.
Entrance Ticket
Peak Season (June 1 ~ October 15): CNY 180;
Slack Season (October 16 ~ May 31): CNY 140
Free of charge for children below 1.2 meters (3.9 feet).
Bus Ticket
CNY 105
Notice: Entrance ticket and bus ticket are valid for two days.
Opening Hours
Peak Season: 7:00-17:00; Slack Season: 8:30-15:00
Best Time to Visit
Sep.1 - Nov. 10