Yinchuan Travel Guide
Yinchuan Facts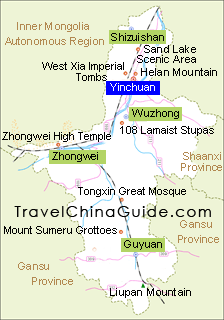 Chinese Name: 银川 (yín chuān)
Population: 2,293,100
Area: 9,025 square kilometers (3,485 square miles)
Location: in the north of Ningxia Province, northwest China
Administrative Division: 3 districts (Xingqing, Jinfeng, Xixia); 2 counties (Yongning, Helan); 1 county-level city (Lingwu)
Area Code: 0951
Zip Code: 750000
GDP (2019): CNY 374.848 billion (USD 54.334 billion)
Nationalities: Han, Hui, Man, Mongol, Zhuang, Chaoxian
Ningxia's Capital City & Former Capital of the Western Xia Empire
Yinchuan, the capital of Ningxia Hui Autonomous Region, lies to the west of the Yellow River and to the east of Helan Mountain. Yinchuan borders Wuzhong to the east and south, Alxa of Inner Mongolia to the west, Shizuishan to the north and Ordos of Inner Mongolia to the north. Yinchuan is an important commodity grain production base in China and produces high-quality grapes. The cashmere industry is developed, providing more than 70% of the worsted cashmere in Europe and more than 60% of the fine cashmere in China. In Yinchuan, you can feel the strong Islamic customs embodied by the mosques and Halal restaurants. The large scale of relics of the Western Xia Dynasty (1038 - 1227), desolate deserts, spectacular Yellow River and Helan Mountain with imaginative rock paintings all make Yinchuan charming and desirable.



Pictures
A brilliant culture has contributed to Yinchuan being a famous tourist city. There are over 60 historical sites including mosques, pagodas, pavilions, temples, and imperial tombs as well as natural scenery such as Helan Mountain, Sand Lake, and Shapotou.
More Attractions:
| | |
| --- | --- |
| City Center | Sand Lake |
A transportation system of highway, railway and airlines in Yinchuan provides speed and convenience. There are several national highways leading to all parts of the country and more than 78 miles (125 kilometers) of expressways within the boundaries of the city. Baotou-Lanzhou Railway and Zhongwei-Baoji Railway connect Yinchuan Railway Station with all railway lines to every destination. In addition, flights from Yinchuan Hedong Airport take you to all the major cities of China.

Physical Features: The landform is divided into two main parts, the mountainous region in the west and south and the plains in the north and east. Its average altitude is 3,600 feet (1,097 meters). Lying in the central section of Ningxia Plain which is irrigated by the Yellow River, Yinchuan holds abundant water resources and enjoys the reputation of 'a land of fish and rice in the frontier'.



History: The city that has a history of more than 1,300 years was originally founded in 678. It was called Western Xia from the establishment in 1038 by the leader of Dangxiang ethnic group and had created splendid culture as well as gorgeous architecture.



Local Highlights: Here you can taste the local dishes or snacks of rich Islamic flavor, such as Yangrou Paomo and Shouzhua Yangrou. Hotels of different grades are available to visitors, providing you warm and comfortable places to relax yourself.



Recommended Tour Itinerary:
Hiking Adventure Bicycle Route



Further Reading:


Shopping & Nightlife

Dining

Festivals
- Last modified on Apr. 08, 2021 -
Questions & Answers on Yinchuan Travel
Asked by Henry from MALAYSIA | Jul. 04, 2018 21:51

Reply
Does anyone know is there any direct bus from Yinchuan to Erjina Qin in Alashan ?
Can anyone advise the bus time table ?
Is there a night bus to go there.
Thanks so much.
Answers (2)
Answered by Kelvin from BELGIUM | Jul. 05, 2018 20:07

0

0

Reply
No, you need to transfer in Zuoqi, three coaches depart from 8:00 to 8:30 and it takes about 8 to 9 hours.
Answered by Henry from MALAYSIA | Jul. 08, 2018 19:52

0

0

Reply
Thank you very much
Asked by helene from FRANCE | Jul. 15, 2017 08:36

Reply
Hello, I would like to go for a walk in Tongli desert, from Yinchuan.
do you think I can do it by myself ? Are there any buses or anything ?
Thanks
Answers (7)
Answered by Nyle from USA | Jul. 20, 2017 02:03

0

0

Reply
I gusess you may refer to Tengger Desert (Tenggeli Desert).
As I know, there is no direct bus, so you are suggested to take a long distance bus to Zhongwei first; several available buses at Yinchuan Bus Station from 7:35 to 18:55 could take you there. It takes CNY35.

Then you can take a taxi or charter a local minibus to Shapotou Scenic Area part of the Tonggeli Desert, which is right beside the desert, and it may take CNY 40-50.
Answered by Hélène from FRANCE | Jul. 20, 2017 18:11

0

1

Reply
Ok, thanks.
On fact I wanted to avoid the «Disneyland» in shapotou.
I found a tour yesterday to go between yinchuan and the inner mongolia.
It was great ;)
Thank you !
Answered by Hanne from BELGIUM | Jul. 27, 2017 21:15

0

0

Reply
Hi Helene! Could you tell me more about the tour you did? We are in Yinchuan now for the weekend and want to avoid touristy places, but it seems hard to find
Answered by Hélène from FRANCE | Jul. 28, 2017 01:21

0

0

Reply
Hi,
For the desert and more (visiting wineries, the wall, ...) we had an excellent hostel keeper at G'NITE YOUTH HOSTEL, they have double rooms for 128CNY, you need to by your own towel first.
I think it worth it if you want to do some visits here out off the beaten path (well, Ningxia itself is out off the beaten path ! ), the lady speaks English and is devoted to her clients. She doesn't put this kind of rooms on booking.com because she has only two of them.
They are people of every ages there and a comfortable common room.
Anyway, for the tour : they offer two tours.
1) one day long, go by 4x4 in an area with nobody (we didn't choose that one), 1500 CNY to share (4 people, they can help you to fill the car if anyone else is interested)
2) one and a half day, go by 4x4 in the middle of dunes (really), walk around by yourself, stay one day, leaving in the morning. The Mongol family in there doesn't live with you, only prepare meals and it's not comfortable but honestly, landscape is amazing, as on every photo on dunes you have ever seen. For the two days, 2000 CNY to share.
3) Honestly, we hesitated, it's expensive but at this time we didn't want to go to zhongwei and every of the a dress in LP are ... inexistant. We didn't find any travel agency (even a whineChinese one)..
But we went to Zhongwei, their is a YOUTH hostel their which offers tours cheaper, I think (but not sure, we didn't do it again), that is one and half a day tour with camping and maybe trekking or camel, about 400 CNY/person.
Answered by Hélène from FRANCE | Jul. 28, 2017 01:33

0

0

Reply
The we chat ID for the hostel : kuixiao001
Their phone (but not everybody speaks English) : 153 0951 2323
Good luck !
Answered by Hélène from FRANCE | Jul. 28, 2017 02:09

0

0

Reply
Sorry, the tour at Zhongwei may be around 300, not 400.
By the way, the Gao miao temple is closed these days.
Answered by Hélène from FRANCE | Aug. 02, 2017 19:20

0

0

Reply
So did you finally get there ?
Asked by J. Sacred from CANADA | Oct. 05, 2016 10:45

Reply
Nearest major cities and attractions in Yinchuan.
I have been offered a job teaching English there, what areas can I visit in a day on my weekends off? What is the weather like in summer and winter?
Answers (2)
Answered by Elina from SINGAPORE | Oct. 06, 2016 01:07

0

0

Reply
Hi, for your weekends, you may arrange visist to the China Western Film Studio, or Shahu. Or spend the whole weekends at Shapotou in Zhongwei County.

Summer in the place generally lasts from May to Aug. and the winter is end of Oct. to the next Mar. It is hot in summer with most sunny days and the highest temperature may reach 35C or so, while it is very cold in winter with the lowest temp of -15C or around for which quality winter jacket should be prepared.

Hope you will live a happy life in the city.
Answered by Ali from MALAYSIA | Sep. 18, 2019 20:39

0

0

Reply
Hi J, please share your experience of living in Yinchuan. I am offered a lecturer job and I am considering it.
Asked by Sanjoy Ghosh from INDIA | Sep. 03, 2016 10:39

Reply
I am coming to attend China's Yinchuan City first Biennale.
Already booked a hotel (Jinjiang Inn Drum Tower / No.15 Gulou North Street / Xingqing District / Yinchuan 750001/ CN) for 10 days. Everyday I have to travel from hotel to Museum of Contemporary Art, which is aprrox 20KM. Can you please advise me what is the best commute for to and fro. Regards
Answers (1)
Answered by Frank from INDONESIA | Sep. 03, 2016 21:18

0

0

Reply
There is no direct bus shuttling between these two places, and the easiest way should be take a taxi. The fare is about CNY35-40 for a single trip.
Asked by Lena from BELARUS | Sep. 29, 2015 02:02

Reply
Are there speed trains in Yinchuan? And to what cities is it possible to go by them?
Answers (2)
Answered by Kina | Sep. 29, 2015 04:50

0

0

Reply
I'm afraid there is no high speed train station in the city yet.
Answered by mike from UNITED KINGDOM | Sep. 01, 2016 21:06

0

0

Reply
Thank You!