Bread & Dessert in Shanghai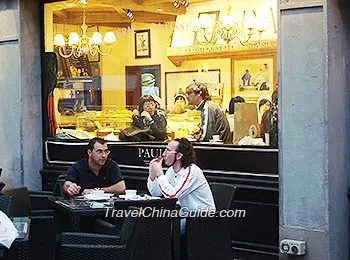 Paul Bakery, Shanghai
Someone said that people who do not love desserts do not know the happiness of life. Actually, bread and desserts play an important role in dining, especially among the westerners. You are sure to miss them during your stay in China although the Chinese local foods are also appealing.
Shanghai has numerous bakeries and dessert shops, offering all kinds of bread, desserts, cakes, chocolate, ice cream, fruits and beverages. You can have a leisurely time in these small shops with a helping of dessert; or you can ask for food deliveries.
Usually there are discounts from 10% to 50% in these shops during afternoon and evening hours as the bread and cakes are perishable. However, you'd better not have too many sweet things for sake of your health!

Recommended Sweet Shops:

Bauernstube
Specialties: It is of German countryside style and flavor. Bread is the main offer of Bauernstube. The almond croissant is especially tasty. Chocolate muffin, cake, sausage and cheese are also available. As it is inside a five-star hotel, Bauernstube offers excellent products, while the price is reasonable.
Operating hours: 10:00 – 22:00
Average cost per person: CNY 20 -30
Address: 2F, Sheraton Shanghai Hongqiao Hotel, No. 5, South Zunyi Road, Changning District (the intersection with Xingyi Road)
Bus routes: Nos. 57, 328, 748, 806, 911, 925, 936, Hu-Qing-Ying Special Line (get off at Hongqiao Development Zone)
---

House of Flour
Specialties: This bakery is decorated in a western style. Blueberry cheese cake is its trump card. Chocolate mousse and Tiramisu are also recommended. C by House of Flour is its branch mainly serving C cakes and chocolate.
Average cost per person: CNY 50
Zhanjiang branch: Store no.105, 1F, Shanghai Legend, No. 635, Bibo Road, Pudong New Area (beside Zhangjiang Hi-Tech Park Metro Station)
Bus/Metro routes: Nos. 161, 188, 609, 636, 778, Daqiao Line 6, Pudong Line 11, Pudong Line 12, Pudong Line 22, Zhangjiang Line 1, Zhangjiang Tram Line 1, Zhangnan Special Line, metro line 2 (get off at Zhangjiang Hi-tech Metro Station)
West Beijing Road branch: Shanghai Expression, 1F, No. 1825, West Beijing Road, Jing'an District
Bus/Metro routes: Nos. 15, 40, 45, 57, 76, 93, 94, 113, 315, 321, 327, 824, 830, 838, 921, 927, Pudong Airport Shuttle Bus Line 2,
metro
line 2 (get off at Jing'an Temple)
Lujiazui branch: Xingzhan Bank Mansion, No. 1318, Lujiazui Ring Road, Pudong New Area (near Dongyuan Road)
Bus/Metro routes: Lujiazui Financial City Line 1 (get off at Lujiazui Ring Road Dongyuan Road);
metro
line 2 (get off at Lujiazui)
---

Grand Hyatt Bakery
Specialties: This bakery, located in a five-star hotel, only sells takeaway cakes and desserts. The delicious cakes here are made of quality ingredients. Tiramisu and cheese cake are recommended.
Operating hours: 10:00 – 22:00
Average cost per person: CNY 60 - 100
Address: 1F, Grand Hyatt Shanghai, No. 88, Century Avenue, Pudong New Area
Bus/Metro route: Sightseeing Bus Line 2 (get off at Jin Mao Tower);
metro
line 2 (get off at Lujiazui)
---

Cabler
Specialties: The decoration of Cabler is bold, fabulous and fashionable. So are the appearances of its desserts. Mango mousse, mango cheese, chocolate banana mousse, Tiramisu and maple sugar pudding are worth trying.
Operating hours: 09:30 – 21:00
Average cost per person: CNY 30 - 40
Dagu Road branch: No. 423, Dagu Road, Jing'an District (near North Chengdu Road)
Bus routes: No. 36, 253, 869, 933, 974, Nan-Xin Special Line (get off at North Chengdu Road Weihai Road)
Metro routes:
metro
line 1 (get off at South Huangpi Rd.), subway line 2 (get off at West Nanjing Road)
Jinyan Road branch: No. 258, Jinyan Road, Pudong New Area
Bus/Metro routes: Nos. 184, 640, 794, Dongzhou Bus Line (get off at Jinxiu Road Huamu Road);
metro
line 2 (get off at Science & Technology Museum)
Gubei branch: No. 818, Huangjin Chengdao, Changning District
Bus route: No. 158 (get off at Lanbaoshi Road Gubei Road)
Basin3 Plaza branch: Store no. 07, 1F, Bansin3 Plaza, No. 333, Guoding Road, Yangpu District
Bus routes: Nos. 60, 405 (get off at Guoding Road Siping Road); Daqiao Line 5 (get off at Zhengxiu Road Guoda Road)
Dingxiang Road branch: No. 1322, Dingxiang Road, Pudong New Area
Bus routes: No. 987 (get off at Dingxiang Road Zihuai Road); Dongzhou Bus Line (get off at Yingchun Road Zihuai Road)
---

Ruby
Specialties: This is an old bakery in Shanghai. The milk cake here is terrific and the chestnut cake is also good.
Operating hours: 08:00 – 20:00
Average cost per person: CNY 10 - 20
Hongkou Plaza branch: Store no. 21, B1 Floor, Hongkou Plaza, No. 388, West Jiangwan Road, Hongkou District
Bus/Metro routes: Nos. 70, 97, 115, 310, 597, 723, 817, 829, 933, 937, 959, 966 (get off at North Zhongshan 1st Road, Huayuan Road);
metro
line 3 and line 8 (get off at Hongkou Football Stadium)
Hankou branch: No. 613, Hankou Road, Huangpu District (near Middle Zhejiang Road)
Bus/Metro routes: Nos. 20, 37, 49, 167. 330, 805, 921 (get off at Jiujiang Road Middle Zhejiang Road); subway line 1, line 2 and line 8 (get off at People's Square)
Laya Plaza branch: 1F, Laya Plaza Shopping Mall, No. 300, Fangdian Road, Pudong New Area (near Thumb Square)
Bus/Metro routes: Nos. 184, 640, Huamu Line 1 (get off at Fangdian Road Yingchun Road)


Other branches:
Xinzhuang branch: No. 373, Xinzhu Road, Minhang District
Hankou branch: No. 613, Hankou Road, Huangpu District
Zhaojiabang Road branch: No. 12, Zhaojiabang Road, Luwan District
Huashan Road branch: No. 375, Huashan Road, Jing'an District
Pudian Road branch: No. 217-2, Pudian Road, Pudong New Area
Kongjiang Road branch: Phoenix Hotel, No. 1690, Kongjiang Road, Yangpu District
Pudong Avenue branch: No. 1574, Pudong Avenue, Pudong New Area
---

Ichido
Specialties: The exquisite bread and desserts of Ichido are appealing and appetitive. The sandwiches, puffs, milk bean curd and the seasonal tea bean curd are worth trying.
Operating hours: 10:00 – 22:00
Average cost per person: CNY 20 - 30
Nandan branch: 1F, No. 323, Tianyaoqiao Road, Xuhui District (beside Ascendas Plaza)
Bus routes: Nos. 15, 315, 733 (get off at Tianyaoqiao Road Nandan Road)
Metro routes: subway line 1 (get off at Shanghai Indoor Stadium or Xujiahui) or line 4 (get off at Shanghai Stadium)
People's Square branch: exit no. 17 and 18 of People's Square Metro station, No. 325, Middle Xizang Road
Bus/Metro routes: Nos. 20, 37, 330, 921 (get off at Jiujiang Road Huanghe Road);
metro
line 2 (get off at People's Square)
Wujiaochang branch: 1F, Wanda Commercial Plaza, No. 600, Handan Road, Yangpu District
Bus/Metro routes: Nos. 55, 61, 99, 168, 307, 329, 406, 538, 713, 817, 819, 850, 854, 937, 942 (get off at Wujiaochang Husong Road);
metro
line 10 (get off at Wujiaochang)
East Nanjing Road 2nd branch: 2F, First Foodmall, No. 720, East Nanjing Road, Huangpu District (near Guizhou Road)
Bus/Metro routes: Nos. 20, 37, 49, 167, 330, 805, 921 (get off at Jiujiang Road Middle Zhejiang Road);
metro
line 1, line 2 or line 8 (get off at People's Square)


Other branches:
96 Plaza branch: inside 96 Plaza shopping mall, No. 796, Dongfang Road, Pudong New Area
Jiuguang branch: B1 Floor, Jiuguang Department Store, No. 1618, West Nanjing Road, Jing'an District
Huaihai Road branch: No. 843, Middle Huaihai Road, Luwan District
Baoshan Wanda branch: Wanda Plaza, No. 988, the 128 Incident Memorial Road, Baoshan District
SIFC (Shanghai International Financial Center) branch: LG-2 building, IFC shopping mall, No. 8, Century Avenue, Pudong New Area
Henderson Metropolitan branch: 1F, Henderson Metropolitan mall, No. 300, East Nanjing Road, Huangpu District (close to the exit 2 of East Nanjing Road metro station)
---

Yamazaki
Specialties: This is a Japanese bakery. You can enjoy tasty bread and desserts as well as excellent service here. The toast is good including the Queen Toast and red bean toast. Blueberry bread, sandwiches, potato with bacon, and chocolate muffins are also delicious.
Operating hours: 10:00 – 22:00
Average cost per person: CNY 20 - 50
Jiuguang branch: B1 Floor, Jiuguang City Plaza, No. 1618, West Nanjing Road, Jing'an District
Bus/Metro routes: Nos. 15, 40, 45, 57, 76, 93, 94, 113, 315, 321, 327, 824, 830, 838, 921, 927, Pudong Airport Shuttle Bus Line 2,
metro
line 2 (get off at Jing'an Temple)
Huaitai branch: B2 Floor, Pacific Department Store, No. 333, Middle Huaihai Road, Luwan District (near Madang Road)
Bus/Metro routes: Nos. 42, 167, 320, 911, 920, 926, 932, 974 (get off at Middle Huaihai Road Songshan Road);
metro
line 1 (get off at South Huangpi Rd.)
Wanda Plaza branch: Wanda Commercial Plaza, No. 600, Handan Road, Yangpu District (near Songhu Road)
Bus/Metro routes: Nos. 55, 61, 99, 168, 307, 329, 406, 538, 713, 817, 819, 850, 854, 937, 942 (get off at Wujiaochang Husong Road); subway line 10 (get off at Wujiaochang)


Other branches:
Yaohan branch: B1 Floor, Yohan building (Nextage), No. 501, Zhangyang Road, Pudong New Area
Famos branch: B1 Floor, Famos Plaza, No. 3457, Caobao Road, Minhang District
Shanghai Stadium branch: inside Century Mart in Shanghai Stadium, No. 666, Tianyaoqiao Road, Xuhui District
Xinzhuang branch: B2 Floor, Xinzhuang Cade Longemont shopping mall, No. 6088, Humin Road, Minhang District
---

Lillian Bakery
Specialties: This shop is famous for its sweet custard tart. The cheese cake, cheese custard tart and the milk tea here are also good.
Operating hours: 10:00 – 22:00
Average cost per person: CNY 10 - 15
Hongkou general shop: 1F, Paris Spring Department Store, No. 1688, North Sichuan Road, Hongkou District
Bus routes: Nos. 18, 21, 52, 854, 939 (get off at North Sichuan Road East Baoxing Road)
Changning Longemont branch: B1 Floor, Longemont Shopping Mall, No. 1018, Changning Road, Changning District
Bus/Metro: Nos. 13, 67, 73, 88, 96, 776, 946 (get off at Zhongshan Park Metro Station);
metro
line 2, line 3 and line 4 (get off at Zhongshan Park)
East Nanjing Road branch: 2F of First Foodmall, No. 720, East Nanjing Road, Huangpu District
Bus/Metro routes: Nos. 20, 37, 49, 167. 330, 805, 921 (get off at Jiujiang Road Middle Zhejiang Road); subway line 1, line 2 and line 8 (get off at People's Square)


Other branches:
Wujiaochang branch: 1F, First Foodmall of Wanda Commercial Plaza, No. 600, Handan Road, Yangpu District
ASE Shopping Center branch: B2 Floor, ASE Center, No. 618, Xujiahui Road, Luwan District
Hongkou Plaza branch: B2 Floor, Hongkou Plaza, No. 388, West Jiangwan Road, Hongkou District
New World branch: B1 Floor, New World Plaza, No. 2-68, West Nanjing Road, Huangpu District
---

Paris Baguette
Specialties: It has all kinds of exquisite and delicious bread and desserts. Garlic bread, puff, sandwiches, chocolate cake, cheese cake and red bean bread are recommended.
Operating hours: 07:00 – 22:00
Average cost per person: CNY 10 - 30
Fangdian branch: No. 35, Zendai Thumb Plaza, Lane 199, Fangdian Road, Pudong New Area (near Middle Yanggao Road)
Bus routes: Nos. 184, 640, Huamu Line 1 (get off at Fangdian Road Yingchun Road)
Wujiaochang branch: 1F, Wanda Commercial Plaza, Wujiaochang, No. 660, Handan Road, Yangpu District
Bus/Metro routes: Nos. 55, 61, 99, 168, 307, 329, 406, 538, 713, 817, 819, 850, 854, 937, 942 (get off at Wujiaochang Husong Road);
metro
line 10 (get off at Wujiaochang)


Other branches:
Linping branch: Unit 33, 1F, Ruihong Plaza, No. 123, Linping Road, Hongkou Distrcit (near Ruihong Road)
Super Brand Mall branch: B2 floor, Super Brand Mall, No. 168, West Lujiazui Road, Pudong New Area
Huaihai Road branch: B1 Floor, Parkson shopping mall, No. 918, Middle Huaihai Road, Luwan District
Jinqiao branch: 1F, building no. 1, Life Hub @ Jinqiao, No. 3611, Zhangyang Road, Puodng New Area
Fangdian Road branch: 1F, Thumb Square, No. 199, Fangdian Road, Pudong New Area
---

DQ (Dairy Queen)
Specialties: DQ has multifarious ice cream. The most popular is the Snowstorm Series.
Operating hours: 10:00 – 22:00
Average cost per person: CNY 10 - 30
Super Brand Mall branch: 8B-09, 8F, Super Brand Mall, No. 168, West Lujiazui Road, Pudong New Area
Bus routes: Nos. 81, 313, 583, 791, 799, 870, 939, 961, 985, 993, Cailu Special Line, Lujiazui Financial City bus line 1 (get off at Lujiazui Ring Road Mingshang Road)
Daning branch: inside Daning International Commercial Plaza, No. 1978, Gonghe Xin Road, Zhabei District
Bus/Metro routes: Nos. 46, 95, 210, 253, 312, 322, 741, 849, 912, 944 (get off at Gonghe Xin Road Daning Road);
metro
line 1 (get off at Yanchang Road)
Shanghai South Railway Station branch: No. C-105, South Railway Station, Xuhui District
Bus/Metro routes: Nos. 341, 747, subway line 1 (get off at the South Railway Station)


Other branches:
Changning Longemont branch: B2 Floor, Longemont Shopping Mall, No. 1018, Changning Road, Changning District
Jinqiao branch: 1F, building A, Life Hub @ Jinqiao, No. 3611, Zhangyang Road, Pudong New Area
Kaiyuan Med branch: 2F, Kaiyuan Med shopping mall, No. 887, New Songjiang Road, Songjiang District
Huaihai Road: B2 Floor, Pacific Department Store, No. 333, Middle Huaihai Road, Luwan District
---

Haagen-Dazs
Specialties: Häagen-Dazs is famous for its ice cream. All of its branches have comfortable environment. The branch at the Riverside Garden has outdoor seats, from which you can see the Huangpu River and the Bund.
Operating hours: 10:00 – 22:00
Average cost per person: CNY 40 - 90
Raffles City branch: Room 119, Raffles City, No. 268, Middle Xizang Road, Huangpu District
Bus/Metro routes: Nos. 18, 49, 167, 312, 318, 451, 537, 802, 930, Tunnel Line 3, Tunnel Overnight Line, Xinchuan Special Line, or subway line 1, line 2 and line 8 (get off at People's Square)
Jiuguang branch: 2F, Jiuguang City Plaza, No. 1618, West Nanjing Road, Jing'an District
Bus/Metro routes: Nos. 15, 40, 45, 57, 76, 93, 113, 315, 321, 327, 824, 838, 921, or
metro
line 2 (get off at Jing'an Temple)
People's Park branch: exit 2 of People's Park, No. 73, West Nanjing Road, Huangpu District
Bus/Metro routes: Nos. 20, 37, 330, 454, 921 (get off at West Nanjing Road Huanghe Road);
metro
line 2 (get off at People's Square)


Other branches:
Grand Gateway branch: Grand Gateway, No. 1, Hongqiao Road, Xuhui District
East Nanjing Road branch: 1F, Sofitel Luxury Hotel, No. 505, East Nanjing Road, Huangpu District
The Bund branch: No. 397, East Zhongshan 1st Road, Huangpu District
Hongqiao Airport branch: T2, Hongqiao Airport, No. 2550, Hongqiao Road, Changning District
---

Honeymoon Dessert
Specialties: This eatery serves authentic Hong Kong dessert. Mango pancake, civet durian pancake, sesame and walnut syrup, and chilled sago cream with mango and pomelo (Yang Zhi Gan Lu) are highly recommended.
Operating hours: 10:00 – 22:00
Average cost per person: CNY 20 - 40
Super Brand Mall branch: 5F, Super Brand Mall, No. 168, West Lujiazui Road, Pudong New Area
Bus routes: Nos. 81, 313, 583, 791, 799, 870, 939, 961, 985, 993, Cailu Special Line, Lujiazui Financial City bus line 1 (get off at Lujiazui Ring Road Mingshang Road)
Global Harbor branch: B1 Floor, Global Harbor, No. 3300, North Zhongshan Road, Putuo District
Bus/Metro routes: Nos. 67, 765 (get off at East China Normal University); subway line 3, line 4 and line 13 (get off at Jinshajiang Road)
IN CENTER branch: Room no. 101, 1F, IN CENTER, No. 580, Tianyaoqiao Road, Xuhui District
Bus/Metro routes: Nos. 44, 56, 122, 218, 326, 342, 770, 864, 956, 958, Daqiao Line 6, Tunnel Line 2 (get off at Tianyaoqiao Road Xietu Road);
metro
line 4 (drop off at Shanghai Stadium and get out from exit 4 )


Other branches:
Raffles City branch: Store no. K19, B1 Floor, Raffles City, No. 268, Middle Xizang Road, Huangpu District
Grand Gateway branch: 2F, Grand Gateway, No. 1, Hongqiao Road, Xuhui District
Hongkou Plaza: Store no. 50-51, 2F, building A, Hongkou Plaza (CapitalMalls Asia), No. 388, West Jiangwan Road, Hongkou District
Jinqiao branch: Life Hub @ Jinqiao, No. 3611, Zhangyang Road, Pudong New Area
Dahua branch: Store no. 100270A, B1 Floor, Paris Spring, No. 888, Zhenhua Road, Baoshan District
---

Salon de Ville
Specialties: This is an ideal place to have afternoon tea with a pleasant environment. Many delicious cakes or desserts are also served! In addition, they provide some snacks like Mango Macarons, Matcha Marshmallow and Haw Soft Candy.
Operating hours: 14:00 – 18:00
Average cost per person: CNY 250 – 450
Address: 1F, Waldorf Astoria Hotel, No. 2, East Zhongshan 1st Road, Huangpu District (near Guangdong Road)
Bus routes: Nos. 42, 71, 311, 316, 320 (get off at East Yan'an Road East Zhongshan 1st Road)