Decks & Cabins of Yangtze Ships
Decks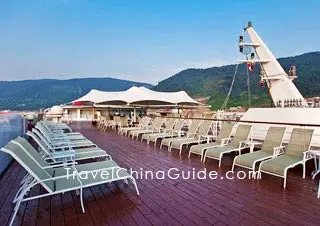 Sun Deck
Generally there are five decks on a
Yangtze cruise ship
. The uppermost is the Main Deck (also called the Upper Deck), then the Promenade Deck, followed by the Wheel Deck (also called Bridge Deck), Recreation Deck and Sun Deck. Staterooms and deluxe suites are usually on the 2nd, 3rd or the 4th decks along with dining rooms and restaurants. Entertainment and gym facilities will often be on the Recreation Deck which includes amenities like bars, lounges, clubs and restaurants. Other facilities like the Barber/ Beauty Shop, Clinic, Gift Shop ( selling travel needs, souvenirs, and sweets), Library, and Business Center may sometimes be mixed along with the cabin decks so that tourists easily reach them. The Sun Deck where you can enjoy sunshine freely.
All ships are similar in design, but not identical. Decks vary in design and function from ship to ship.
Cabins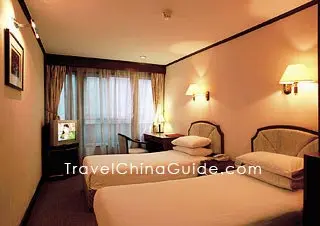 Standard Room Cabin
Staterooms usually are arranged on the 2nd, 3rd or the 4th decks and fall into mainly two categories: Standard (80% of the rooms) and Suite (20% of the rooms). Ships built after 1990s' are equipped with private balconies and ocean-view portholes. The size of the standard staterooms varies from 8 square meters (86 sq ft) to 16 square meters (172 sq ft) with two lower beds, duvet, sitting area with day seats & tables and a large picture window. All staterooms have a phone, TV, refrigerator, closets and a private bathroom. Ships rated four stars and above have a phone and hair drier in the bathroom. A mini-bar inside also provides bottles of wine, soft drinks and nuts. To travel in utmost comfort and style, you will find that suites are the most luxiourious choice. A suite usually covers 323-431 square feet with larger beds and more furniture.
Most Yangtze cruise lines offer 24-hour room service at no extra charge. Room Service usually includes: 24-hour laundry service, meal delivery, morning-call, shoe-cleaning, massage and VIP service.
Cabin Amenities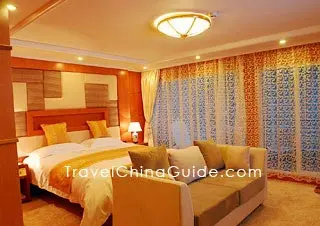 Deluxe Suite Cabin
Private bathroom with shower, outside picture windows, air-conditioning, Closed-circuit television, ample closet space, hair drier in cabins (on request for standard cabin on Victoria ships), SATCOM Phone
Staterooms fall into three standards:
A: Staterooms on the 3rd deck
B: Staterooms on the 4th deck
C: Staterooms on the 2nd deck
Staterooms away from the engine, anchor gear, the public and entertainment areas are ideal for a good nights sleep. On some ships, public corridors outside the room have been converted into balconies.
- Last updated on Jun. 28, 2019 -