Yangtze Cruise Itinerary
Yangzte Cruise Plan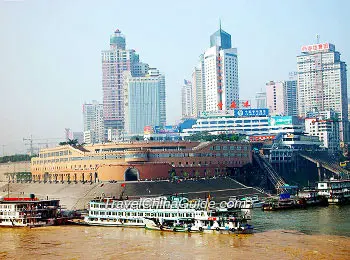 Chongqing Chaotianmen Dock
Itineraries with cruising between Chongqing and Wuhan on deluxe ships are the most popular for tourists. Different Cruise Lines have their own featured travel plans to cater different customer demands. You can visit our Cruise Ship Gallery for the detailed itinerary for each ship. Cruise length, ports of call, shore excursions therefore varies with the itinerary and the heading way you choose.
There are three plans popularly recommended.
Plan A:
Between Chongqing and Wuhan
Plan A takes 3-4 nights and 4 days down stream and 5 nights and 6 days upstream. This is the most popular plan for it includes the splendid Three Gorges,
Three Gorges Dam
with a culture excursion to Jingzhou (Shashi) - a historical and cultural city and Wuhan - another important industrial and commercial centre in the central part of China. If you have not purchased transportation and you are responsible for getting to the ship, this plan is a favoutite choice because both in Chongqing and Wuhan it is very convenient for you to take a plane to most of the big cities in China. Of course this plan is more expensive.
Advantages: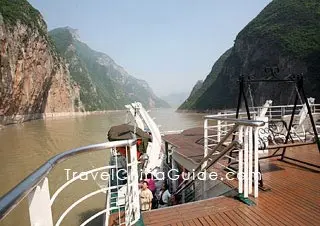 Qutang Gorge
More time on-board for leisure and entertainment, ideal for senior travelers and families
More Chinese culture-feature programs e.g. lectures on Chinese paintings, Martial art, Finger-boxing classes, etc.
No long bus transfers between cities
Easier access to docks, airports and deluxe hotels
Disadvantages:
More time on-board, costs more
Less adventurous for backpackers and trekking lovers
Plans B and C:

Plan B. Between Chongqing and Yichang
Cruising by Yangtze Gold Cruises, President Series, Yangtze Premier Cruise Series, New Century Cruises, Victoria Cruises, Yangtze Explorer

Plan C. Between Chongqing and Jingzhou (Shashi)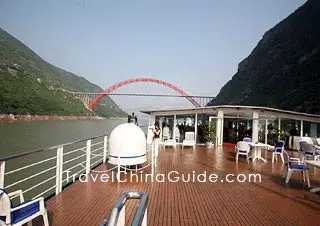 Wu Gorge
Plan B takes 2 nights and 3 days for a downstream cruise and 3 nights and 4 days upstream (East King & East Queen take one more day and night) and Plan C takes 2 nights and 3 days for the downstream and 4 nights 5 days upstream. These two are comparatively shorter, cost less but still covers all the Three Gorges and the Great Dam. However, Jingzhou (Shashi) has no airport and it takes 2-3 hours from Shashi to Wuhan by bus. The airport in Yichang has limited flights to China's big cities. Budget travellers and backpackers may find them more cost-efficient. Also since Plan A is very crowded during the high season (April, May, September and October), you can choose either of these two alternatives.
Victoria Cruises also extend its Classic Yangtze with plans to Mt. Lushan in Jiujiang, Mt. Huangshan and Shanghai and some Winter Specials offer cruising between Fengjie and Yichang.
Advantage: Costs less
Disadvantage: Long bus transfers

Related link: Cruise Ship Gallery

Upstream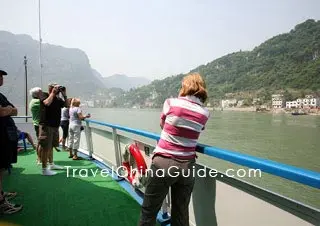 Xiling Gorge
Upstream means sailing from lower part of the river (such as Wuhan, Shashi, or Yichang) up to the higher part of the river (such as Chongqing and Fengjie).

Advantages
Cruising at the speed between 15 - 18 Kilometer/hour, allows enough time for sightseeing and photography
Costs less, usually 10 - 30% lower than that of downstream
More time on-board for leisure, entertainment and Chinese culture programs and activities

Disadvantages
Comparatively lower speed
Night sailing sometimes
The time passing the Gezhouba ship lock is usually around 4:00 a.m. or 12:00 p.m.
Downstream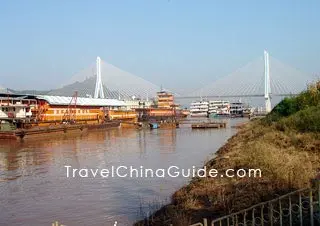 Yichang Port
Downstream means sailing from the upper part of the river (such as Chongqing and Fengjie) down to the lower part of the river (such as Wuhan, Shashi, or Yichang). Usually cruising downstream will take less time than upstream but with comparatively high cost.

Advantages
Fast speed, between 28 - 30 kilometer/hour
No night sailing
All scenic sites are arranged in the daytime, enough time for shore excursions

Disadvantages
Less time for each scenery scenic section
For example, only several 15-17 minutes for the 8-kilometer Qutang Gorge, less time for photography
Costs more
Very hot during the high season
Most cruise lines have adjusted their itinerary and on-board programs to allow tourists to enjoy both the river landscape and life on ships.
- Last updated on Jun. 20, 2018 -
Questions & Answers on Yangtze Cruise Itinerary
Asked by Sandra Bao from UNITED KINGDOM | Jun. 20, 2018 06:53

Reply
Is there a cruise that sails from ChongQing to Wuhan?
Answers (1)
Answered by Bishop from UNITED KINGDOM | Jun. 20, 2018 21:41

0

0

Reply
Yes, there is.