Security, Luggage & Valuables on Yangtze Cruise Ships
Security On Board
President No.6 Cruise Ship
Unlike sea or ocean cruises, in-land river cruises feature narrow rivers, fast flowing water and submerged rocks, especially the upper reaches of the Yangtze. During the low water period (i.e. in winter), some waterways become endangered for ships with a large draft.
Most river boats are large enough to provide comfort and elegance, yet small enough for personalized service. On the Yangtze the ships are usually about 330 - 400 feet in length, 56 - 60 feet in beam and 6-9 feet in draught with excellent stability. To ensure stability and on board security, most ships are well-designed and fully equipped.
Equipped with finest navigational equipment available
Built with two separate and distinct double hulls to ensure safe passage through rocky shoals
Crash proof
Wind-resistant
Built with fire-resistant walls and heat-sensitive sprinkler systems
Ecologically compliant
Equipped with state-of-art satellite communications
Regular maintenance enables year-round operation
Lifesaving facilities in case of emergency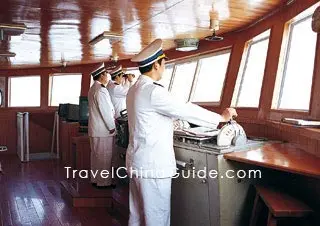 Victoria Cruise Ship Equipped
with Finest Navigational Equipment
The following
Yangzte cruise ships
have been verified by the National Ministry of Communications of PRC and obtained the right to receive foreign travelers.
Yangtze Gold Cruises
President Series
Yangtze Premier Cruise Series
New Century Series
Victoria Series (Victoria Jenna, Victoria Anna, Victoria Katarina, Victoria Selina, Victoria Lianna, Victoria Sophia, Victoria Grace)
Yangtze Explorer
Luggage & Valuables
As a Yangtze cruise ship passenger, you don't be worried about your luggage and valuables. However, for your safety and comfort, it's suggested you take along some travel needs only.

Luggage
Standard staterooms on each ship will provide empty closets and carriers for baggage. On some ships with small cabins, a left-luggage service is offered. Although there is no baggage limitation aboard the ship, for your own comfort, we recommend that you limit the number of pieces that you bring.
Group travelers will have their luggage be delivered aboard and placed into their rooms. For individual tourists, one dollar per piece of luggage need to be paid to the porters while embarking or disembarking.
On the last day of the Yangtze River cruise, guests will be reminded of disembarkation. Just follow the disembarkation procedures declared by the staff and ask for assistance whenever necessary. The staff will collect your bags the night before leaving the ship. Make sure all your bags are properly tagged and pack a carry-on with things you'll need on the last night (clothes, medication, toiletries, etc.)

Valuables
Do not leave any valuables, jewelry or money unprotected in the stateroom, or if possible, use the mini-safe in the stateroom closet. If there is no mini-safe in the stateroom, consult the inquiry office in the ship. The ship is not responsible for the loss of the valuables that are not put into safe.
- Last updated on Aug. 14, 2019 -
Questions & Answers on Security, Luggage & Valuables on Yangtze Cruise Ships
Asked by Caroline Patrick ( Mrs ) from UNITED KINGDOM | Apr. 20, 2016 04:24

Reply
Charging a number of items
We are going on the cruise in August and we have a camcorder a camera an ipad air also an iphone and we were wondering how we actually manage to get them charged.
Will I also need sea sickness pills or is the river not to bad?
Hope you can help me with this
Yours sincerely
Caroline
Answers (1)
Answered by Wat from SINGAPORE | Apr. 20, 2016 20:47

0

0

Reply
As far as I know, there are some areas on the ship providing power supply. You can get your devices charged there.
You'd better prepare some sickness pills just in case. But generally, the whole cruise is steady. The sickness is not likely to happen. You don't have worry about it.