Yangtze Cruise Cost
General Yangtze Cruise Costs

How much do they cost?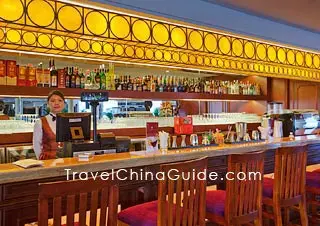 Alcoholic beverage in bar is not
included in the price of Yangtze River Cruise.
One of the most attractive features of a cruise vacation is the price. Even more expensive cruises are a good value for the money. Your cruise, accommodation, sightseeing tours and meals are all included in one price.
Both budget travellers and luxury lovers will find a cruise the most affordable way to travel. Costs of sole Yangtze River Cruises vary between 500 and 700 USD and if you choose a splendid Yangtze River tour with an extension to China's metropolitan cities like Beijing, Shanghai, Tibet, Xi'an or Guilin, the rates will reach between 1400 and 3000 USD. It depends on the itinerary and standard you choose. Please go to our
Yangtze River Cruises
for details, if you do not find a suitable one, please email to us as we can assist you in finding one that meets your requirements.
The rates drop down 30% of the original one in shoulder seasons or in winter. Some Winter Specials is a good alternative to the crowded peak season in spring and autumn.
Expenses on Board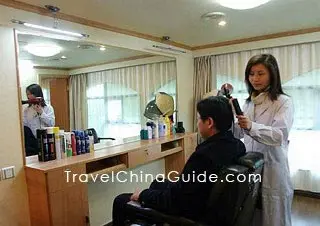 Beauty salon on the ship
requires additional charges.
If you have chosen our Yangtze cruise for your vacations, your cruise, hotel, sightseeing tours and meals are all included in one price. Other expenses on-board include tipping, souvenirs, shore excursion shopping and extra alcoholic beverages. For special services such as laundry, haircuts, gym use, massages and other entertainment activities as requested personally, you will be charged extra. Tipping is becoming acceptable for travel guides, tour bus drivers, porters and waiters in top-class hotels and restaurants. Tipping is recommended if you require special assistance and the average runs about USD $3-5/ day/ person.

Travel souvenirs, gifts, sweets, and flowers for friends or family are available in the gift shop on board.

Most ships offer limited alcoholic beverages. Beverages served with dinner are included with your fare; however, drinks in bars, lounges or clubs are not included with your fare.

Peddlers and touts often sell various souvenirs such as handicrafts, Chinese paintings, coins, lacquers, T-shirts, or even some seemly precious jade and bronze along the shore excursions. Choose carefully if you are not very skilled at bargaining. Show your appreciation, and do not offer a price unless you really want to buy something. If forced sales happen, you may complain to the National Tourism Administrative Bureau directly or to the Institutions of Supervision over Quality.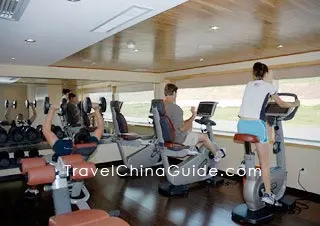 Extra fee will be charged if you use gym.

Friends or family can reach you 24-hours a day via the Satellite Service on ship. Secretarial service such as photocopying, simultaneous translating, typing, personal computers, fax capabilities are available in the Business Center and Conference Rooms allowing you contact with your business at any moment. Charges for these services are listed below:
Fax sending: RMB 125 yuan/minute
Fax receiving: RMB 5 yuan/minute
IDD (International Direct Dial) or DDD (Direct long-distance dials): RMBl25 yuan/minute
Computer: RMB 75 yuan/hour
Printing: RMB 10 yuan/hour
Printer: RMB 50 yuan/hour
Copying: RMB 5 yuan/paper
Secretary: RMB 100 yuan/hour
Slide: RMB 15 yuan/paper
The charge varies slightly with different ships, extra 15% for service.
The average expense on four- or five-star ships is between $150 and 200 USD dollars per day and $ 120 - 150 USD on three-star ships.
- Last updated on Aug. 14, 2019 -
Questions & Answers on Yangtze Cruise Cost
Asked by Lorenzo from CHARLES | Jan. 07, 2015 00:19

Reply
we are a party of 4. We want to know if we can join a short river cruise from Beijing to Shanghai?
Answers (1)
Answered by Rita from SINGAPORE | Jan. 10, 2015 00:40

1

0

Reply
For you post the question here, I presume you refer to the Yangtze River Cruise. Well, you can book the cruise online and go to Chongqing or Yichang to enjoy! But if you do mean the cruise from Beijing to Shanghai, I'm afraid no one is available.
Asked by John from CANADA | Nov. 14, 2014 01:12

Reply
A question on Bars on the Yangtze River Tour
We are going on a 16 day tour of China and 5 day cruise in sept 2015, can someone tell me if the bars are open between meal times, approx cost for a cocktail, we heard it was


$


60 for a beverage package for the cruise....trying to figure things out, also snacks, between meal times is there any small snack areas,is there a cost for them if so, we are looking forward to this and want to see what we can expect as we are avid large ship cruisers
John
Answers (2)
Answered by Oliver from HONDURAS | Nov. 18, 2014 00:04

0

1

Reply
John, I took the cruise six years ago. The bars were open very early. Yes, the beverage was very expensive. But it depends on what you drank. I didn't find snack area on the ship. Well, it actually depends on what ship you choose. I heard that there were some new luxurious ships on the Yangtze River now. Didn't know what facilities they provided.
Answered by John from CANADA | Nov. 18, 2014 00:38

0

1

Reply
We are on the President 7, apparently a new ship in 2013anyone know the price of a Rum and coke for example, just trying to get a average price point in UD $, we are CDN and deciding weather to get a beverage package instead

John,
Asked by MOHAMMAD from IRAN | May. 13, 2014 09:34

Reply
cruise yangtze river
Hello,
First of all i shall say we are 5 person(family),that we just want to get to one of the cruisesI want to know about the price how much it would be for 5 person
THANKS
Answers (1)
Answered by Rita from SINGAPORE | May. 13, 2014 20:24

1

0

Reply
There are many choices for cruise and they charge differently. As for the exact cost, you can refer to this link:
https://www.travelchinaguide.com/cruise/ship/
And yes, Travel China Guide provides the service and I have booked from them. It's worthy!