Yangtze Shore Excursions, Ship Activities & Cruise Seasons
Shore Excursions & Attractions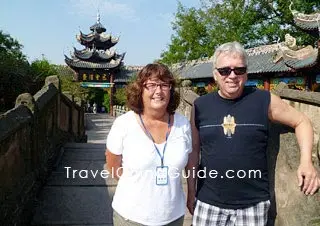 Yangtze Shore Excursion
to Fengdu Ghost City
Boats stop frequently during the Yangtze cruise to visit cities, towns and tourist sights. When your ship docks at exotic ports-of-call, you will have the opportunity to select from a variety of pre-arranged on-shore activities such as sightseeing, sports, and shopping.
Usually a Yangtze cruise itinerary has its scheduled timetable with fixed shore excursions. Activities like river drifting or sightseeing should be outlined in your cruise documents. Make sure you have a complete description of the shore excursions, so that you know what you will be doing. Also be sure to purchase a plan that includes any specific activities that you want, as it may not be convenient for you to purchase additional ones onboard. Excursions vary with the itinerary you choose, and even with the sailing directions (upstream vs. downstream). Therefore, before you decide to choose an itinerary, you need to know what you want to see.
If you are a first-time visitor to the region, please go to "
Yangtze River
", where our mini guide helps you to get an overview of the cruise. If you are familiar with the itineraries, just glance at our "
Yangzte River Attractions
" for detailed descriptions of each sight.
Ship Activities & Services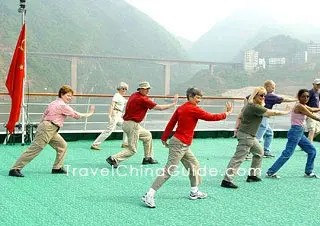 Play Tai Chi Quan on the Ship
A Yangtze cruise is more than a vacation, it's an experience. Enjoying the sun on a private veranda, sharing happy time with your loved ones or new friends over dinner, appreciating profound and ancient culture of China on lectures - these special moments on ship will fill your experience with a memory that will last a lifetime.
Three questions are frequently asked by tourists before they choose their ships:
What are the staterooms like?
What is the on-board experience like?
What is the dining like?
Please visit our "On-Board Experience" for answers to these and other questions.
Cruise Seasons

High season and shoulder season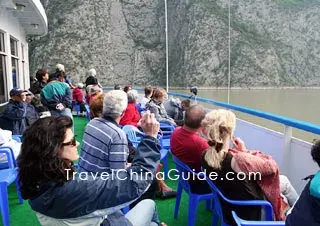 Many tourists visit Yangtze River in May.
Cruising along the Yangtze is available all the year. High season is around spring and autumn in April, May, June, September and October. The season division varies with different itineraries. Please go to
Yangzte Cruise Ship Gallery
for the sailing schedule of the specified ship you choose. Cost drop down 30% of the original one in shoulder seasons or in winter.

High water season and low water season
In summer, dramatic thunderstorms and torrential rains often happen and heavy rainfalls cause the high water between July and September. This period is usually considered as the high water season (flood season) on the cruising itineraries. And in winter, due to less rainfall, cruising usually halts somewhere in the low water season (dry season). You may find the note that "Depending upon the river's water conditions, either Gorges off the Daning River or the Shennong Stream will be visited." appear below an itinerary.
Besides shore excursions, ship activities, and the cruise seasons, you must be curious about the essentials to know anout
Yangtze cruise preparation
, how to choose a
Yangtze cruise itinerary
, the
cruise cost
and the on-board
dining and entertainment
.
- Last updated on Aug. 14, 2019 -